Decades ago when I studied computer engineering I had a part time job at a computer store. Just down the road was a Chinese restaurant that had the most amazing sweet and sour pork. Through trial and error, this is my interpretation of how they made it.
So while I make absolutely no claims of authenticity, I guarantee you it's incredibly delicious, super crispy on the outside, juicy on the inside, and very easy to make. Honestly though – looking at other authentic recipes on the net, it really isn't that far off either.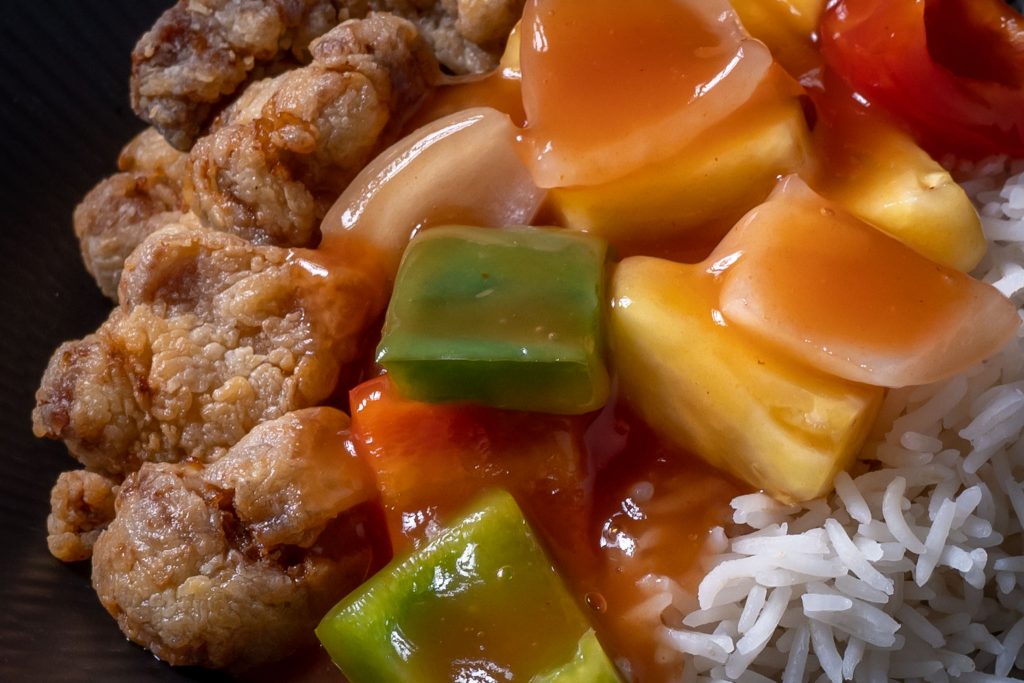 The now retired Chinese guy who ran the Peders Take Away in Løkkeveien had to make do with what was available to him in Norway back in the 1990ies. For example, because pork butt chops were the decidedly cheapest meat available here, that's what he used.
But despite being the cheapest, it is also, in my not so humble opinion, one of the most delectable cuts, and makes for insanely juicy meat. Why try to improve on perfection?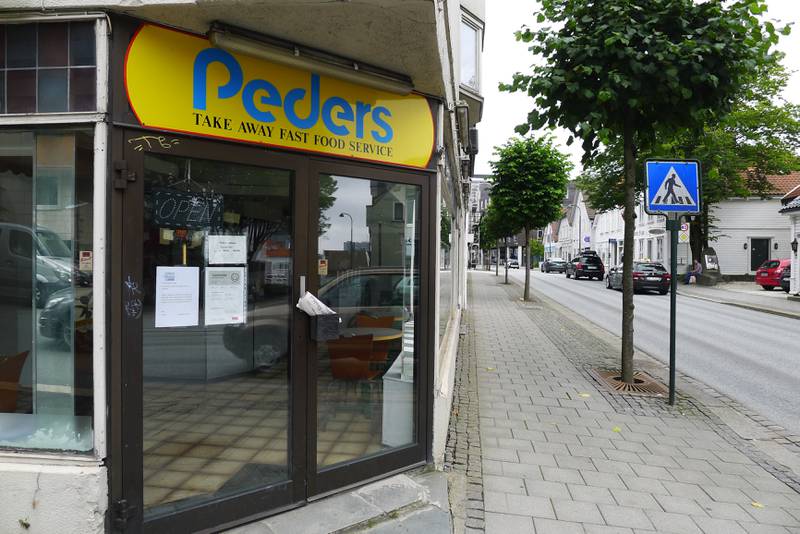 The biggest difference to this recipe is that he used canned pineapple, cause fresh pineapple simply didn't exist in Norway back then. Seasonality would clearly have been a factor too, had it been available; I make this dish like once a year, and only when fresh pineapple is in season around new year – it makes such a huge difference!
According to renowned Chinese chef Ken Hom, it is perfectly acceptable to use filleted clementines, mandarins or lychee instead of the pineapple. I haven't tried this, but I just gotta assume the guy knows what he's talking about. Cause my white Norwegian ass sure doesn't 😉
Ingredients (serves 4)
The meat
4 pork butt chops*
1 tsp granulated garlic
1 tsp fine sea salt
1 tbsp light soy sauce
1 egg, beaten
4 tbsp flour
4 tbsp corn flour
1 liter oil for deep frying
*For a great vegetarian option, use firm tofu instead. It clearly won't be the same, but it'll taste awesome 🙂
The sauce
3 tbsp corn starch
6 tbsp ketchup*
8 tbsp / 120 ml / 1cup white sugar
8 tbsp / 120 ml / 1 cup apple cider vinegar
600 ml water
*I use Mutti ketchup. It has the most subtle hint of chili, and it is a really fucking tasty ketchup.
The vegetables
1 red bell pepper
1 green bell pepper
1 onion
1/2 fresh pineapple
To serve: cooked white rice
Method
Put the rice on, and start heating the oil for deep frying in a 3-4 liter pot, or in a deep fryer.
Cut the veg into nice chunks. Unless you want the remaining half of the pineapple to taste onion, make sure to cut the onion last. Also make sure to separate the onion layers after cutting to ensure quick and even cooking. Set aside in a bowl.
Next, mix the soy sauce, garlic and salt to make the marinade for the meat. Using the same knife and cutting board, slice and dice the meat, then let it marinade for a few minutes. (Or you can do this step well ahead if it better suits your schedule. Overnight is no problem)
Using your dominant hand, toss the meat with the flour. Make sure every single piece is evenly coated, and each piece separates from the others. Add more flour as necessary; it should have a dry feel to it. Shake off any excess flour.
Make sure the egg is thoroughly whipped, beaten and generally subdued. Mix in the beaten egg, and massage the egg into the meat, making sure every single piece is coated. Toss with the cornstarch, again massage well and make sure each piece is evenly coated. Add more corn starch if necessary; it should have a dry feel to it.
Shake off excess corn starch and deep fry the meat in 2-3 batches at 180C until slightly brown. Set aside on a wire rack.
Wok the vegetables in a tiny bit of oil, except the pineapple, and set aside back in their bowl. Turn the heat down to low.
As the pan cools down a bit, mix everything for the sauce except the water in a bowl. Don't eyeball this; correct measurements are key for balance in flavor. When mixed, mix in the water as well, then bring to a gentle simmer in the pan. Tip back the vegetables, including the pineapple, and keep warm.
Deep fry the meat a second time to really crisp it up. Tip the pork in with the vegetables and toss in the sauce to coat well. Serve immediately with white rice.