I never deliberately write vegan recipes, but some just turn out that way; that is simply what the dish wants to be. This easy to make Spanish-inspired hearty stew, with its complex, aromatic flavors, is one of them.
What's really great about this recipe, aside from the fact that it's tasty AF and totally uncomplicated to make, is that all ingredients have a long shelf life, it's very healthy, and it's dirt cheap. See the saffron as a luxurious option 😉
But yeah, let's skip further 3 pages of anecdotal drivel, and let's just jump straight in and cook the damned thing, shall we?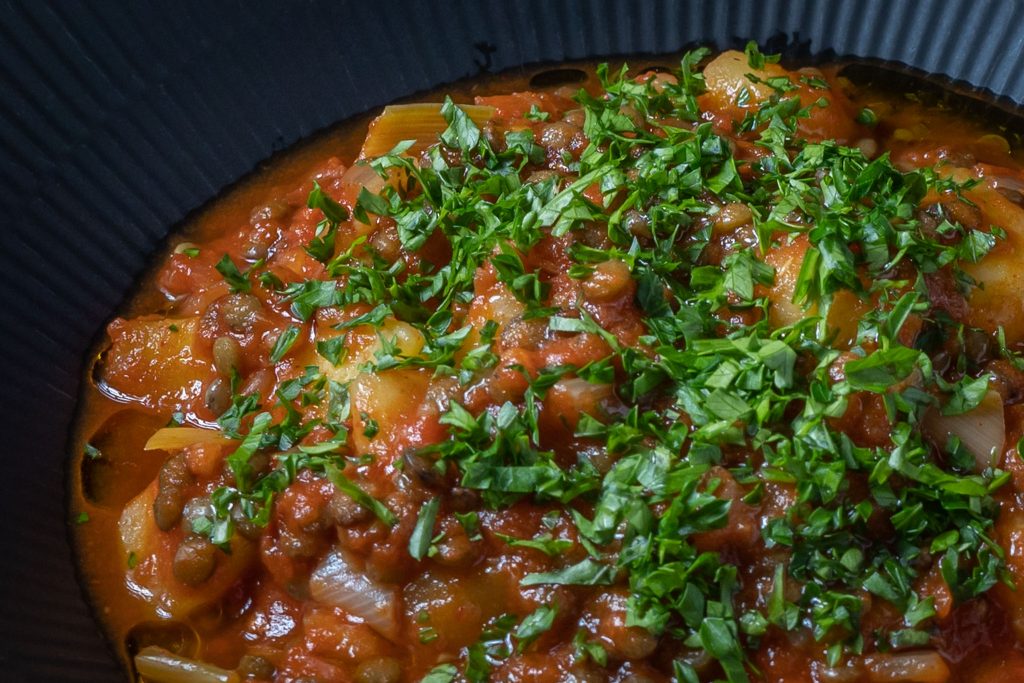 Ingredients
200 ml/250 g Puy or brown lentils
2 bay leaves
2 medium leeks, white and tender green parts, sliced
1 onion, diced
4 cloves garlic, finely chopped
1.3 kg potatoes, peeled and diced
200 ml water for the potatoes
2x 400 g canned crushed tomatoes
1 sprig fresh thyme tied with a twine
2 tbsp smoked sweet paprika or smoked hot paprika (then drop the cayenne)
1/2 dried Red Amando cayenne, deseeded and thinly sliced

or 1/4 tsp cayenne powder

1 very small pinch saffron threads (optional)
2 tsp sherry vinegar
Fine sea salt to taste
4 tbsp olive oil; 2 for the pot, the rest to drizzle individually.
Method
For starters, nothing in this dish is timing critical, so you can make all of it days ahead, or separately ahead.
Grind the saffron in a mortar along with a small pinch of sugar. Pour over a bit of boiled water and let steep.
Cook the lentils in sea water or well salted water under lid for about 16-18 minutes. Check regularly for tenderness towards the end; it will vary from batch to batch when packed. You want them al dente; not hard, nor mushy.
Mini masterclass: Always pre-cook lentils and beans. Acid, like in the tomatoes and vinegar will prevent legumes and vegetables from ever becoming tender.
Tip: It is best to cook the lentils in a separate pot or they will colour the rest of the dish, and final result won't look as nice. Use canned instead if that suits your schedule better.
Slice the leek at a 45 degree angle. This will help separate the leek rings as you cook them. I like to push the slices in the middle to help them separate.
Drain and rinse the lentils with tap water, and let drain in a colander in the sink. Let sit in the colander to drip off until ready to use.
In the same pot that you used for the lentils, sauté the leeks in 1 tbsp olive oil and 1 tbsp water, under lid at medium heat, until completely soft, about 10-15 minutes. Set aside.
In a large pot, minimum 3 liters, boil the onions and potatoes and all the spices and saffron infusion in 200 ml water and a pinch of salt, under lid, for 15-18 minutes, until just tender.
When the potatoes are tender, add the tomatoes and the thyme and let simmer for 5 minutes, then taste. Season with more fine sea salt as necessary.
Continue simmering gently for 30 minutes, lid ajar, then discard the thyme, toss in the strained lentils, the leeks, stir to combine, and taste. Does it need more salt?
When happy with the seasoning, add the sherry vinegar and stir to combine. Serve in a bowl with a drizzle olive oil and some sprinkled parsley on top.
Pro tip: Consider making a double batch, cause it keeps well in the fridge. Nothing beats just reheating a delicious dinner after a long day at work, or out sailing! That's what we do 🙂