Every spring my grandma would don her apron, yellow dishwashing gloves and take to the woods to pick stinging nettles. If you've never had stinging nettles before, think of it as spinach, but free, and with its incredible herbal notes, way tastier!
Stinging nettle gets its name from the hollow stinging hairs called trichomes on the leaves and stems, which act like hypodermic needles, injecting histamine and other chemicals that produce a stinging sensation upon contact.
These hairs are destroyed if the leaves are rubbed together, so they can be used raw in a salad. Or you can blanche them. This is what we're gonna do in this soup.
My grandma would typically make it with either a vegetable stock or a light beef or chicken broth (whatever she had at hand), and serve it with either tiny meat balls the size of marbles, or with 7.5 minute boiled eggs, some times also a few crisp bacon bits.
She would first serve the soup, then delicate crepes with home made blue berry jam. Proper, traditional Norwegian dinner.
This is her recipe, but I love how cayenne pairs with the herbal notes from the nettles, so I've added that, and I finish it off with a tiny splash vinegar for balance.
Foraging stinging nettles
Foraging stinging nettles is very easy. I highly recommend using gloves, and some small scissors are nice to have too; we use Gardena secateurs (pruners). Simply snip off the first few leafs and top shoot and stash it away in a mesh bag or a basket. We like to use our Onya reusable grocery bags for this.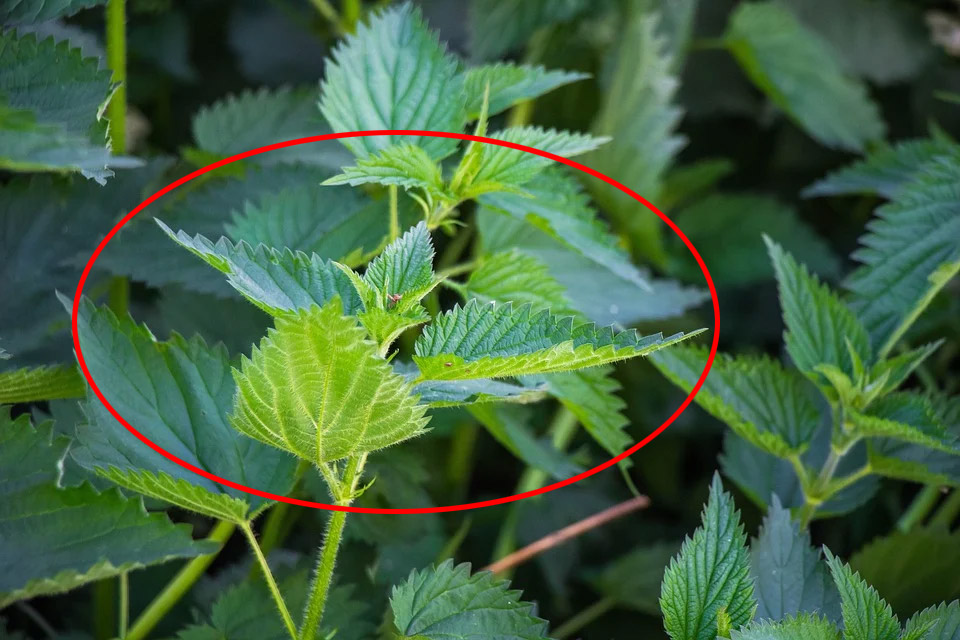 600 grams stinging nettle shoots (just the very tip of the plant)
A good handful chives
2 liters stock
60g butter
60g flour
1/4 tsp cayenne
1 tsp sugar
Fine sea salt
Apple cider vinegar or white balsamic vinegar
Dump your nettles into your sink and rinse well in water. Toss the nettles into a pot with boiling water. The very second all the nettle has wilted, drain into a colander, and cool down quickly with some cold water. Chop coarsely and set aside.
Melt the butter, whisk in the flour, and then whisk in the (ideally warm) stock. When a thick sauce has formed, add the nettles and chives. Either use a stick blender, or ideally a powerful upright blender, and blend until completely smooth. Continue to add stock until desired consistency.
My grandma obviously didn't have a stick blender or anything like that so she would use a manual herb mill instead, giving it a somewhat more rustic texture.
Season with fine sea salt until perfection; taste and season until it's just right. Add the sugar and cayenne. Simmer for a few more minutes to get the raw flour flavor out. Add a small splash of apple cider vinegar or white balsamic vinegar.
Serve as suggested above, or with some nice, rustic sourdough bread on the side. Ricotta gnocchi or flour dumplings is also very nice 🙂