There are some things that are just so damned satisfying to eat it gives you goosebumps. This, we believe, is one of them. And it's so easy to make too!
Mac 'n cheese can be many things. From an abomination in a blue package with powdered "cheese", to gourmet versions with shaved truffles. This version hits all the right buttons for us with a bit of a smoky chili kick.
Wash it down with a fresh NEIPA, and we're in heaven, waiting for the weekend to start 🙂
Ingredients
500 g macaroni (or other suitable quality pasta)
5-600 ml whole milk
3 tbsp butter
3 tbsp wheat flour
1 yellow onion, diced
2 cloves of garlic, finely chopped
1 habanero, finely chopped
1 large or 2 medium poblanos, grilled
200 g Jærosten by Voll ysteri (or white cheddar)
1 bunch fresh coriander, leaves picked
1/2 lime, juiced
50 g Feta, crumbled (or non-aged Cotija)
Fine sea salt, to taste
Method
I have used local Norwegian cheeses, but the inspiration for this dish is in the TexMex kitchen, so it would be natural to use white Cheddar and fresh Cotija instead.
If you can't get fresh poblanos, then canned works well enough too. If you can't get that either, use fresh jalapeños or serrano or a mix of whatever red and green chilies you can get your hands on.
Start by grilling your poblanos on your gas hob, in your wood fired oven, your grill, or broiler. You want them all black and blistered, then put them in a small lidded pot and let them sit there for 20 minutes. Rub the skin off, de-seed and slice into strips, then dice.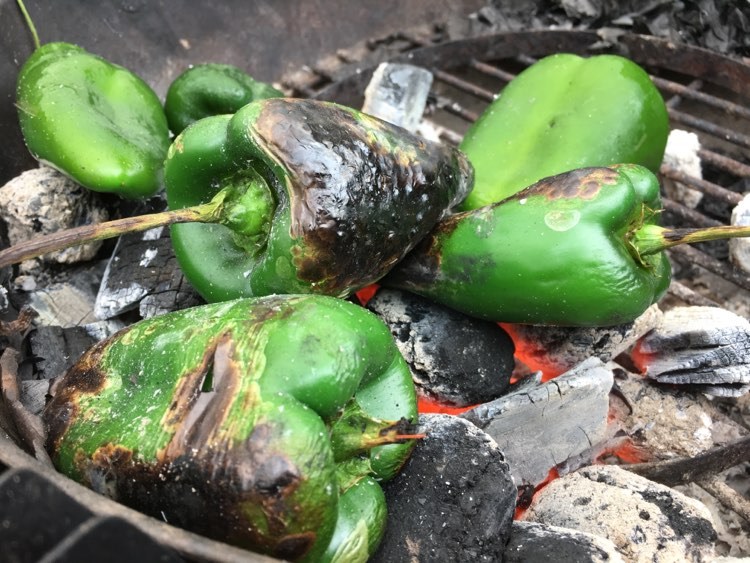 Next, boil the pasta according to package. We used Rommo Mezzi Rigatoni, but any decent quality pasta will do really.
While the pasta is boiling, make the cheese sauce. It's simply a relatively thick béchamel with cheese in it.
Melt the butter in a big pot, 3-4 liters. Add the onion and sauté until translucent, then add the garlic and sauté for a few more minutes. Add the flour, and gradually whisk in the milk until you have a nice, thick sauce.
Grate in 150 g cheese, and season to perfection with fine sea salt. Make absolutely sure you use enough salt, cause that's gonna make this dish sing.
When satisfied add the poblanos to the pot, then finely chop the habanero, tip half into the pot, stir, and let simmer for a few minutes. Taste it. If you are happy with the spice level, leave it. Otherwise, tip in half of what's left, and repeat.
If it turns out the habanero was very mild, just tip in everything instead of just half again. If you still think it lacks some kick, adjust with some dried chili flakes. Chipotle will do nicely.
Finally, stir in the juice from 1/2 lime and coriander leafs, then mix the sauce into the pasta. Transfer to a oven dish, grate over the remaining bit of cheese, and bake at 200C until nicely golden brown, 15-20 minutes. Sprinkle over some crumbled feta, and return to the oven for a 2 minutes.
Let cool for at least 5 minutes before serving to avoid blisters or afsafsafsafs-ing with your mouth open through your entire meal.