Maybe it's the Norwegian winter that does it, but Lea and I just love our chili. It warms us from the inside, and fills us with bliss. Few things are as good as these chili beans on a cold day, and they're so easy to make!
While I, with my white, Norwegian ass makes absolutely no claim of cultural nor gastronomic authenticity, this is how I make my chili beans, and I'll be damned surprised if it leaves you unsatisfied.
I grew up as a kid in the very early 80ies not knowing there was such a thing as a chili. At some point as a teen, something called "Tabasco" came in our stores, and something just clicked. These days our local store carries fresh habanero, poblano, jalapeno, bird's eye, and some times serrano and others in addition to the nondescript, utterly uninspiring "green" and "red" chili.
And with online stores carrying quality dried chilis, the selection is night and day from my youth. And so I have experimented. A lot. I have found that you really do need many types of chili to produce a really seriously magnificent pot of chili beans – it adds so much complexity to the dish, rather than just heat.
I do love the fruitiness and peppery kick you get from the habanero, so I use that as the heat basis. I love the "green" notes and the smokiness you get from grilled poblanos, and it also adds a lovely texture to the dish. Then I layer this with a few mild, dried chilis (mulato, ancho, guajillo, pasilla etc), and finish it off with some chipotle for an extra layer of smokiness and for final heat adjustment.
If you are in Norway, I found the fresh chilis at Coop Mega (in Madla) so ask at your local Mega, and I have found the dried chilis and canned poblanos from Kaktus.no and ArcticChili.no to be absolutely exquisite. Kaktus also have a brilliant tortilla press that we use all the time.
Ingredients
2 onions, chopped
1/2 bulb of garlic, chopped
3x 400g canned tomatoes
1 habanero
4 grilled poblanos
1 mulato and/or ancho
1 pasilla
1 morita chipotle (optional, for extra heat)
2 tbsp oregano
2 tbsp cocoa powder
1 cinnamon stick
400 ml assorted dried beans (cooked), or 4 cans (400 g each)
Fine sea salt, to taste
Method
I like to use 2-3 different types of beans, for example black, kidney and pinto or rosecoco beans. It is simply a matter of presentation, nothing more. If Kidney beans is all you have, go for it!
If using dried beans, soak over night, then cook tender in salted water. We like to use our pressure cooker for this.
f you can't get fresh poblanos, then canned works well enough too. If you can't get that either, use fresh jalapeños or serrano or a mix of whatever green chilies you can get your hands on, as well as a few grilled green bell peppers. Grilled green bell peppers will have some of the same flavor profile as the poblanos, but clearly not the heat.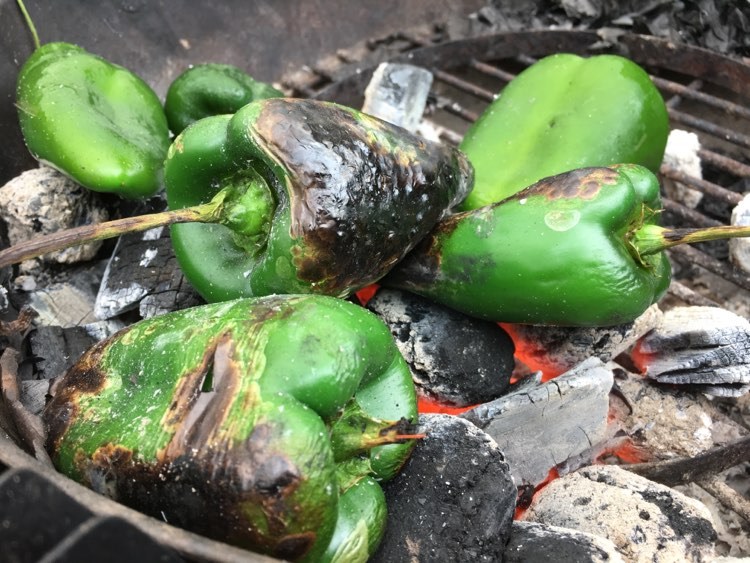 Start by grilling your poblanos on your gas hob, in your wood fired oven, your grill, or broiler. You want them all black and blistered, then put them in a small lidded pot and let them sit there for 20 minutes. Rub the skin off, de-seed and slice into strips.
In a small, dry pan, toast your dry chilis until popping fragrant. Add just enough water to cover them, bring to a simmer, and let sit in the warm water to rehydrate for around 30 minutes.
Meanwhile, in a big pot of 3-4 liters in size, sauté onion until translucent and completely soft. Add the garlic and sauté for a few more minutes.
Remove the chilis from the water, open them to remove the seeds, then chop them up and toss into the pot wit the onions. Deseed and finely chop the habanero and tip into the pot as well, along with everything else, sans the beans and chipotle. Add 10 g fine sea salt and simmer for 30 minutes.
Taste the sauce. If it needs more salt, add this now. Taste again, and tweak seasoning as necessary. When happy with the seasoning, consider the heat level. Adjust heat by adding chipotle flakes. This will also add a really nice smokiness to the beans. Let simmer for another 30 minutes, taste again, and adjust heat accordingly.
Let the sauce simmer for a minimum of 2 hours in total; 4 is even better. Add the beans 30 minutes before serving.
We like to serve our chili beans in a bowl topped with a dollop Norwegian sour cream and some grated cheese. This is all washed down with my home brewed 7.8 % NEIPA (Citra, Mosaic and Mandarina Bavaria).
Though the chili beans freezes well, and keeps for weeks in the fridge, we also like to use the leftovers as filling for some stupid easy leftover enchiladas.
These chili beans are also a staple on passages for us – easy to make in bulk, keeps for ages, and saves on dish washing and thus water since you only use a bowl and a spoon.