In Part 1, we discussed the three pillars of condensation management; Heating, Insulation, and Ventilation. Now is the time for the practical implementation of these measures. Get ready for a shitload of pictures, a few surprises, facepalms and cursing…
The first part was written to give you a basic understanding of what you're up against, to empower you, so that you can make smarter choices when designing your own solution to the problem – cause very few boats are alike.
(So head on over to read Part 1 on how to get rid of condensation on a boat if you missed that one)
In contrast to Part 1, this second part is almost a pictorial, and though lengthy, I hope it should be very easy to follow. The work was done on our Beneteau 411, 2001 model.
To reiterate from Part 1
Get the heat up, the moisture out, and insulate your boat!
And finally, before we dive into the fun part, it became clear that to provide you with enough detail, we needed to focus on simply one tactic in this post. And that's why this post will only cover how we insulated our boat. The heating and ventilation will be published in a Part 3, possibly even a Part 4.
Choosing the right kind of insulation
You can't just walk into Home Depot or your local hardware store, grab a pack of Rockwool, slap it onto your roof and expect good results from that.
Insulation for marine applications simply must not soak up water and humidity, so you absolutely need something with a closed cell structure.
There are many types to choose from, and among these are Armaflex and Aerogel. I curse myself for not thinking of natural cork when we made our final decision.
Despite cork being heavier than its synthetic counterparts, it is definitely something to consider, on it's own merits alone, but also from a environmental perspective. So educate yourself, and don't go for something just because I said so 😉
One thing you must be aware of though is that insulation is a game of building volume. The sole purpose of insulation is keeping air still, nothing more. That means the thicker insulation you can put up, the better.
Furthermore, it is scientifically impossible for a material 6mm thick to insulate as well as 10 cm Rockwool or Glava (provided both are installed correctly). That is nothing but marketing magic.
Long story short, we ended up with Armaflex Class 0, simply cause I've used it extensively a few decades ago (so it was on top of my mind), it's a fantastic product, super easy to work with, easily available, and relatively reasonably priced. Aerogel is a better product, but also pricier and harder to find.
We went for the self adhesive rolls with Microban. You need Microban to prevent mold on your boat. And I can tell you right away, you definitely want the self adhesive too – it is such a pleasure to work with!

We bought from these guys called Makitech in Norway. Top notch guys, great service, decent pricing. What's not to like 🙂
The only drawback I can think of with Armaflex is that its surface easily snags or rips, so left unprotected it won't last long. We were putting ceiling boards over it, so that was not an issue for us.
Materials and tools used
For starters, it is best to be two people on this job. It took us a total of 24 hours (2 people x 12h).
Note that 1) I am extremely fast and accurate with a knife, and 2) we have spent the past decade renovating our 4 story house together, so this was child's play for us both.
In addition, we purchased a rotary desiccant dehumidifier (a Meaco DD8L Standard) and let it dry out the boat a full two weeks before we started the job, to make sure that the insulation would stick properly to the ceiling, and not come off because it was too wet.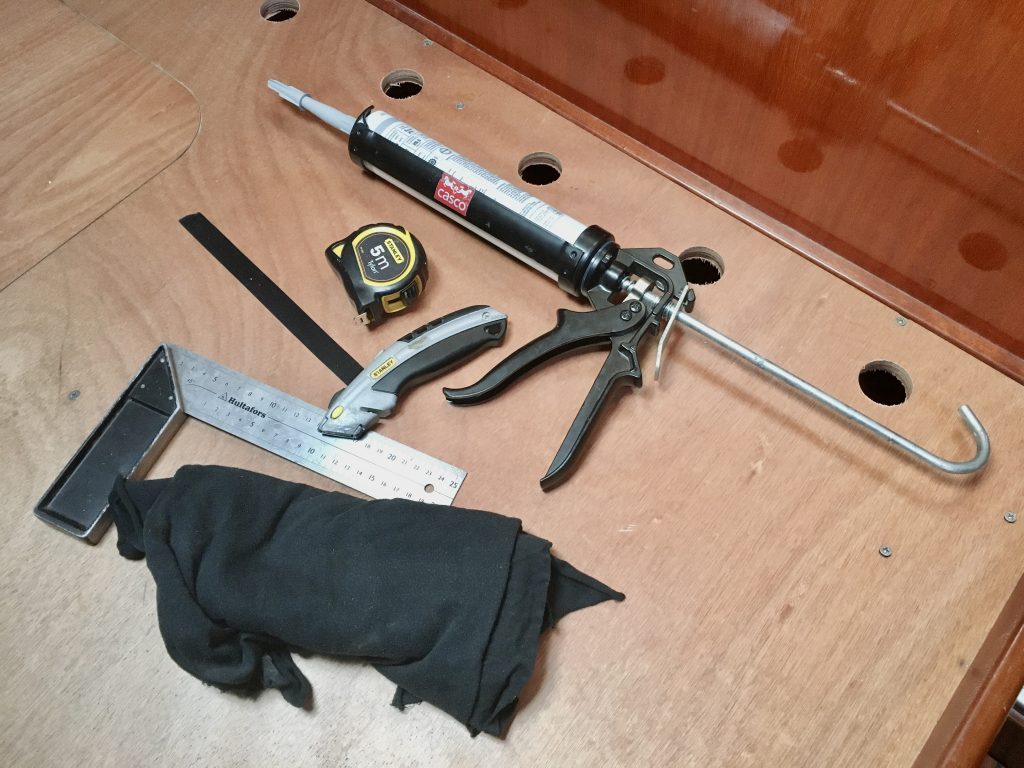 2 rolls Armaflex Class O, with Microban. 10mm X 1m X 10m.
A long ruler, ideally metal. We used a piece of plank that I verified straight. Minimum 1 meter. 1.2m is better.
A long, wide cutting board. Minimum 1 meter. 1.2m is better.
A carpet knife. More info below.
A tape measure.
Caulk gun + Tech7 or Sika, and a piece of cloth
Electric drill/screw driver
A paint scraper or a small crow bar
A blunt, flat tool, like a small drywall spatula/jointing knife
Angle grinder or multi tool + earmuffs, dust mask
Vacuum cleaner, hot water, soap, bucket, cloth etc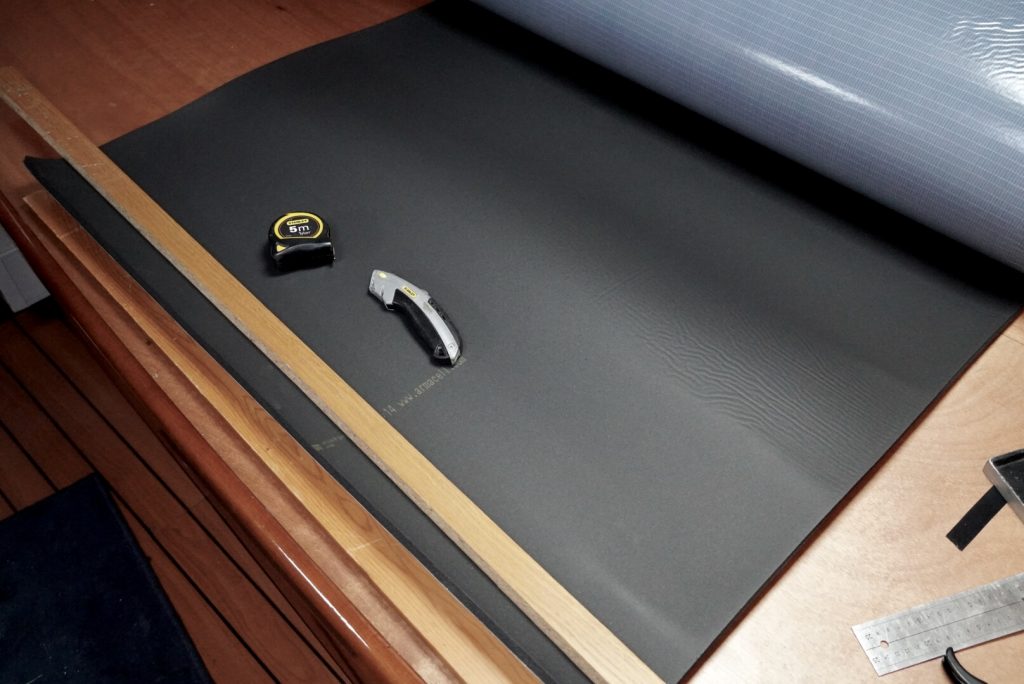 This piece of wood in the photo above worked as a ruler, got the job done, but it was less than ideal. It was verified straight, but because it was so thick, it pushed the knife out sideways, and I was always cutting at an angle. Annoying, but not detrimental to the job.
When it comes to the knife, you want something absolutely razor sharp. I used my trusty old Stanley carpet knife with brand new blades, but the best tool for the job is something with a longer blade. Something like this: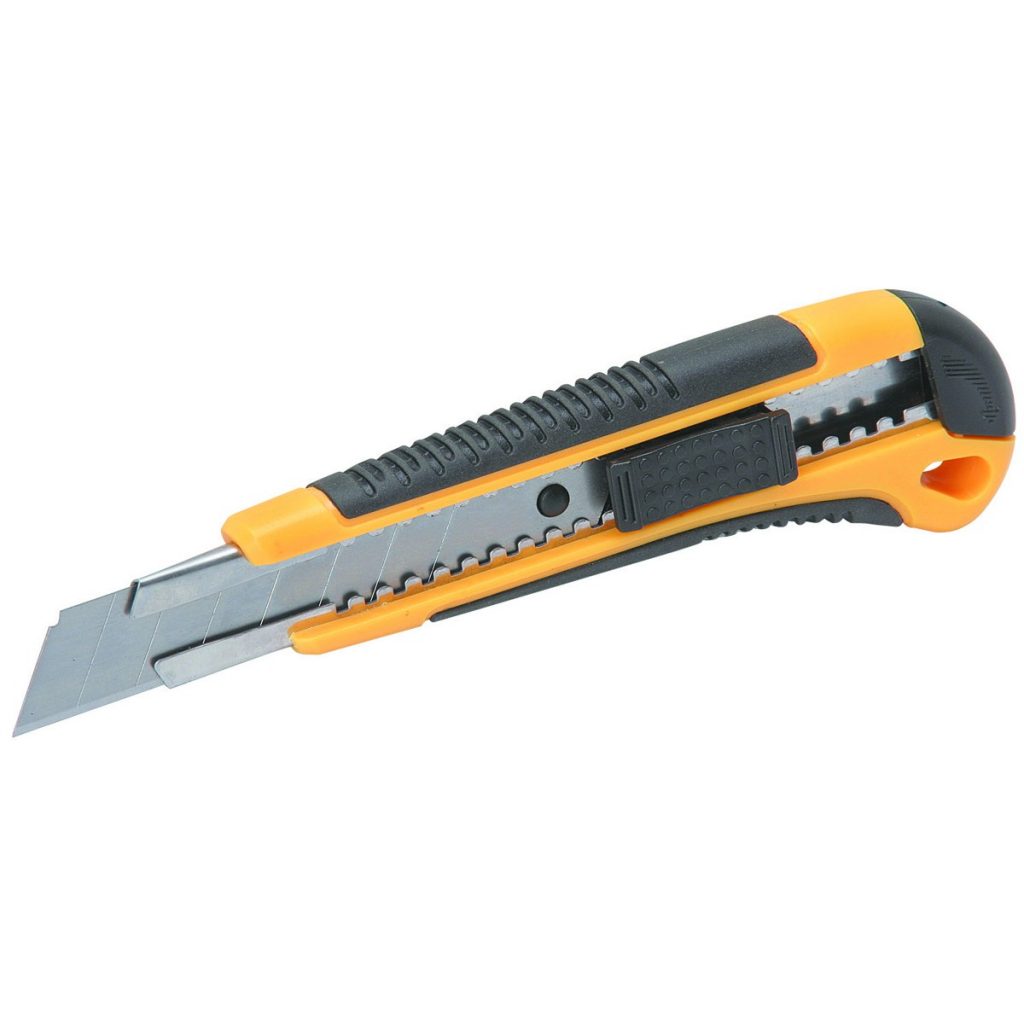 The reason for that is that you can extend the blade all the way out and then cut at a much shallower angle. This will give you a more "slicing motion" rather than the "pushing motion" a steeper angle will give.
The best technique for cutting is: Hold your knife at a very shallow angle, and with a relatively light hand (to let the razor edge of the knife do its job) do 2-3 shallower, longer, even passes, rather than one firm, deep cut all the way through. Do not use sawing motion.
The result is much less pulling on the Armaflex, and thus cleaner, faster cuts.
But I'm good with a knife, and didn't feel like forking out the money for a new one just for this project. Go ahead. Call me a cheap bastard. Feel free to make things easier for yourself 🙂
Taking down the ceiling
In the Beneteau 411, and many other in the Oceanis series from Beneteau, it is incredibly easy remove the ceiling. As you can see in the pic below, they are simply plywood boards with tabs that lock into each other.
Each board is then fastened with 2 or 3 screws, and it took us roughly 5 minutes to remove all of the ceiling in the forward cabin; begin in one side, unscrew the two screws, pull the board to the side and out, and it should come loose.
Note that the very first in boards in each side are also fastened with Velcro. We used a small paint scraper to gently pull them loose after unscrewing the screws first. A small crowbar will work just as well.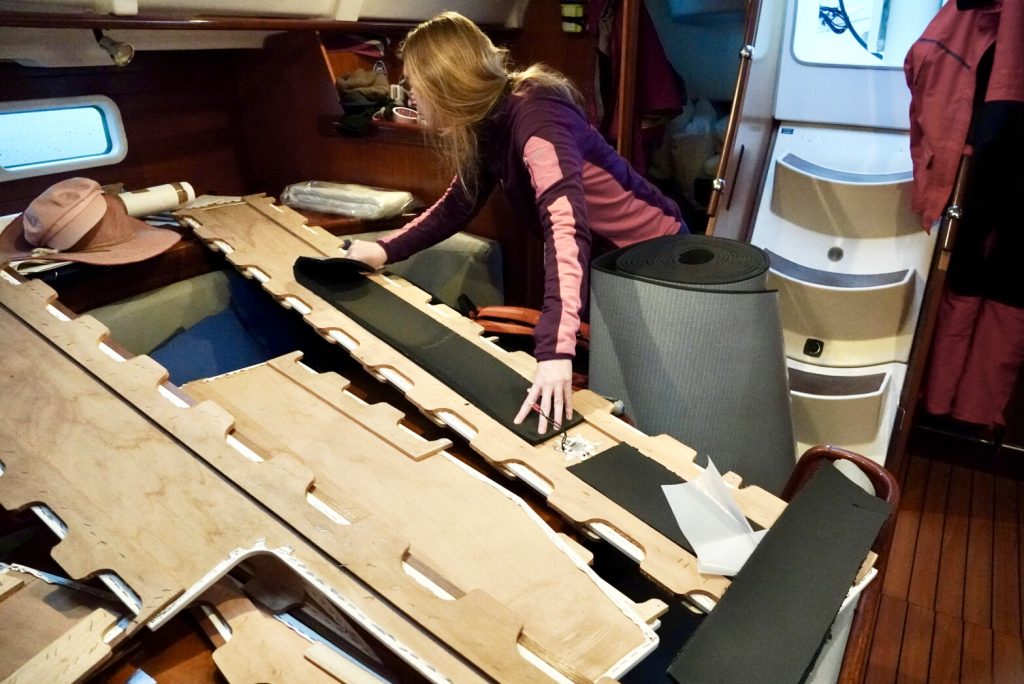 After Lea had vacuumed and washed the ceiling boards, I started cutting Armaflex strips for her to glue into the groove in the boards.
Note that the board in the above photo is the middle board for the forward cabin. There are two downlights there. Do not cover these with insulation, but make sure to make room for them, as well as the power cord to prevent over heating. A very good idea is to change to LED bulbs to reduce the current going through.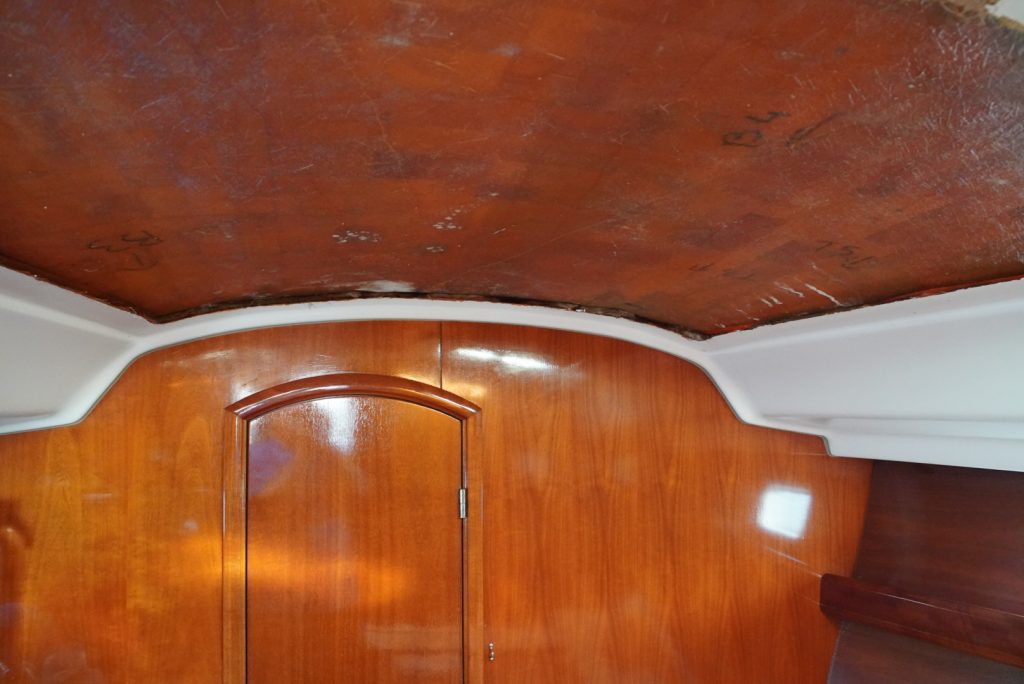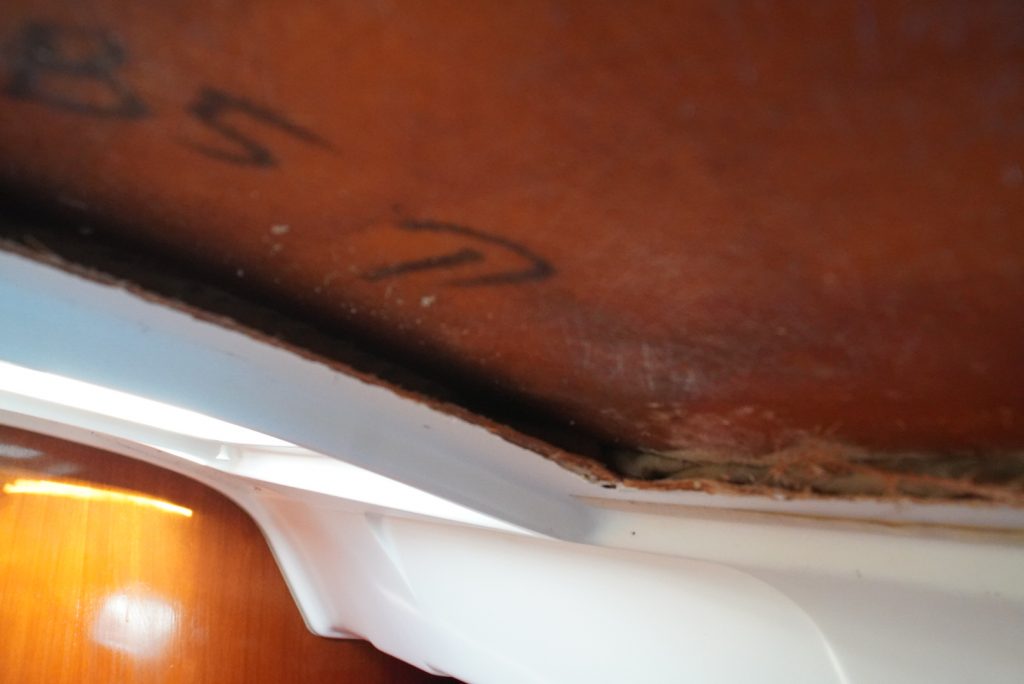 This clearly shows how much empty space is above the ceiling boards. And to our big, big surprise, we were able to fit double layers (a total of 20mm) insulation in the entire roof cavity, all over our boat!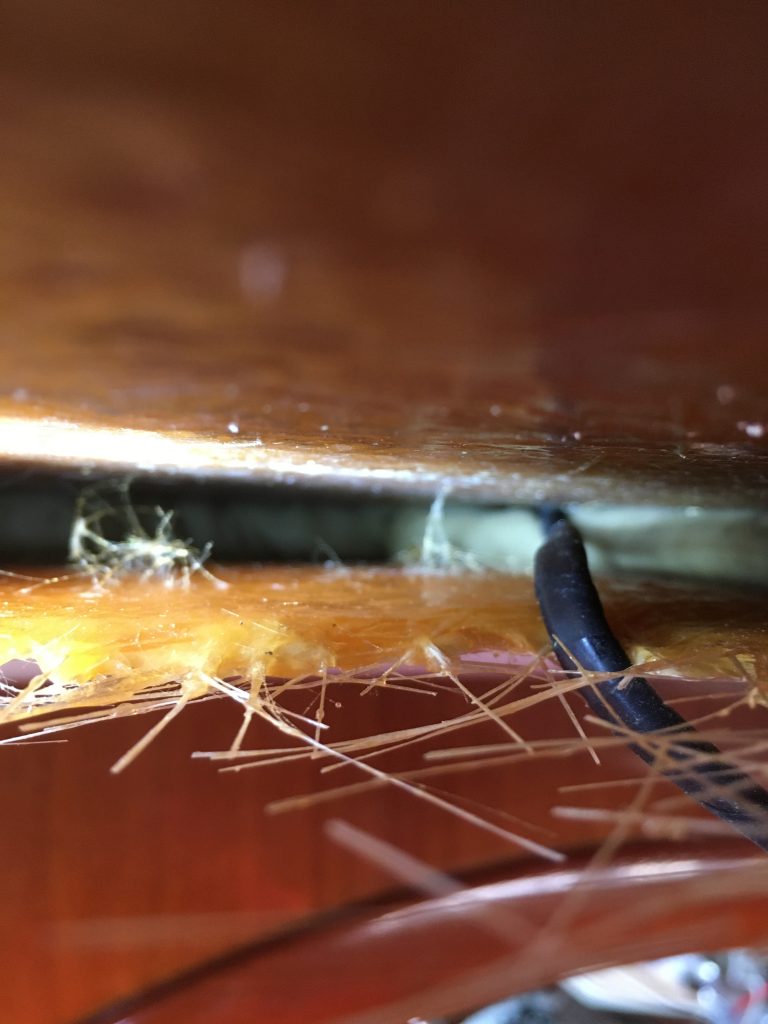 Using my cell phone to see what's inside the parts covered with inner liner, I discover a whole bunch of empty space. Space that I can insulate if only….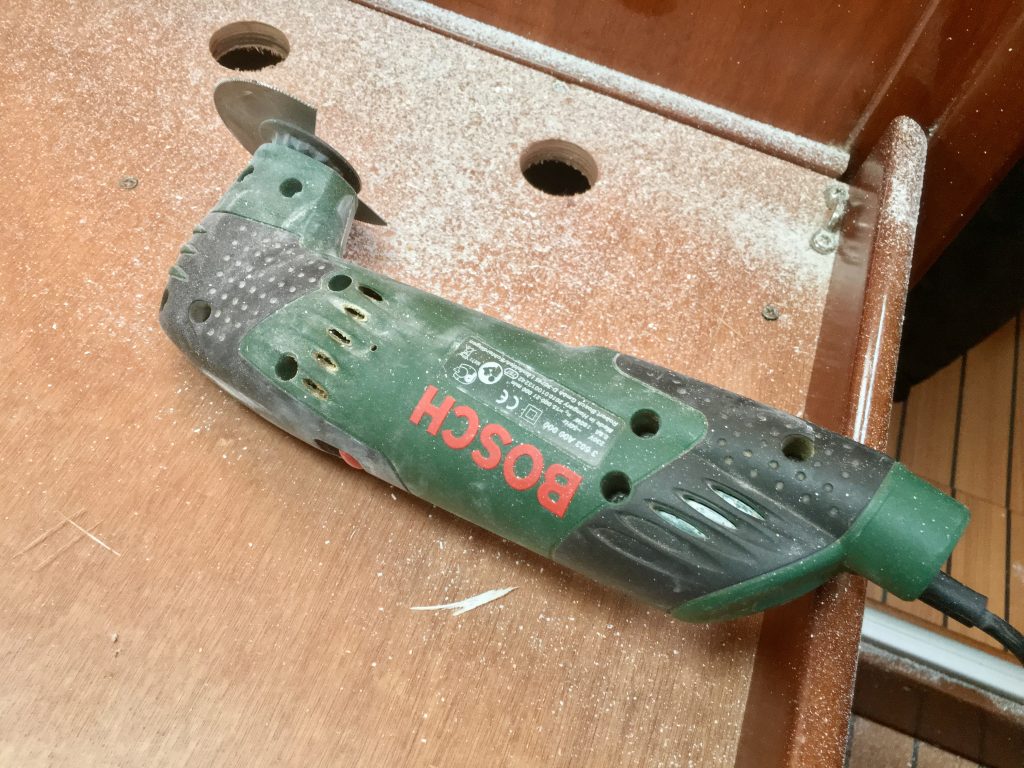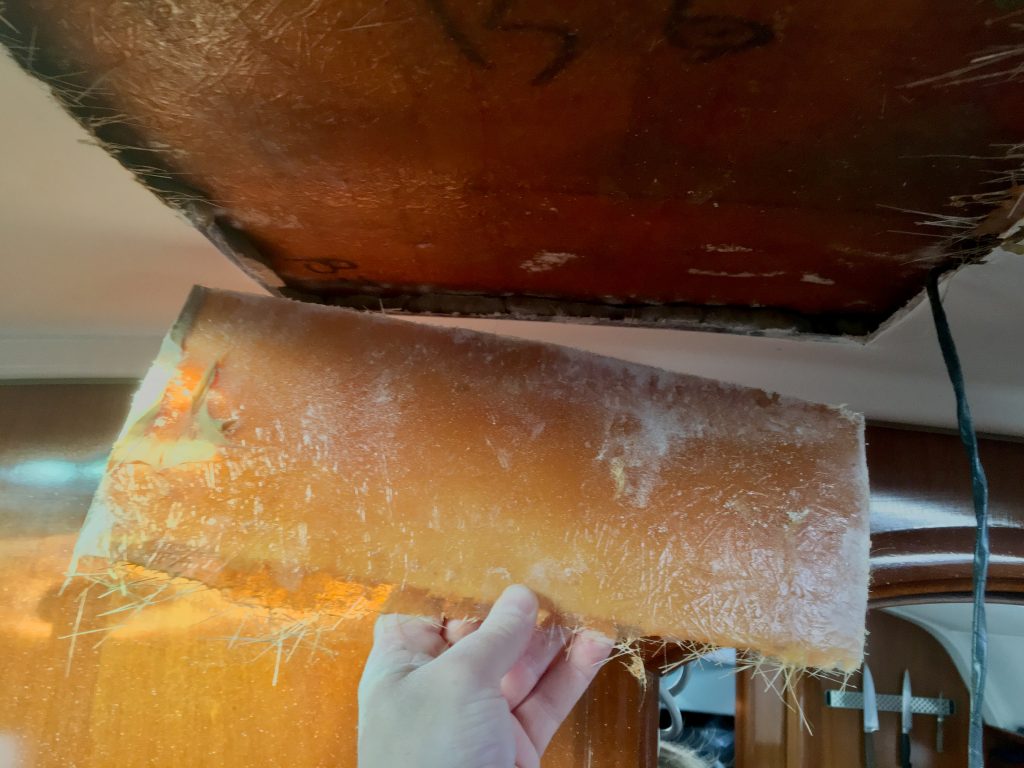 That's 1/4 square meter extra insulation right there. Just pay damned close attention to where you cut, cause there are wires going in there….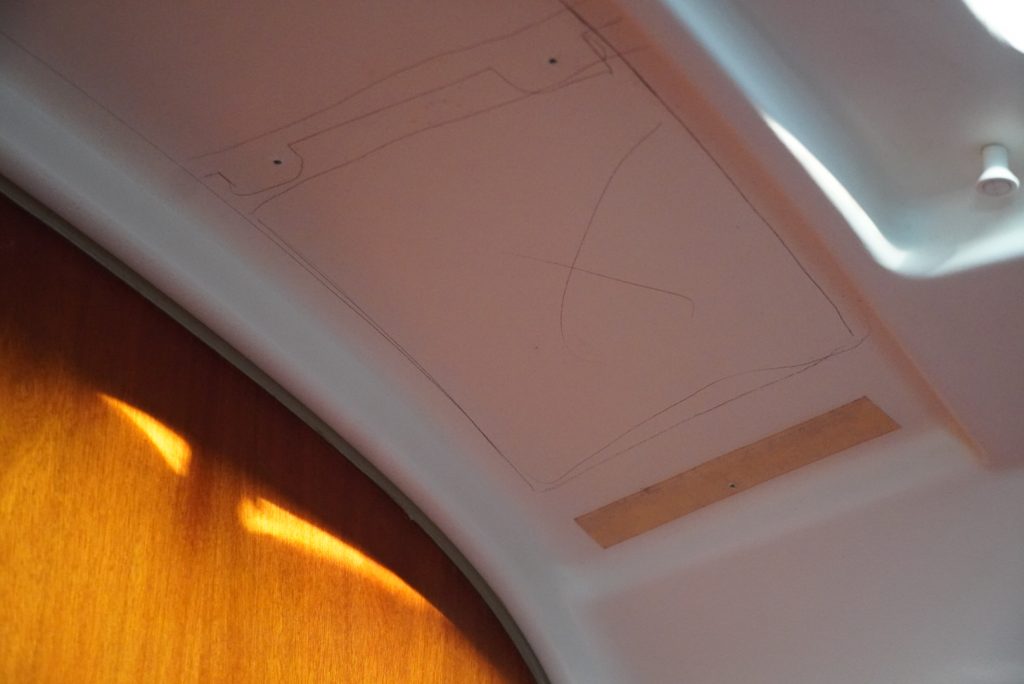 Clearly on a roll, I decided to remove all the material and inner liner I could, while still maintaining structural integrity, avoiding power cords, and keeping the fastening for the ceiling boards intact. I used a combination of knocking (auditory), cell phone camera (visual) and probing to identify where to cut.
Measure twice – cut once!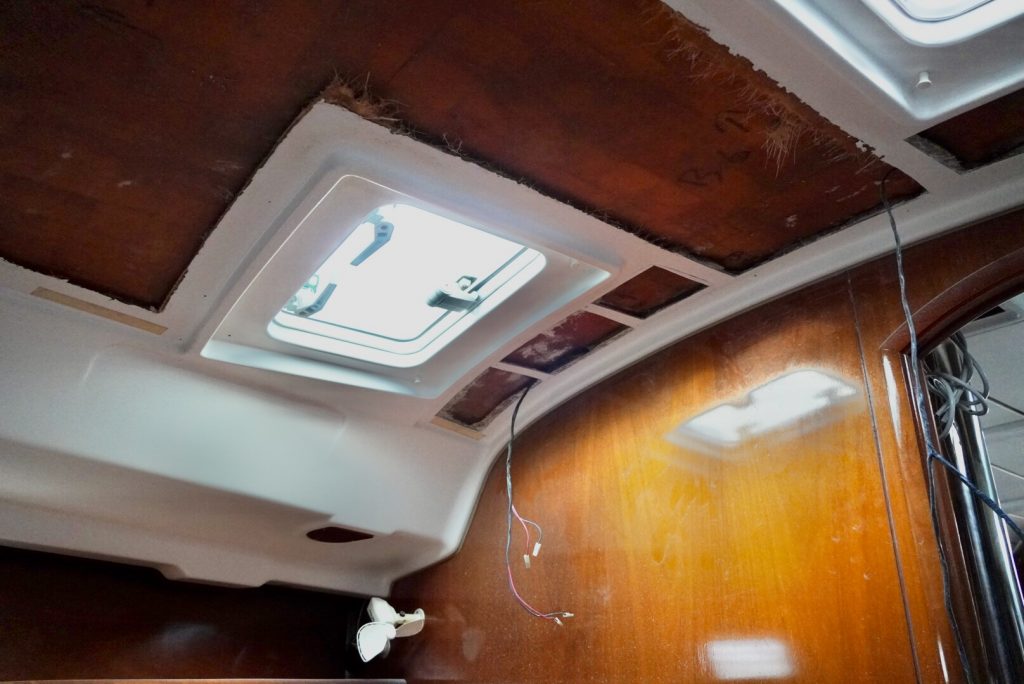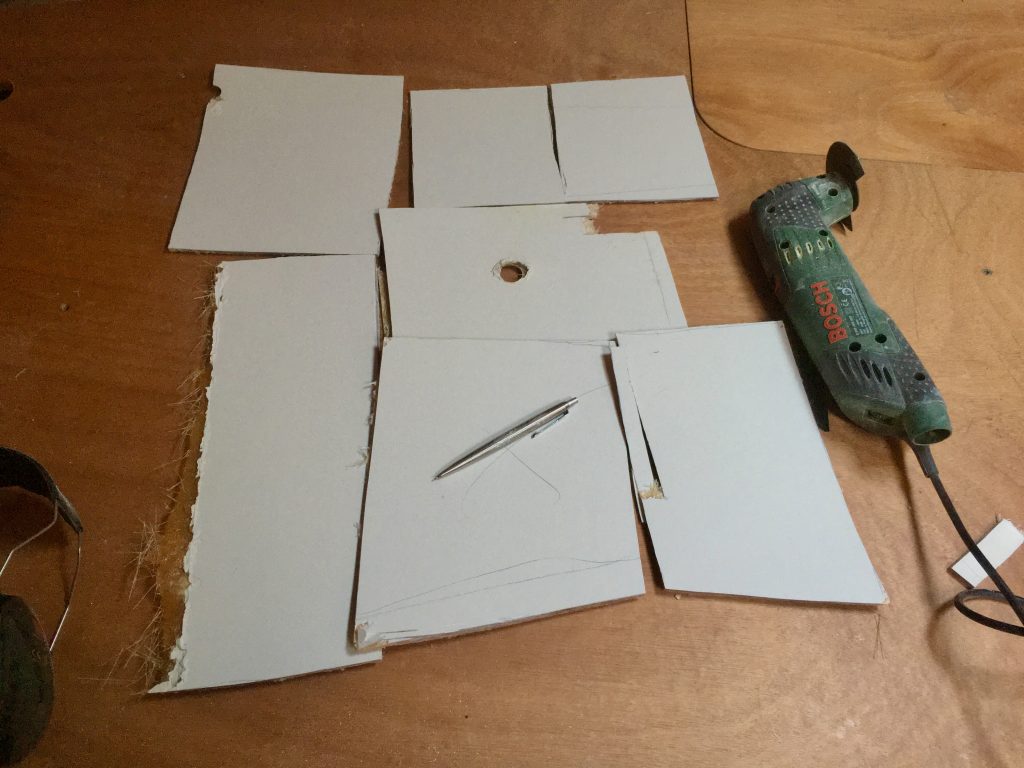 I managed to remove all this from the forward cabin alone. But it was a lot of hard and messy work, took me at least 90 minutes with that Bosch saw, so I made a new plan for the salon/galley area….a much quicker and much cleaner plan…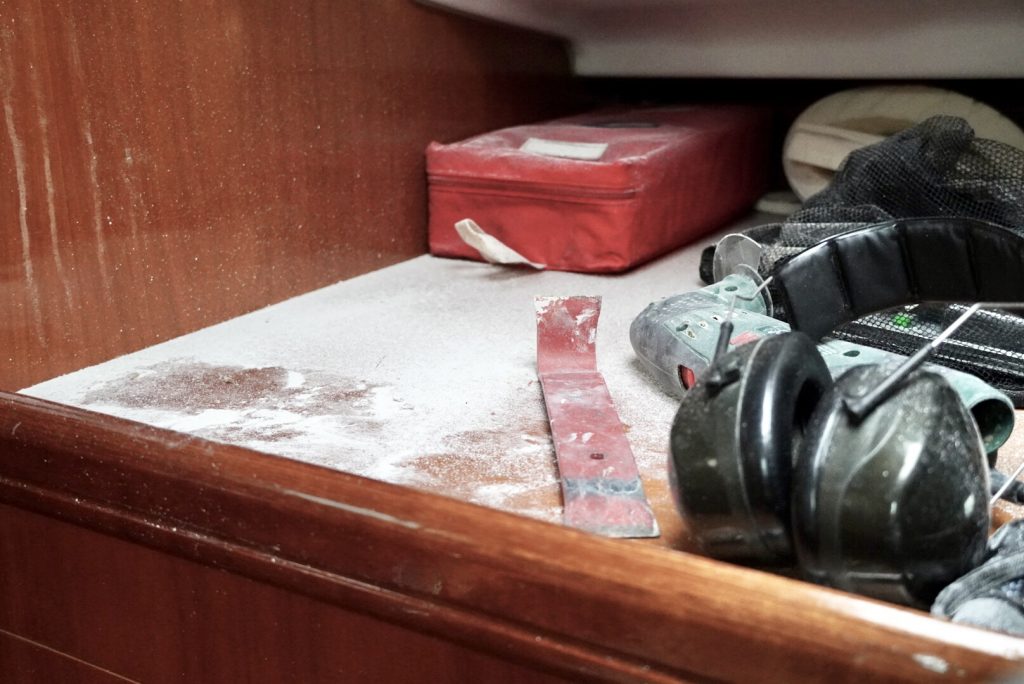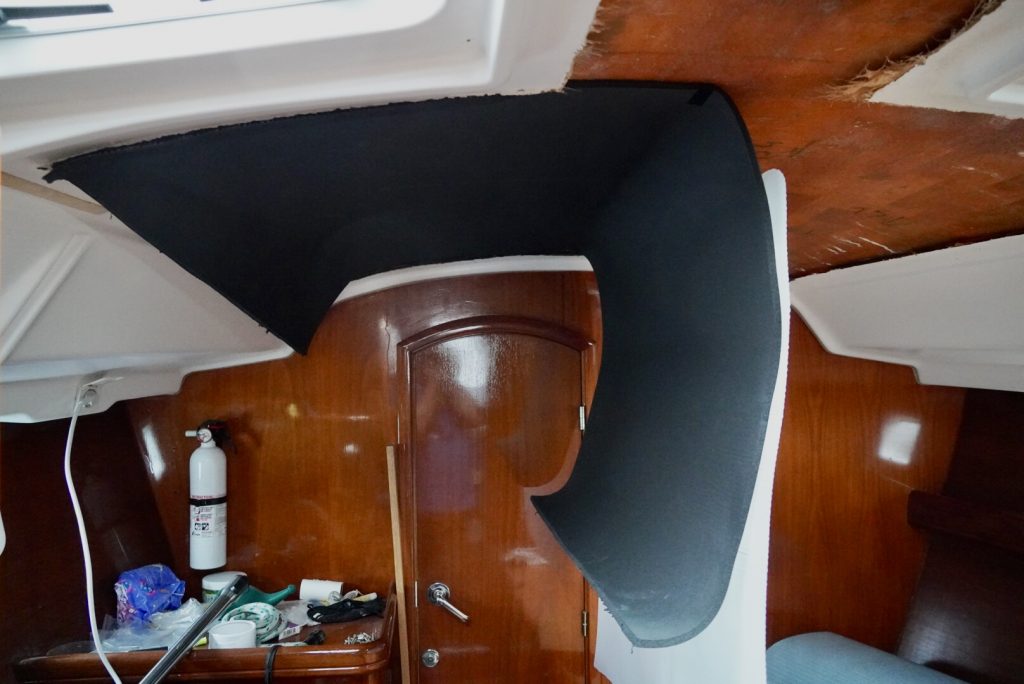 For the biggest pieces of Armaflex, we simply folded them over, and marked the middle with a small piece of electrical tape. Likewise marked the center of the ceiling, then the two of us lifted the Armaflex up and fastened towards one side first, then the other side.
This is pretty much like putting up wallpaper in your ceiling, except from the fact that when this shit is stuck, it stays. You have absolutely no way of getting it off. At least not in one piece.
Finally I trimmed off the excess Armaflex in each side, using my fingers to trace the inner liner edge.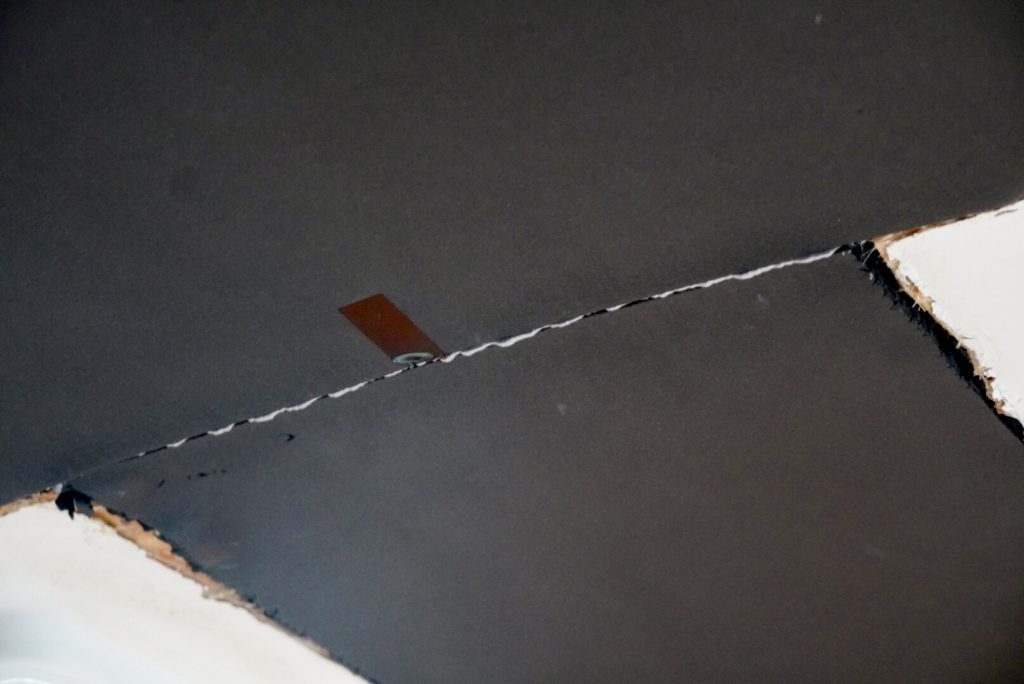 It is vital to make sure that the Armaflex is pressed firmly onto the roof all over, to avoid pockets of air where condensation can occur. Which it will.
Likewise, all seams must be filled with caulk, Tech7 or Sika, to prevent thermal bridges and condensation.
Slide your finger over the fresh caulk and close the seam pushing the Armaflex ends against each other. Use a cloth to wipe clean your finger and nozzle of the caulk gun.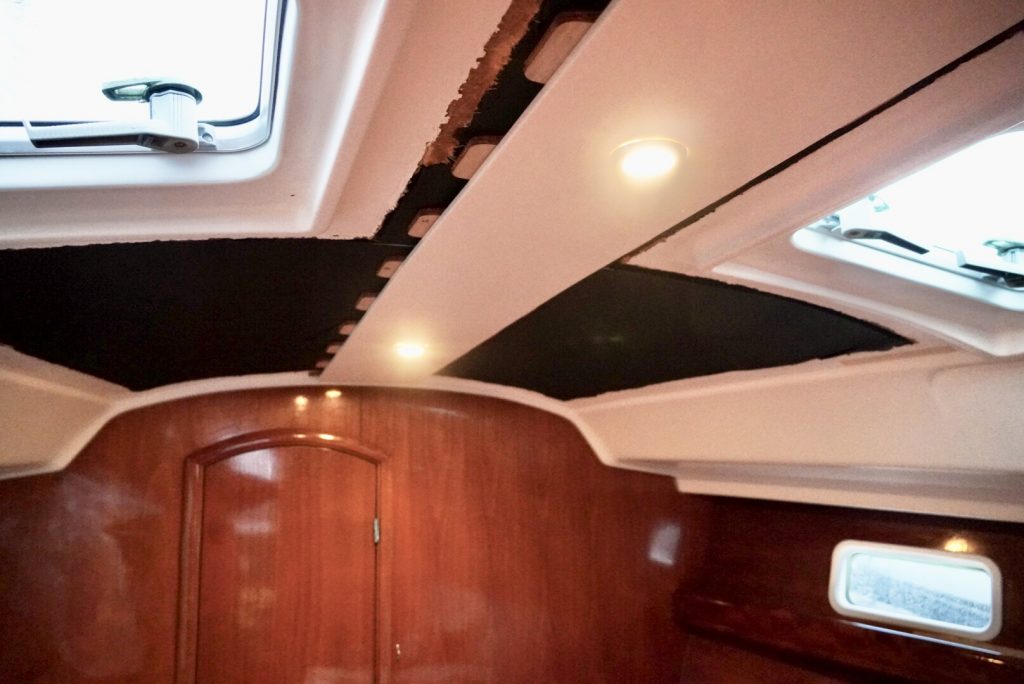 With the entire ceiling now insulated with a double layer 10mm Armaflex, plus an additional 10mm inside the ceiling boards, we've managed to pack in more than twice the insulation we initially had planned so we're very happy about that!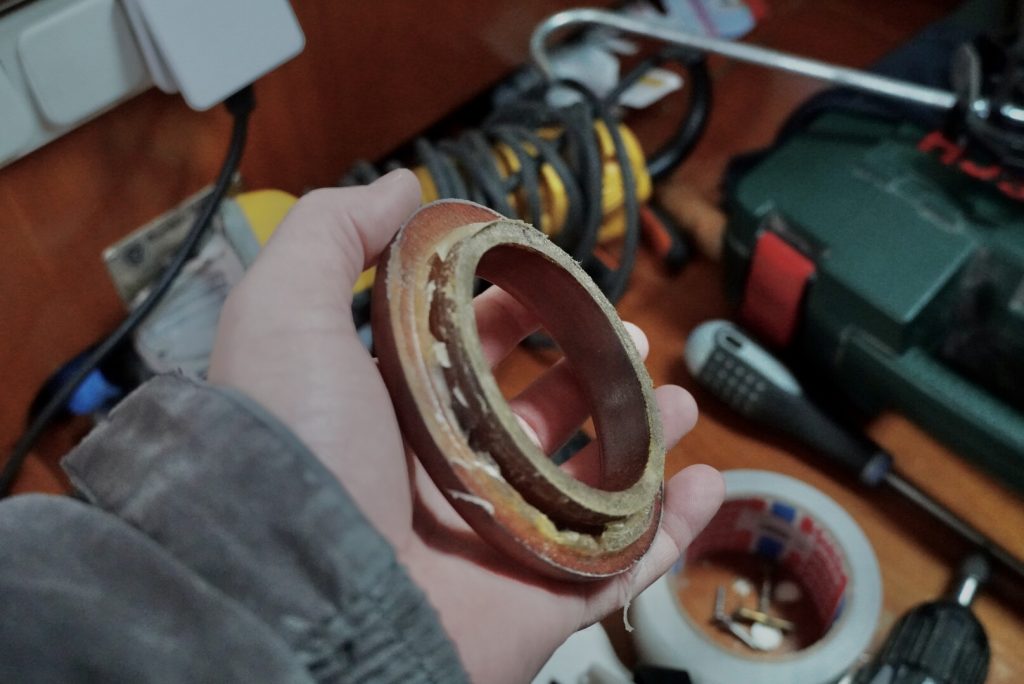 The wooden ring for the Dorade vent right above the chart table was fastened with some sort of caulk, so get a good grip on that and just twist and turn; It'll come loose with relative ease.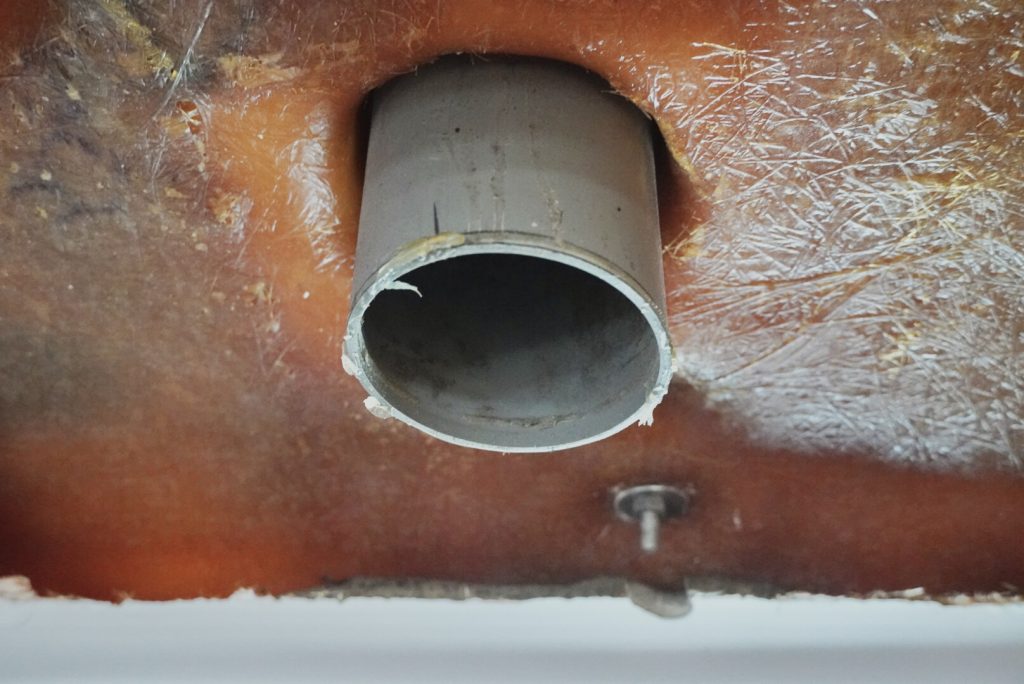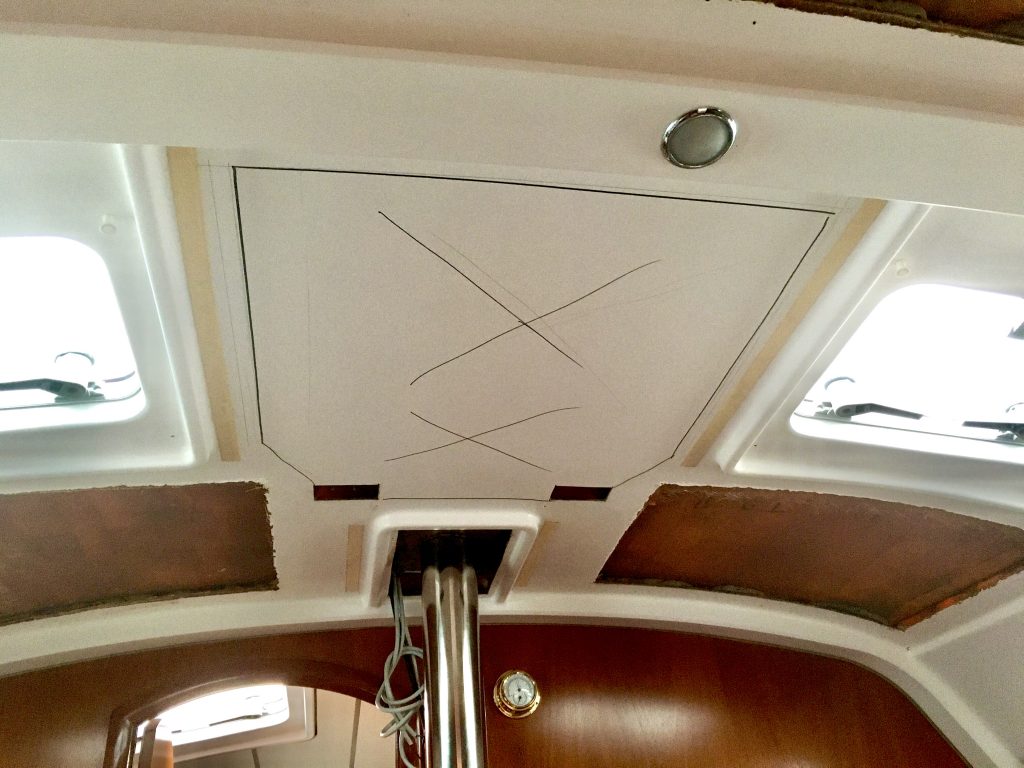 The salon would receive the same treatment as the forward cabin. Carefully knocking around, and inspecting with my cell phone, I decided that this area would be entirely safe to cut away. That is a HUGE piece of unnecessary inner liner!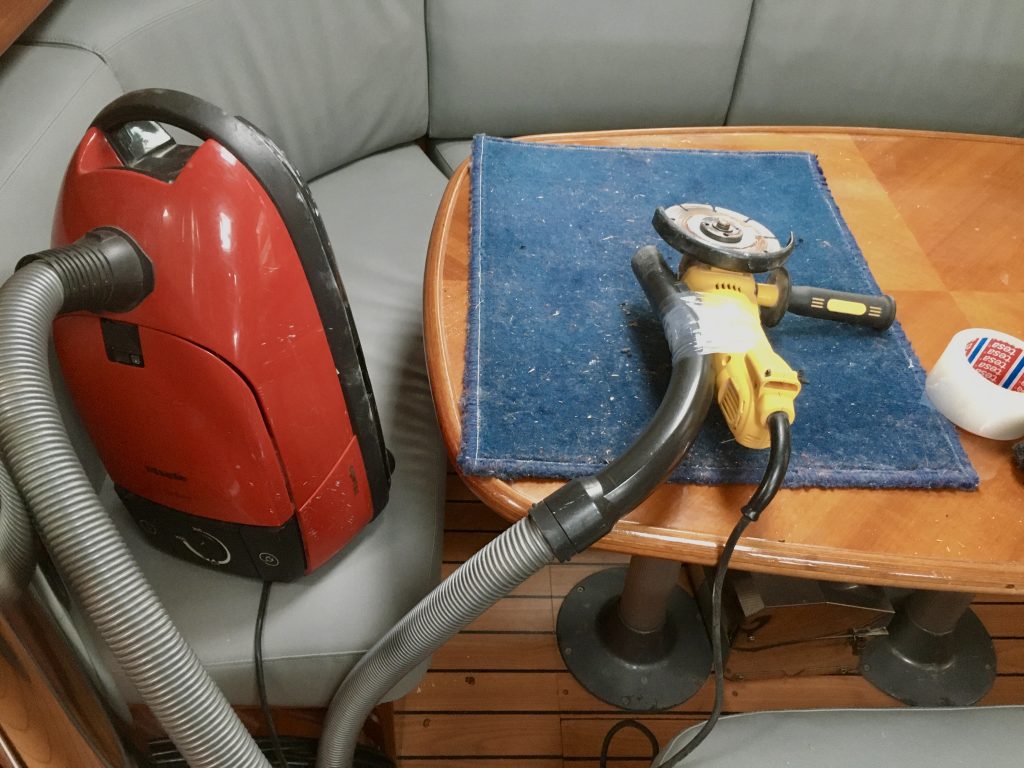 The Bosch multi cutter was slow to work with, so I decided to bring out my angle grinder, equipped with diamond blade. It should cut through the fiberglass like a hot knife through butter.
I also came up with this brilliant contraption of taping the vacuum cleaner to the angle grinder to more or less completely eliminate the fiberglass dust from the cutting.
While I felt certain I was ready for the Nobel Prize in Physics with that one, it turned out Physics had a very different opinion…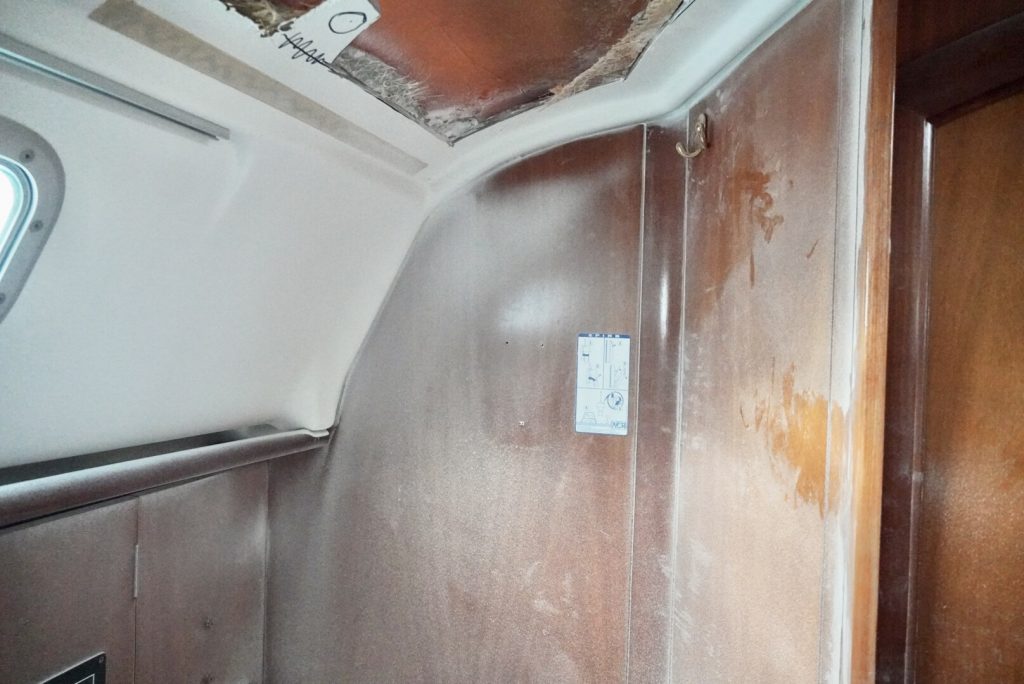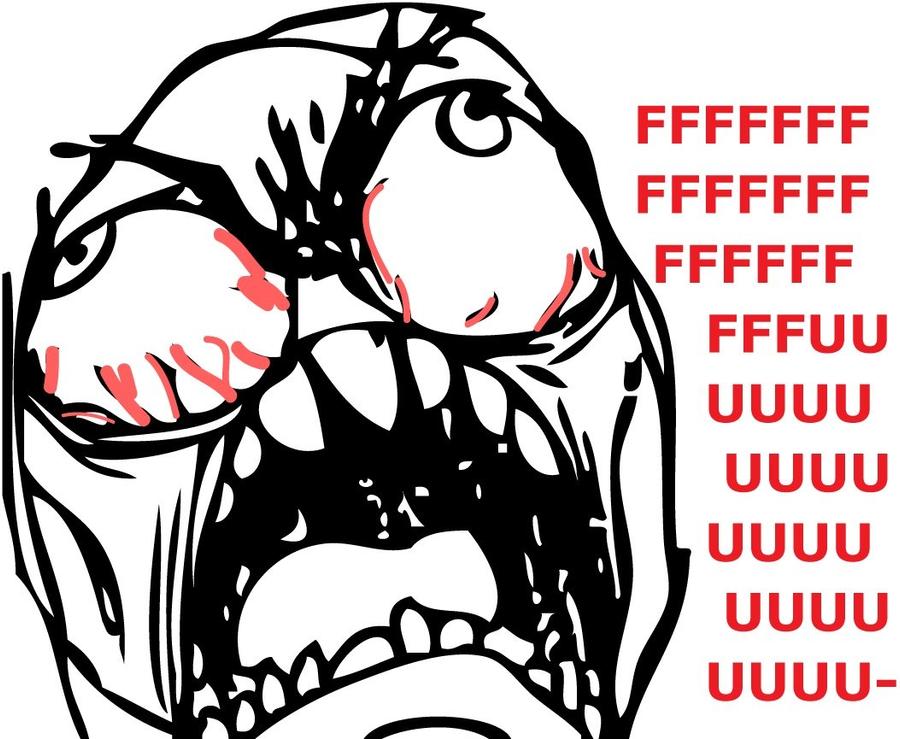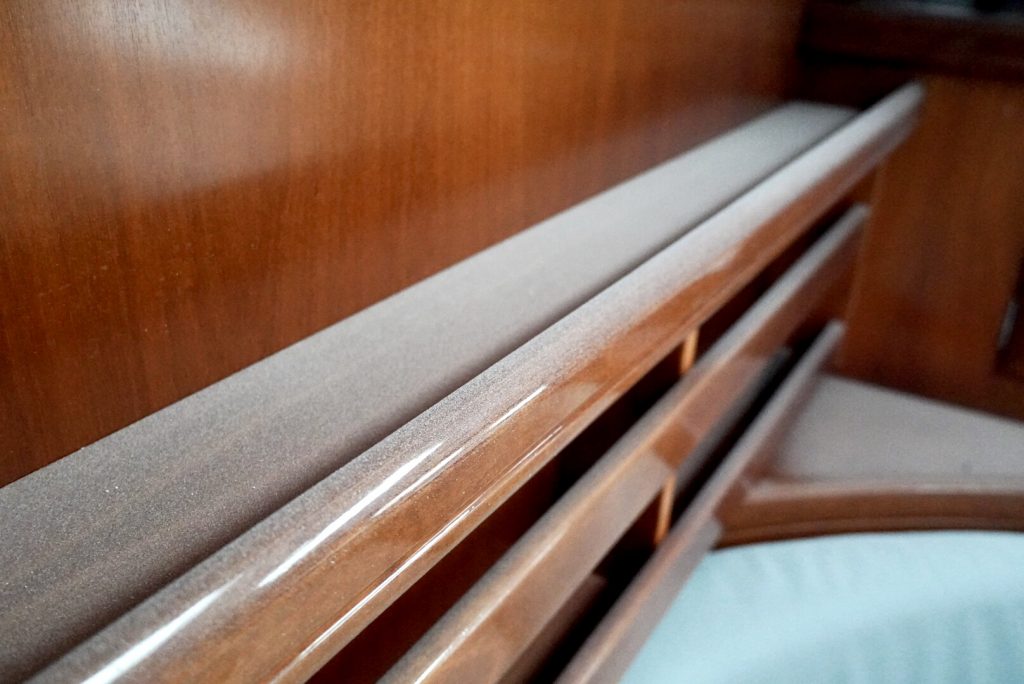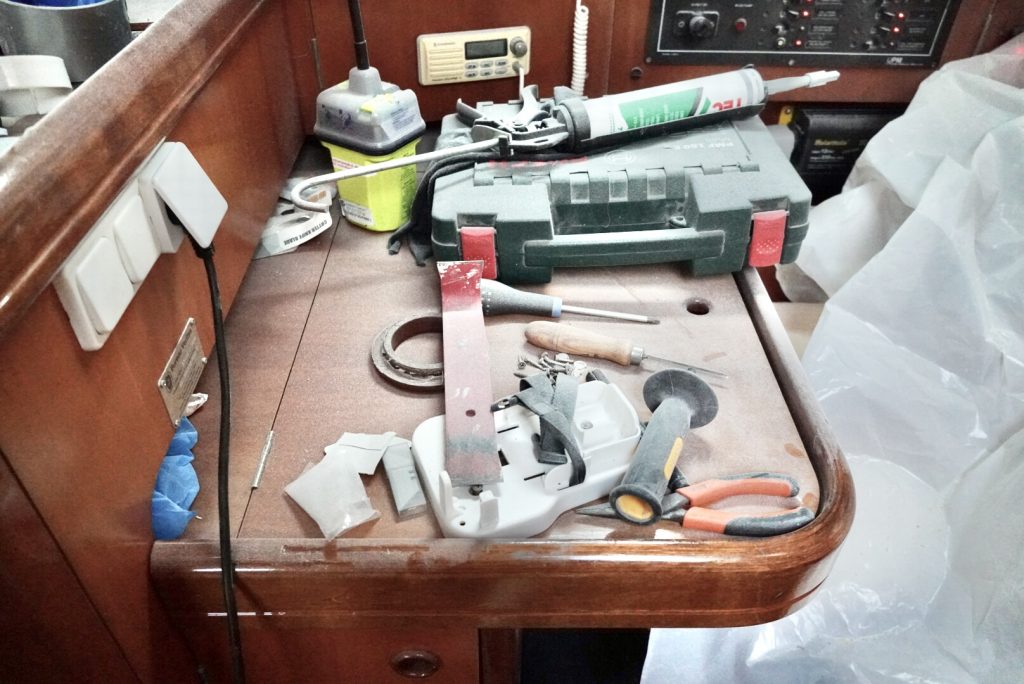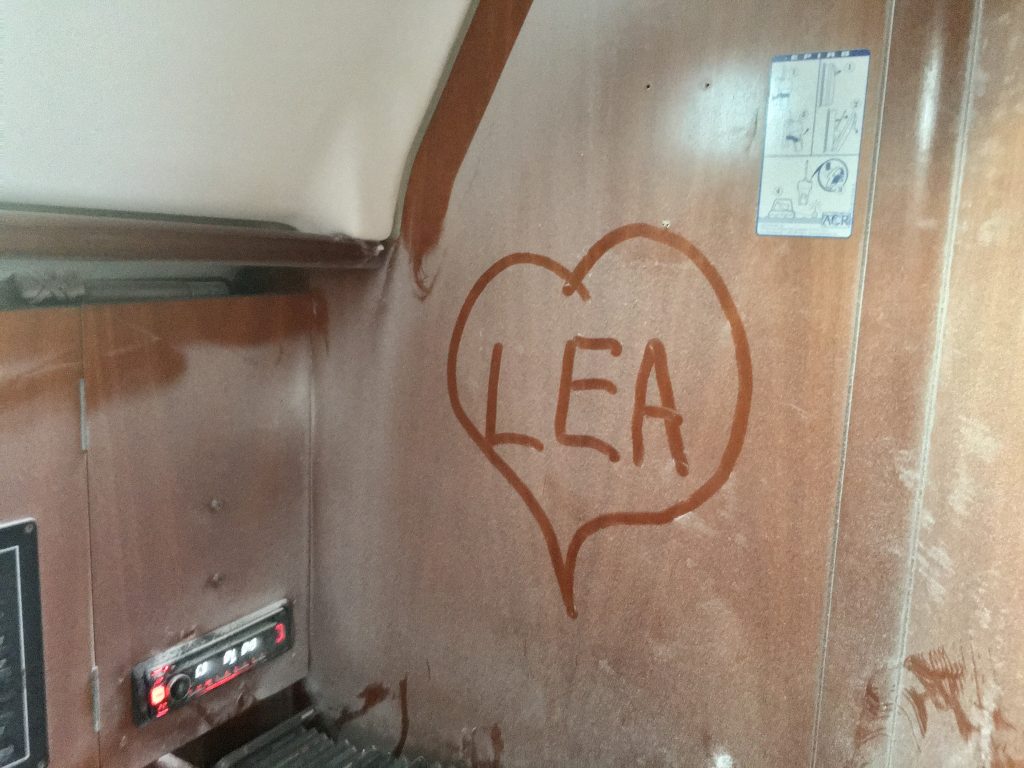 At least I got a chance to show how romantic I am, even after 11 years of marriage, so there's that!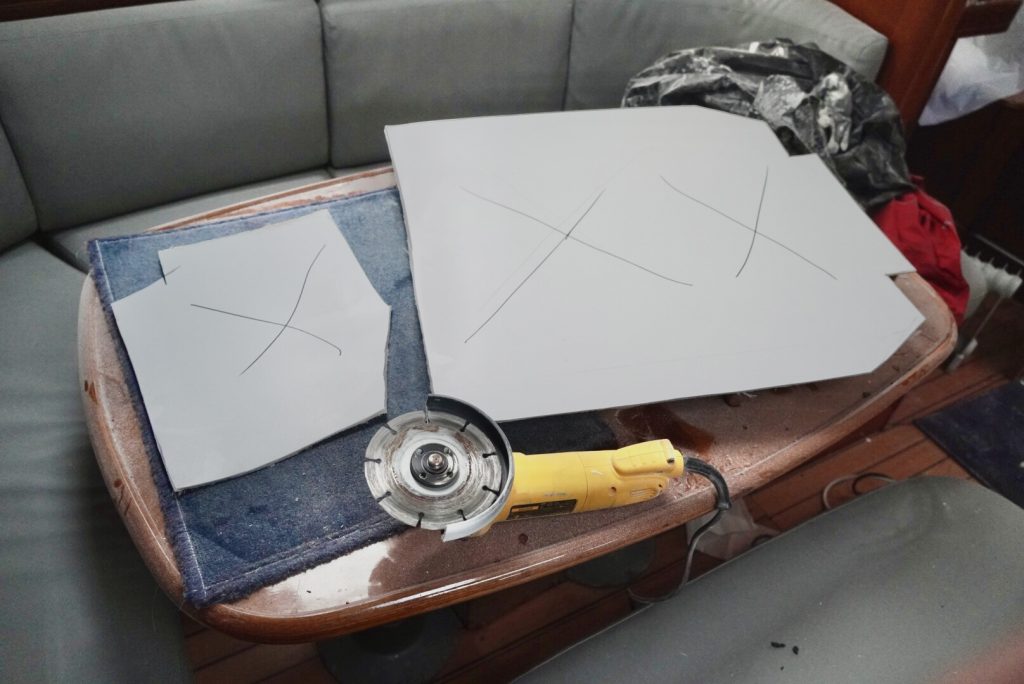 And there's also the fact that I had managed to take out over 1 square meter inner lining in total. I'm glad we did this, but if you decide to do the same, your choice is basically the following:
Saw away for hours with a slow, and somewhat messy Fein or Bosch.
…or
Get the job done in literal minutes, but have hours of cleanup.
Of the entire operation, taking out these panels has been the most time consuming part either way. You can easily knock off 4 hours of work omitting this.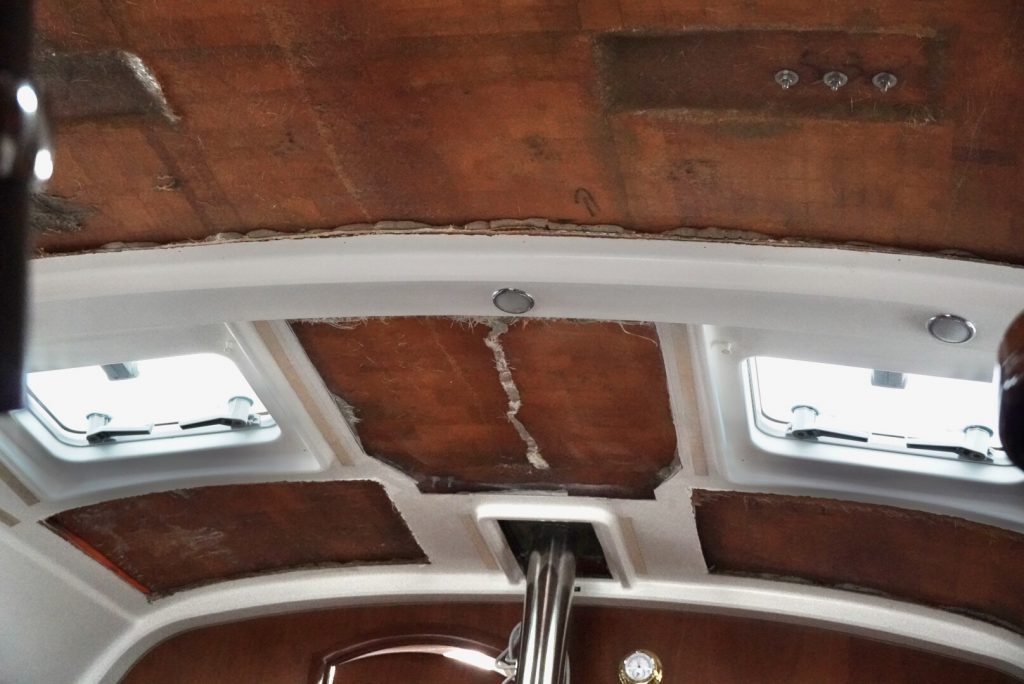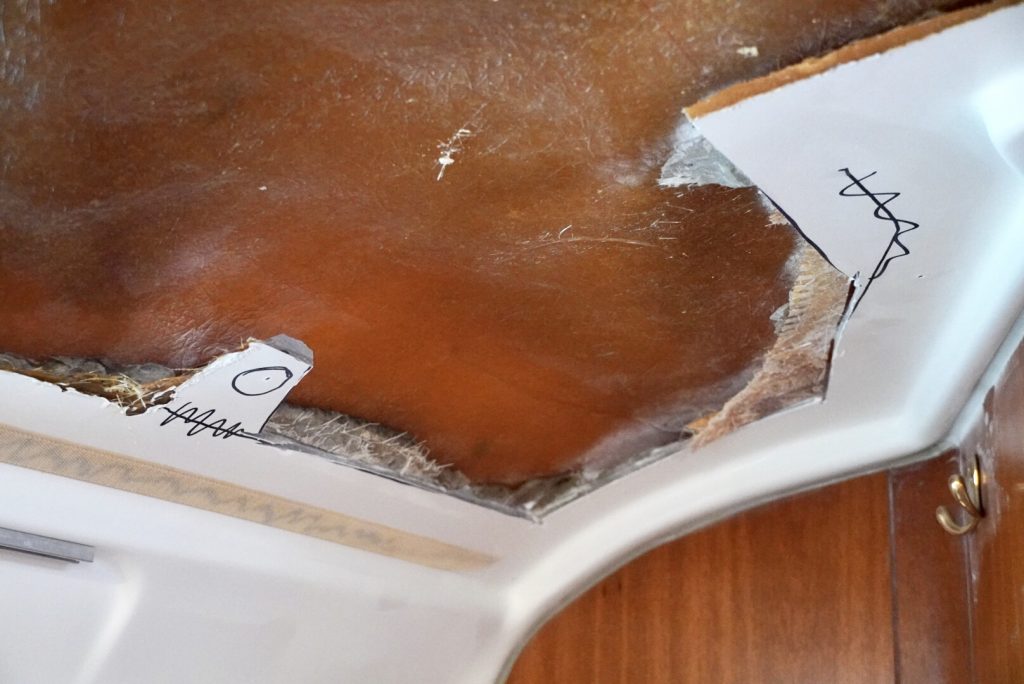 Sketch up where you want to cut with a pencil, then make the final lines with a sharpie. Then verify again before making the cut…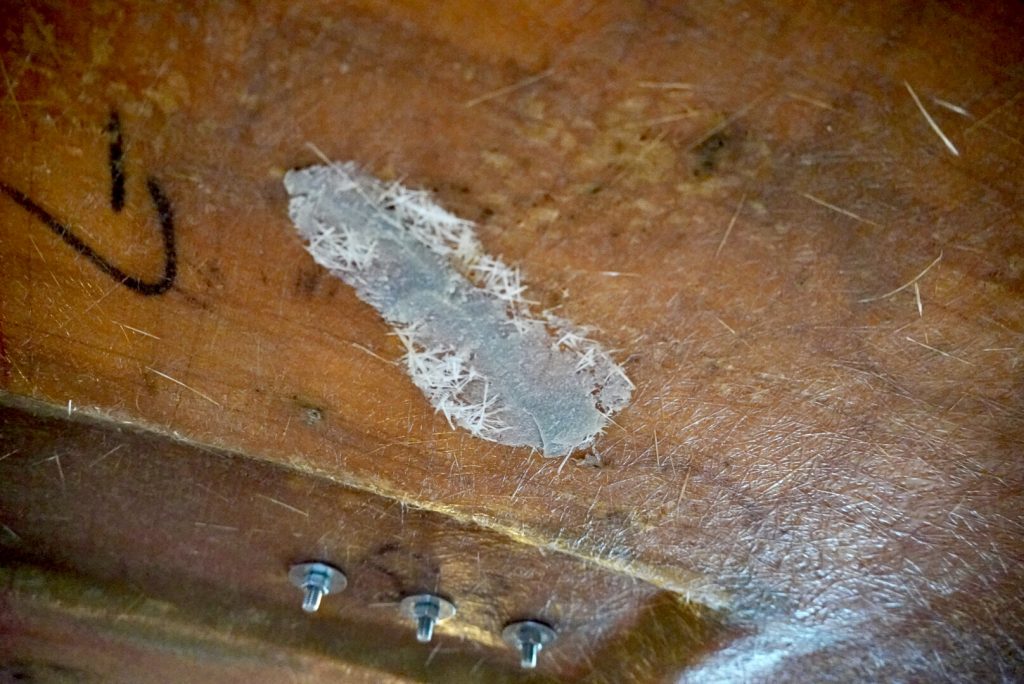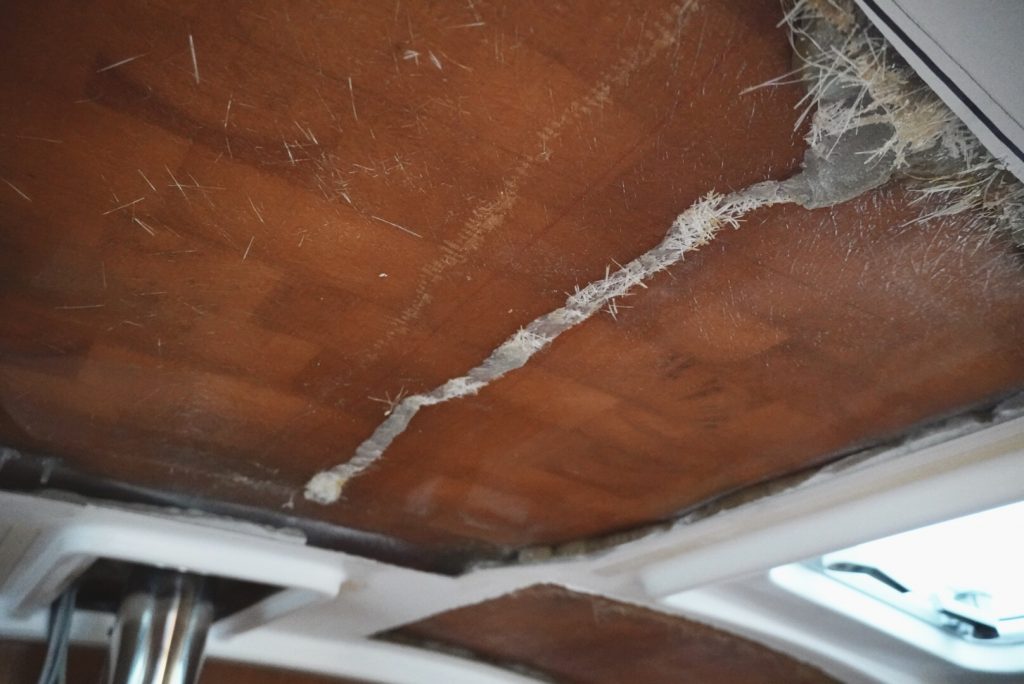 There were a few blots of epoxy glue here and there. It was easily removed by giving it a bit of a tap with this paint scraper and a hammer. This is the same paint scraper that we used for taking down the velcroed ceiling boards: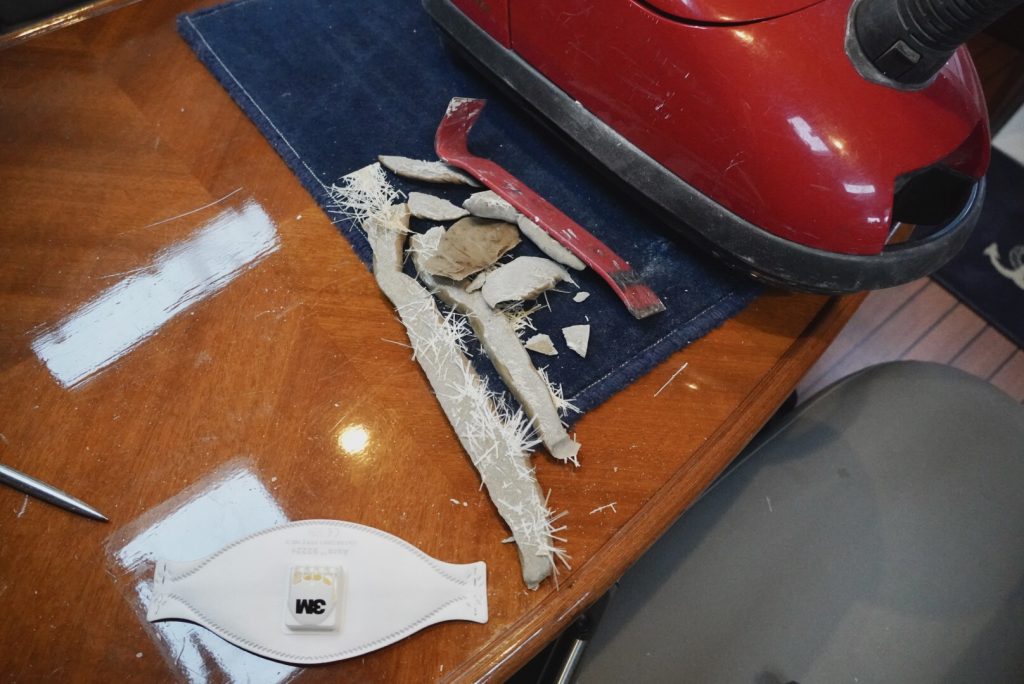 It is important to get rid of these epoxy blots to get an even surface for the Armaflex, and to avoid the dreaded pockets of air where condensation can, and will, form, in between the coach roof and insulation.
A few days later, Lea and I was on our way to the boat to finish off the last bits of the insulation. Lea made some last minute changes in our plans due to the fact she decided to challenge the law of energy conservation, and thus went from biking to flying form.
She flew face first over the sidewalk, and into some thorn bushes that cushioned her fall, leaving her with only minor road rash, bruises all over, torn GoreTex pants, a concussion and hospitalization with EKG, MRI, the lot.
We're just glad she missed the lamp post by a few centimeters 😬
Anyway…The magnificent Norwegian health care system delivered yet again, and this gave me the chance to finish the job singlehanded so to speak. And so I did. While it is certainly easier to be two on the job, I was surprised at how easy the installation went, even when the biggest piece of insulation in the entire project was going up.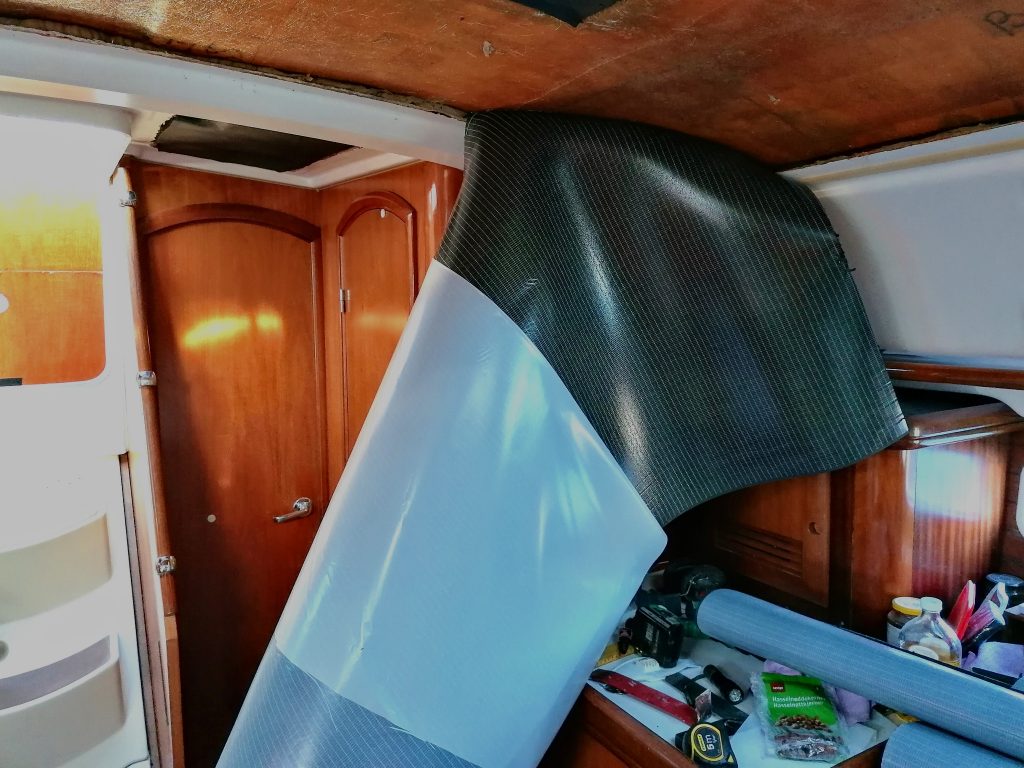 I pre-cut the length and width of the sheet to 250cm X 89cm, then peeled back around 1 meter of the protecting plastic to expose the adhesive.
Starting in one corner, on port side, I lifted the sheet over my head, resting it there as I lined up the "aft" edge of the sheet, then started lining up the forward edge, then evened out in the middle, working my way from the side of the boat, towards the towards starboard.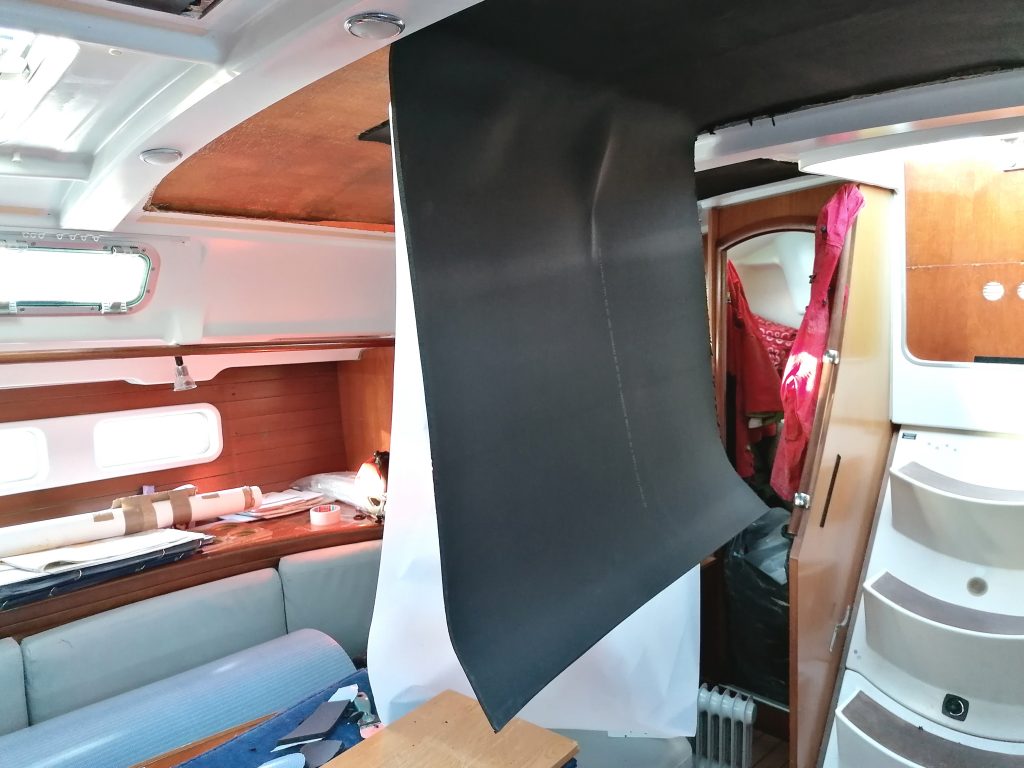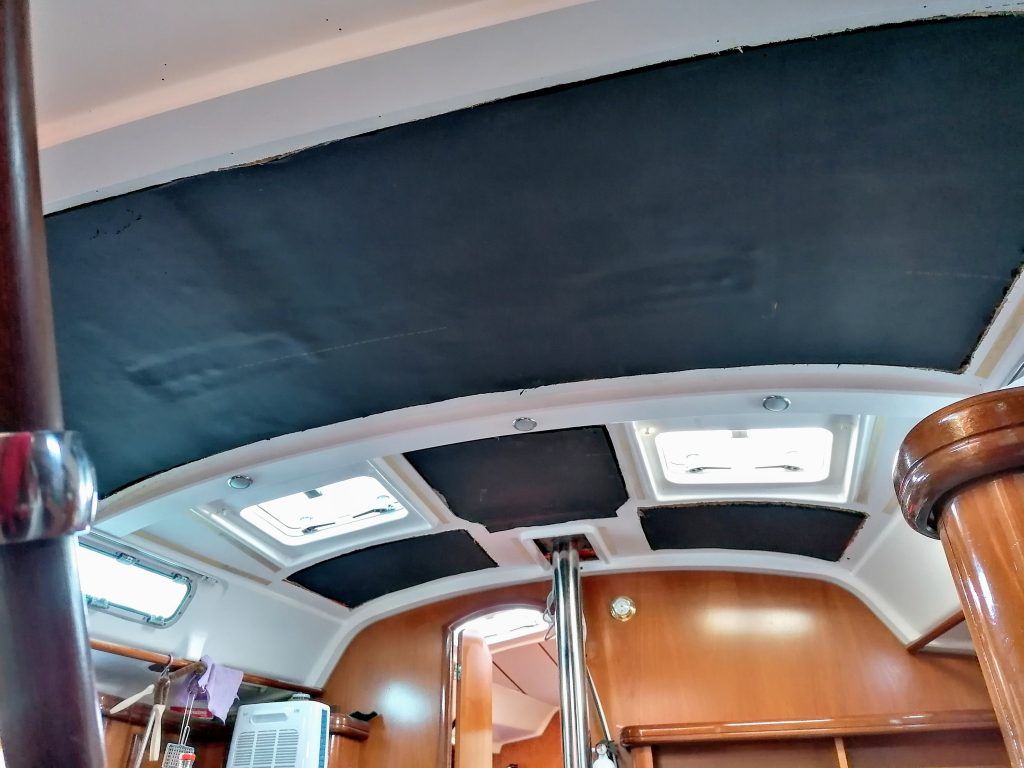 And then it's only a matter of putting the ceiling boards back up again. Easy enough for one guy, super easy for two.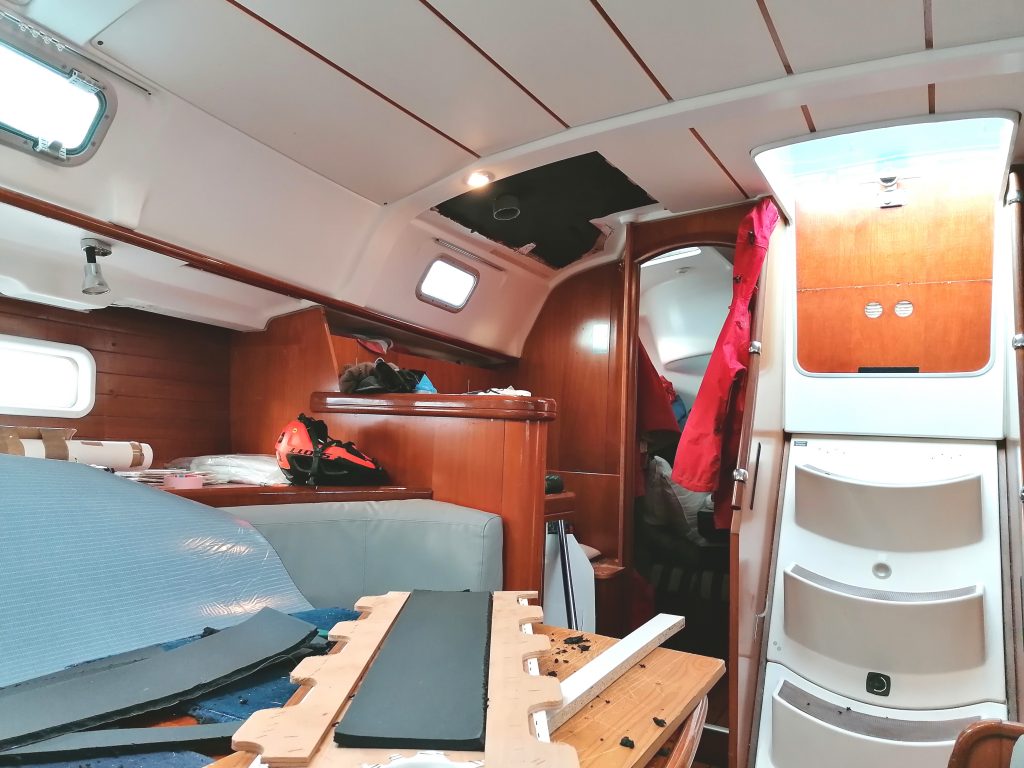 And that about concludes Part 2 of our little project.
Was is worth it? Does insulating your boat actually work? Well – when I got to the boat the day after Lea fell on her face, it was a crisp, beautiful day, with temps just dipping below freezing.
The sole purpose of insulation is to prevent heat loss from inside your boat. When I got to the boat, there was quite a bit insulation up, but nearly half was missing; forward section is covered in frost, but the insulation stops right in front of the hatch and granny bar, and there is no ice what so ever cause the uninsulated warmer roof melts the ice away.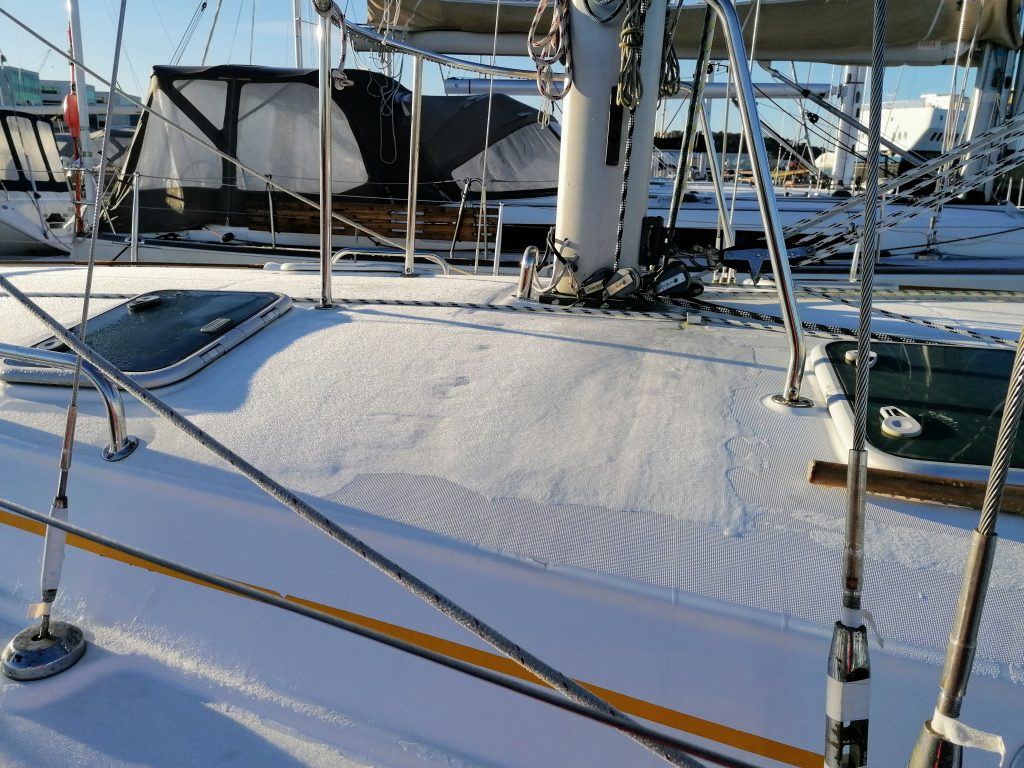 What I learned, and things to consider:
For starters, this has been a very rewarding project for both of us, and we're extremely glad we did it. The temperature rose degree by degree as we worked our way through the boat, and the climate inside has improved dramatically, both because of the insulation, but clearly also because of the rotary desiccant dehumidifier we got.
This enables us to live comfortably onboard, even off the grid at sub zero temperatures, and we are definitely going to celebrate Christmas at anchor out in the middle of nowhere this year 🙂
Now that I know I can get 20mm insulation all over in the ceiling, one thing for you to consider is using 20mm instead of 10mm sheets. It will likely save you quite a bit of time (perhaps 3 hours?) on the cutting, but unless you buy a roll with 10mm in addition, you will not be able to fill all the small gaps (which is what took a looong time, but well worth it), indentations and the ceiling boards like we did.
Despite the unholy mess and the likely 2 hour clean up job taking out the unnecessary liner created, I am very glad we did it. It allowed us to insulate an additional ~1 m2 , and that does matter here up north. We also get a squeaky clean boat, which is nice too.
What's next?
With the ceiling insulated, our priority right now is to do something with the heating situation. We do have a 3.5Kw Mikuni diesel heater, that the previous owner installed, but the previous owner was a lazy ass and only bothered to install heating ducts in the stern cabins and the companionway.
We are looking to bring the heating duct to our salon, our forward cabin, all the way to the forward head, cause nobody likes taking their morning dump on a frozen can…
We are also looking into how we can insulate large parts of our sides, and since an open hatch is not always a viable alternative here up north, and definitely not on a passage, we need to figure out a better way of ventilation too.
In short, there will definitely be a Part 3, quite possibly even a Part 4, as we tackle the remaining challenges, so make sure to follow us on Facebook to get the updates!
Fire off all your questions below, and I'll make sure to answer the best I can!