I am a whore for chili, so when I got my hands on some Kashmiri chilies, and we're in the middle of lamb season here in Norway, there was only one thing I could make: Rogan Josh, just like my Viking forebears used to make!
Rogan Josh is a very aromatic curry from Kashmir, traditionally made with lamb, mutton, or goat, and is one of the signature recipes of Kashmiri cuisine. There are of course tons of other Rogan Josh recipes out there, so why the hell should you bother with this one?
Well – for starters, I have yet to see a recipe that is as streamlined and non-fiddly and un-labor intensive (that's not even a real word!), while also delivering restaurant quality results.
Secondly, there's a good chance you'll already have most, if not all the spices in your galley already. And thirdly…umm….it's tasty AF?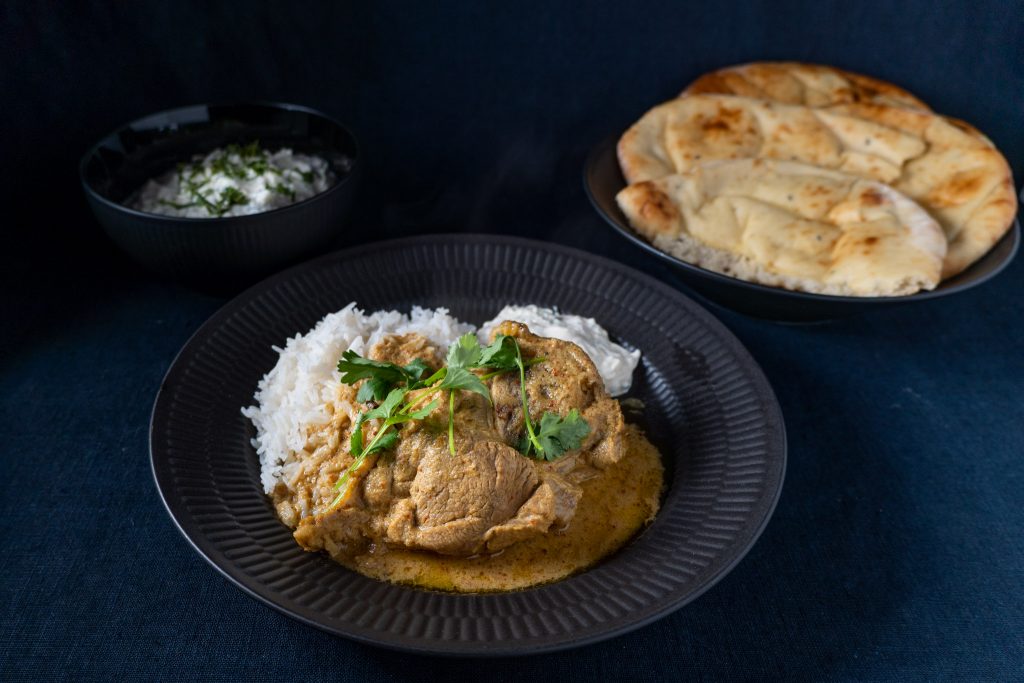 This is a warm, rather than a hot curry; these Kashmiri chilies clock in at only 1,500-2,000 Scoville. Compared to, say, Jalapeño or Cayenne which is rated at typically 3-5,000 and 35,000 Scoville respectively, they are super mild, and extremely flavorful.
If you are in Norway, you can get them here. If you can't find Kashmiri chili, use some beautiful Cayenne chilies and a dash paprika instead, but make sure to use fewer, as they are much hotter!
If you use Cayenne, I would start with one whole, and make sure to remove the "string" that the seeds are attached to. This string is called the Capsaicin gland, and is where the real heat is. Adjust heat with Cayenne powder as the pot is simmering.
Ingredients
1 kg goat, mutton or lamb shoulder with bones, in chunks

If you are in Norway, Fårikålkjøtt is perfect for this
Marinade
200 g Greek style yoghurt
3-4 whole Kashmiri chilies, de-seeded, chopped
3 cm/1″ Piece of fresh ginger, chopped
10 g fine sea salt
Spice mix
A small pinch saffron threads (can be omitted)
5 cloves
5 green cardamom pods (just the seeds)
1 mace blade (or 1/4 tsp nutmeg)
1 tsp ground black peppercorns
Braising flavoring
2 tbsp ghee or vegetable oil
1 onion in chunks, blended to a paste with a splash of water
4 large cloves of garlic, chopped
1 cinnamon stick
Method
Dump all the ingredients for the marinade into a upright blender and blend until smooth. Cut the meat into good chunks, and put in a lidded container. Pour the marinade over the meat, and let sit in the fridge under lid for at least 2 hours. Overnight is even better.
If you don't have a upright blender, super finely chop both the chili and the ginger with a very sharp knife. And if you don't have a razor sharp knife, it's time to sharpen your knife anyway 😉
In a 3-4 liter pot, add the ghee or oil, then add the onion paste and sauté under lid at medium heat for 15 minutes until completely soft. Add the garlic and sauté for another 2 minutes.
To make onion paste without a upright blender, you can grate it instead, or super finely chop it with your sharp knife. The point is that you want the onion to disintegrate in your sauce.
While all this sautéing is taking care of itself, add all the ingredients for the spice mix in a mortar and grind with your pestle into a powder.
When the garlic is nice and fragrant, add the spice mix, stir, then add the cinnamon stick, and the meat.
Bring to a very gentle simmer, and simmer for 60 minutes, until fall off the bone tender.
Top with a generous amount fresh coriander or mint leaves, and serve with basmati rice, cucumber and mint raita, and naan. You can find the naan recipe right here.
Cucumber and mint raita recipe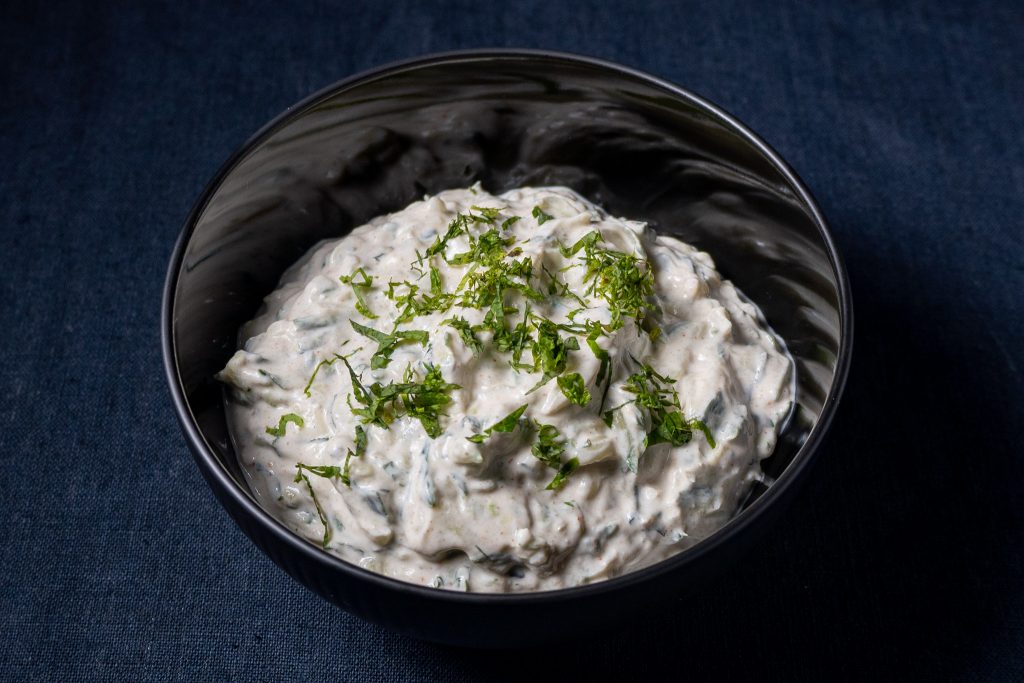 1 cucumber, coarsely grated
A pinch of fine sea salt
100 ml Greek style yoghurt
1 tbsp coarsely grated onion
1/2 tsp cayenne powder
1 tsp toasted cumin powder *
1 tbsp mint leaves, chopped
Method
* Storebought powdered cumin is usually not toasted, so in a dry pan, toast the powder at medium heat until fragrant, 1-2 minutes. Allow to cool before use.
Grate the cucumber into a colander, then toss with the sea salt. This will draw out a lot of liquid, so let it drip into the sink or in a bowl or something for at least 30 minutes.
Squeeze out most liquid from the cucumbers, then combine with all the other ingredients in a bowl. Let sit for another 30 minutes, or longer, for the flavors to infuse. The raita keeps well for days.