Warm from the oven, soft, pillowy, slightly chewy naan, flavored with nigella seeds, and brushed with ghee. That is pure happiness on a plate. We eat a lot of naan, both with curries and dahls, so this is a tried and true recipe!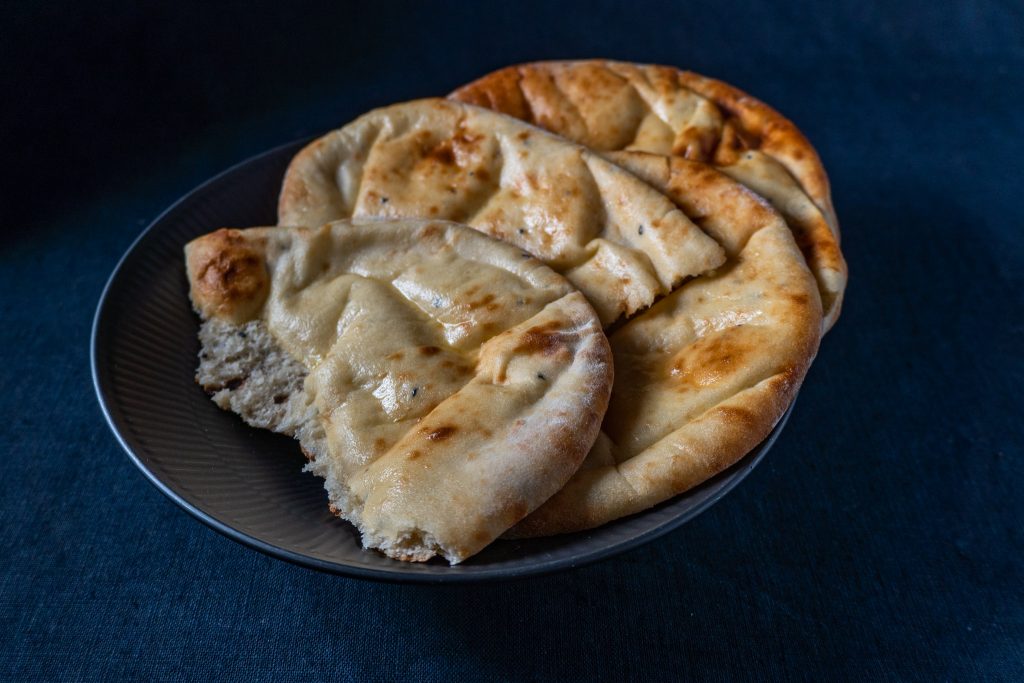 Ingredients
300 g wheat flour, plus more to knead
6 g dry yeast
5 g fine sea salt
1 tbsp sugar
2 tsp nigella seeds
200 g luke warm water
2 tbsp Greek style yoghurt
1 tbsp ghee or vegetable oil
Method
Combine everything in a lidded bowl and stir until a shaggy dough forms. Transfer to your countertop and knead for a few minutes until a soft dough develops.
Transfer the dough back to the bowl, put the lid on and let rise until double in size.
Divide the dough in 2, and shape into balls. Let rise for 30-60 minutes under cover. Flatten with your hands and shape the dough into a 26-28 cm/9-10″ disc. Pick it up by the top to stretch it slightly into a teardrop shape, then put it in the hot pan.
Bake on each side on a a dry, medium hot cast iron pan, or better yet, at 300C on a pizza stone. Cover with a kitchen towel until serving to keep warm. Brush with a little bit ghee before serving.
Check out our recipe for Rogan Josh while you're at it!