We like to enjoy this apple cake with our afternoon coffee in the cockpit. A dash of crème fraiche adds a creamy freshness to it. But adding a spoonful quality vanilla ice cream certainly won't be a disappointment either 😉
We prefer using crisp, not overly sweet apples for this cake. Calvados is a French apple brandy from Normandie, but if you can't find that, we've found that Armagnac and Cognac pairs well with the raisins, and rum will pair very nicely with the vanilla and brown sugar.
Best of all, this cake takes only about 15 minutes to whip together 🙂
Ingredients
1 kg whole firm, crisp apples (4-5 depending on size)
Mix 1 (dry mix)
200 g flour
100 g chopped almonds
150 g raisins
5 g fine sea salt
2 tsp baking powder
1 tsp real vanilla powder*
1 tsp cardamom powder
*Vanilla powder is pure vanilla made by grinding dried vanilla beans. It is stronger and more potent than vanilla extract and gives a rich, robust vanilla flavor.
You can easily make this at home from used vanilla beans that you simply dry (in room temp, dehydrator, oven at low etc.) and then grind to a powder; zero waste from a very exclusive product. You can of course also buy it at a premium, or use real vanilla extract if that's what you have.
Mix 2 (wet mix)
4 medium free range eggs
100 g white sugar
50 g brown sugar
50 g whole or semi skimmed milk
40 ml Calvados, Armagnac or rum
Method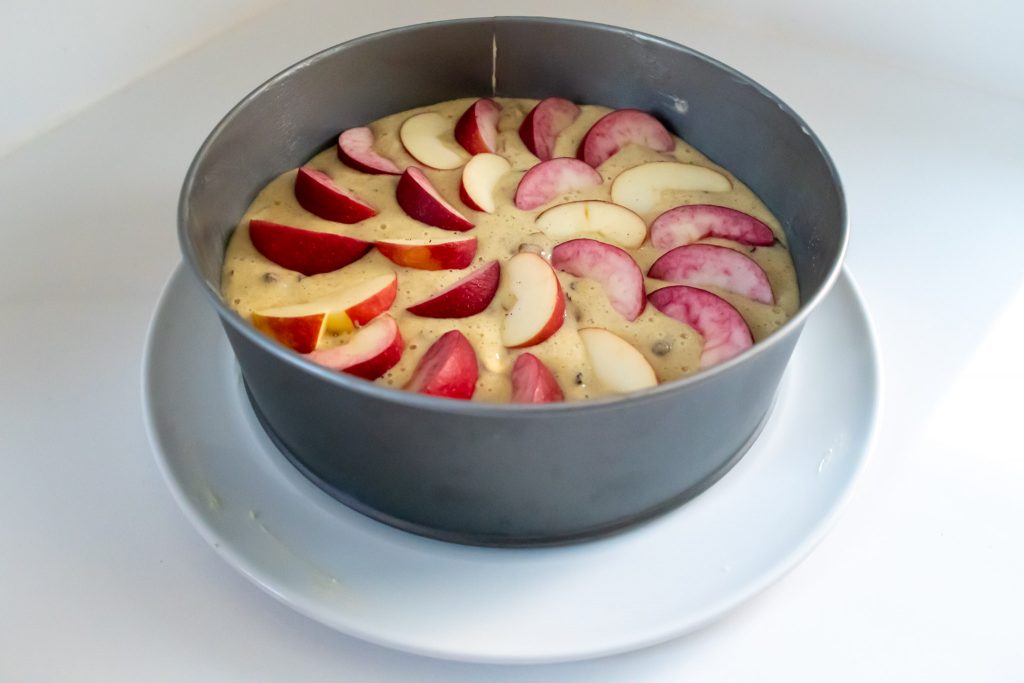 Preheat your oven to 175C.
Butter your 23cm X 7.5 cm (9×3″) cake form.
Rinse, core and divide your apples into 10 mm thick wedges.
Using half of the apples, arrange one layer of apple wedges in a spiral shape in your cake form.
Measure and combine everything for the dry Mix 1 in a bowl
Measure everything except the booze for the wet Mix 2 in a bowl, and whisk until a rich, thick foam forms. Now stir in the booze.
Tip the dry mix into the wet mix and fold gently to thoroughly combine the two.
Pour and distribute 70% of the batter into the form over the apples.
Arrange the remaining apples in the same fashion, then pour over and distribute the remaining cake batter.
Whip into the oven, and bake for 50-60 minutes at 175C.
This cake is amazing when fresh, but let it cool down for a few hours before serving. It'll be crisp on the outside, and soft and juicy on the inside.
It also keeps very well for several days under a lid. What it'll loose in crispness on the outside it'll gain in juiciness on the inside as the apples soaks and marinates the cake.