As foragers, we eat a lot of mushrooms, and this mushroom stew is no exception. We really think this dish is Norway on a plate, and it is full of wonderful flavors that you can recreate at home with ease, using foraged or store bought mushrooms.
But a disclaimer here: While it is a super simple dish to make, it is not "made in just 15 minutes", like everything else on the web. It takes time cause we'll use a few tricks to maximize flavors, while also avoiding going Heston Blumenthal "full retard".
Expect this dish to take about 2 hours in total, but there should be plenty passive time to enjoy yourself with a drink or do your taxes or something. With that expectation management out of the way, let's get cooking!
Sourcing the mushrooms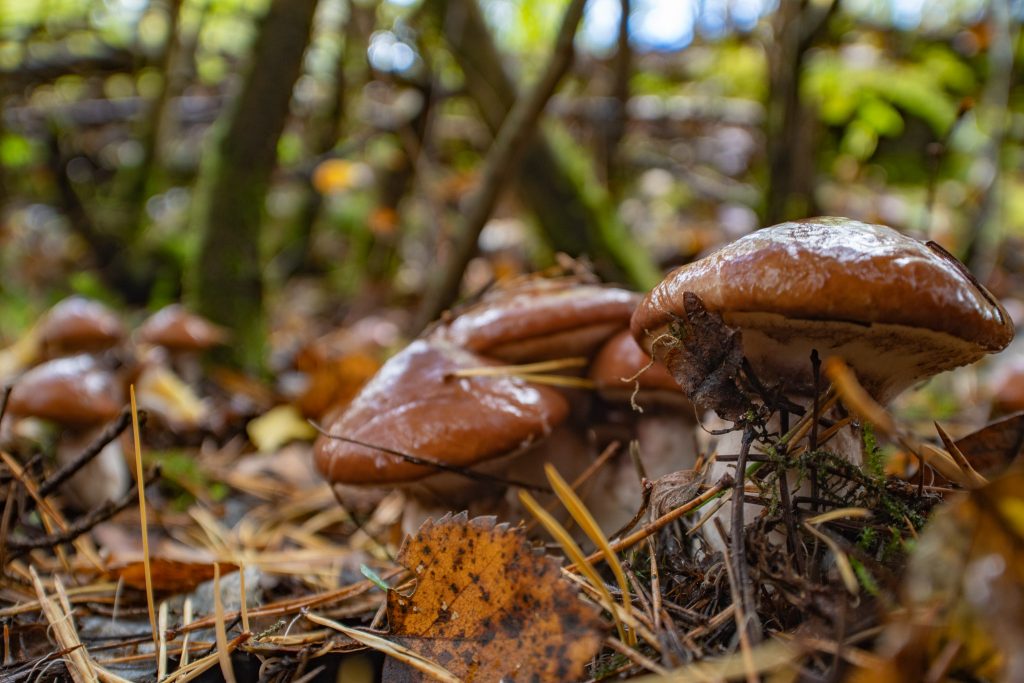 We used slippery jack (Suillus luteus) here, but any bolete will do wonderfully in this dish. If you can't, or don't know how to forage, try a mix of store bought mushrooms; go for meaty mushrooms like champignons, portobello and fresh shiitake, and then spike them with dried (or fresh) store bought king bolete/penny bun/porcini for added flavor.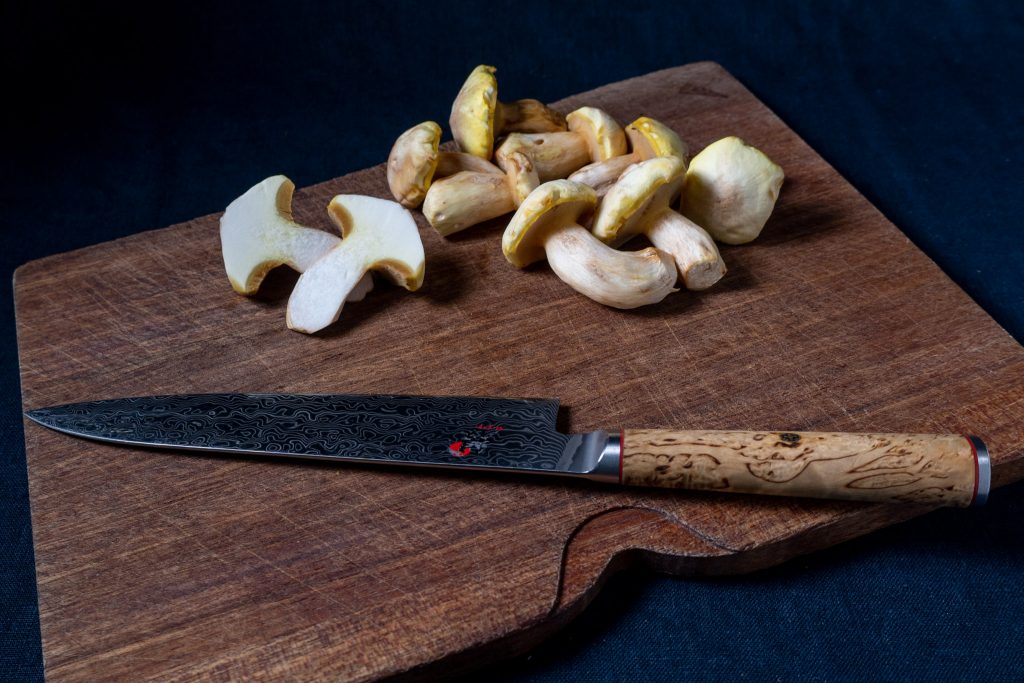 Ingredients
For the stew
1 kg mushrooms
500 ml water
1 carrot, in chunks
1 stalk celery, in chunks
1 garlic clove, bashed
A few sprigs fresh thyme
2 dried bay leaves
10 juniper berries, crushed in a mortar or halved with a knife*
1 tbsp real butter
1 tbsp wheat flour
100 g shallots, sliced
1 splash madeira (or dry sherry or Shaoxing)
100 ml full fat sour cream or crème fraiche
Fine sea salt
Neutral oil
A handful lingonberries, fresh or frozen**
*Juniper berries imparts a wonderful piney wilderness flavor to the dish. And while it'll be a totally amazing dish without, see if you can source some; forage yourself, or purchase online.
**Lingonberries are like the cranberries of Scandinavia; they give a brighter tart acidic kick than cranberries, but cranberries will do in a pinch.
Mashed potatoes
1 kg potatoes
100 g real butter
about 100 ml whole milk
fine sea salt
Brussles sprouts
400 g Brussels sprouts
1 tbsp real butter
fine sea salt
Method
Rinse and cut the mushrooms into good, bite sized chunks. I typically halve the stem and quarter the cap.
In a large sauté pan, or pot that has a lid, add the mushrooms , a splash or water, and a pinch of fine sea salt. This will kick start the process of osmosis and draw out a lot of liquid from the mushrooms.
When the mushrooms are boiling in their own liquid, strain the liquid into a container, and set aside. You have just made mushroom stock.
Bring the heat up to high, add a tbsp or so oil. Add the mushrooms and give them a good sear; brown means flavor, so the more patient you are with the browning, the tastier it'll be in the end, so take your time 🙂
When you are happy with the mushrooms, bring down the heat to medium, add the shallots and sauté for 10 minutes until soft. Set aside in a container.
Add to your pan the water and the aromatics (carrot, celery, garlic, thyme, juniper berries, bay leaves), and the mushroom stock. Put the lid on, and simmer for 30 minutes minimum. 60 if you have time. Strain the liquid, and set aside. Discard the aromatics.
Peel, chunk and boil the potatoes until completely tender. Mash them well, but don't use a ricer or pass them; you want some texture in there. Add the butter, a good pinch of fine sea salt and some of the milk, then stir well. Adjust thickness with more milk as necessary.
It is crucial to season with fine sea salt to absolute perfection, so taste, add more salt, stir, then taste again until the potatoes sings in your mouth! Keep warm under lid.
While the potatoes are boiling, rinse and boil the Brussel sprouts in salted water for a few minutes – they should still be firm. Strain, and plunge into cold water to stop the cooking process.
When ready to serve, melt the butter in your mushroom pan, then add the flour and stir with a whisk. At medium heat, pour in your aromatic mushroom stock in a thin stream, while stirring well as it thickens. Hold back some of the stock so you can adjust thickness.
When you have a rich gravy, let it simmer gently for 5 minutes to cook out the raw flour flavor. Adjust thickness with more stock as necessary. Add a small splash soy sauce, then season with fine sea salt to perfection. Add the madeira, then stir in the mushrooms, then the whole lingonberries. (Serve jam on the side instead if using – do not put it in the mushroom pot)
Finally, add a tbsp real butter to a pan at medium-high heat, then quickly brown and reheat the brussels sprouts.
Plate as pictured, or serve family style with more fresh thyme to sprinkle. Very tasty with a glass of red wine!