Rekesalat is a classic in the Norwegian household. This shrimp salad is mostly used on a slice of bread, or a halvt horn (like a Norwegian sub) for lunch, but some of the more adventurous souls put the stuff on hotdogs and waffles too!
If you are after the classic delicatessen variation of rekesalat, simply drop the lemon, dill and celery, and use all mayo instead of part sour cream. In short, it is a caloric bomb packed with delicious, creamy fat, cholesterol, carbs, and protein.
But I like lightness, brightness and crispiness these extra ingredients bring to it; plain and simple mayo often becomes very heavy and rich. And it's not like most of us really need the extra calories either, eh?
Make no mistake though – this stuff is only marginally healthier than the delicatessen version, and it will make you fat. But at least it's so damn tasty it's worth getting fat from!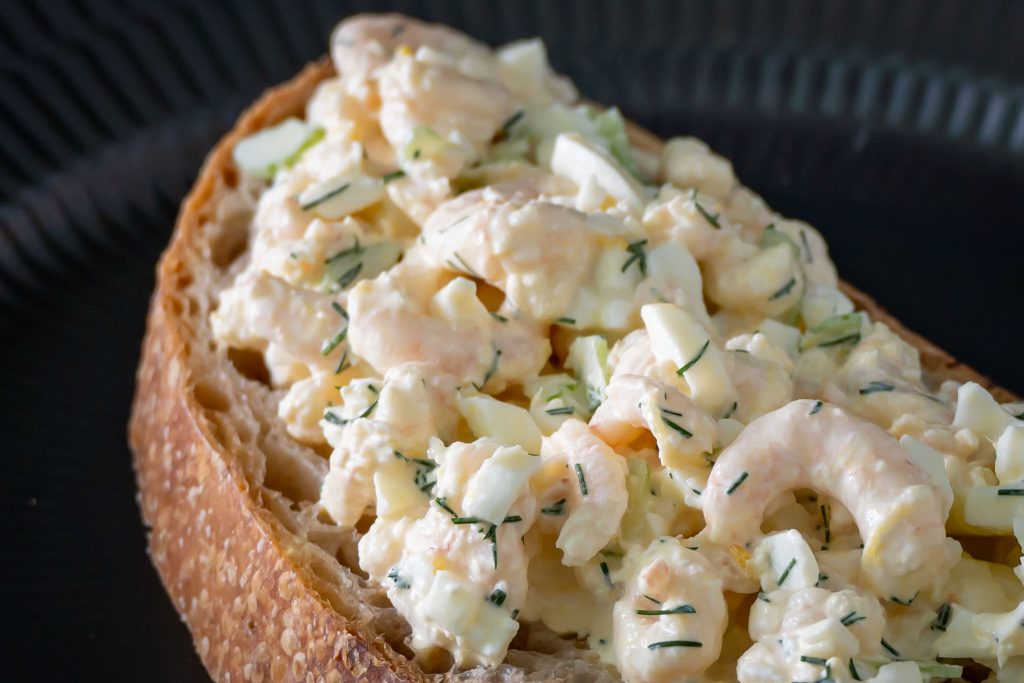 The picture in this recipe is my variation rekesalat on Norway's most popular bread, the Kneipp bread (recipe).
Ingredients
400 g peeled shrimp*
4 hardboiled free range eggs, diced
1 celery stalk, very finely sliced
200 ml sour cream or crème fraiche
100 ml mayo
Zest from 1 lemon
Juice from 1/2 lemon
A metric shit ton fresh dill, finely chopped
Fine sea salt, to taste
*If using canned shrimp, make sure to squeeze out as much canning liquid as possible or it'll turn out a sad, soggy affair. Using fresh, sustainably caught shrimp is clearly the best 🙂
Method
Mix everything together.
…..
…
What?
…
…..
Yeah you're done.
…..
…
Yeah just slap a spoonful or two on a slice of bread and devour the hell out of it.
….
…..
…
Ok, you could fancy the shit out of it with some dill and trout roe or caviar on top of it on a canapé too 🙂