With its rich flavor and silky mouthfeel, I think of bone marrow as the foie gras of the North. And what a way it is to impress your guests with this elegant, yet easy to make starter with a Norwegian flare!
This starter is indeed surprisingly easy to make, and requires no special equipment; first you smoke the bone marrow using onion peel, then grill them, then fancy the shit out of them with some pickles and herbs. Oh, and you need a dollop potato purée to prevent them from toppling over on your plate.
In short, it's something practically anyone can make, and a lot of it can be prepped well ahead before serving so there will be as little stress as possible when it's action time.
Anything can be a smoker. As long as it's a large enough container to fit the marrow bones, and it can be closed with a lid or aluminum foil, you're good. I used two deep roasting trays with the top tray flipped upside down and a wet towel over for seal. Naturally, it's a good idea to do the smoking outside.
Ingredients
For the bones
2 beef femur bones, split lengthwise into four halves
1 large handful dried onion peel
a few pinches fine sea salt
a few slices pickled beetroot (recipe at the bottom of this page)
a few tablespoons pickled mustard seeds (recipe below)
a few tablespoons finely chopped chives
a bit of Maldon or other flaked sea salt
For the pickled beetroot
60 g mustard seeds
100 ml beer vinegar (malt vinegar)
50 g honey
1 bayleaf
a pinch fine sea salt
For the potato purée
400 g potatoes
100 g real butter
whole milk
fine sea salt
Method
Start a day or two ahead and make the pickled beetroot and mustard seeds. A full week is even better, as the pickles needs time for the flavors to really infuse; do whatever suits your schedule the best.
The recipe for the pickled beetroot is at the bottom of this page.
To make the pickled mustard seeds, put the mustard seeds (and nothing else) in a small pot with water, and bring to a boil. When boiling, strain the seeds, then repeat the process 5 times. This will remove a lot of the bitterness from the mustard seeds.
For the 6th time, add all the other ingredients and simmer gently for 10 minutes, then remove from heat to let cool to room temperature. When cool, have a small taste, and adjust flavor with vinegar, honey, or fine sea salt as necessary. Remove the bay leaf, then transfer to a lidded jar. Keeps for ages in the fridge.
You can use the peel from any onion in the store, and the store will love you for cleaning up in their pile of onions – you'll likely get all the peel you could possibly want for free.
Ask your butcher to split the femurs lengthwise. Soak them in tap water for minimum 2 hours, overnight is fine if that suits your schedule. This will draw out blood and other residue, so discard the water.
If you can't find whole femurs, look for beef bones for stock; you can get these really cheap, and many of them will have bone marrow. Won't look quite as nice, but will probably cost half.
Using an old kitchen towel, wipe them clean and dry, then sprinkle with a bit of fine sea salt. Make a "bed" for them in your smoker using aluminum foil, make sure the bones lay steady, then place the onion peel next to the bones, and ignite.
I prefer to use a kitchen torch for this, as they can be otherwise a bit tricky to light. If you don't have a kitchen torch, you could try putting a few wood shavings below the peel and ignite that instead. I sometimes use birchwood, but shavings from any hardwood will do.
When the peel has caught fire, put a lid on and a wet towel for seal, then let just sit in the smoker for 1 hour.
Meanwhile, boil the potatoes, mash them well, then pass through a fine sieve. This will remove all lumps and give you a super smooth purée that will play nicely up against the smoothness of the bone marrow.
Stir in the butter, then add milk until you have a soft, but not runny purée, then season to perfection with fine sea salt. Keep warm under lid.
Finely chop the chives and set aside. Dice a few slices beetroot to approx. the same size as the mustard seeds, or as small as you can. Set aside.
Reusing the "bed" you made for the smoking, either grill the bones under the broiler for about 10 minutes at max heat, or bake at 230C for 10 minutes, until they're nice and bubbly, then finish off with the kitchen torch to get a bit of char.
Start plating by placing small mounds of beetroot, then mustard seeds, then beetroot etc. along the top of the bones still resting in their beds. Sprinkle a few Maldon sea salt flakes on top of than, then sprinkle over a little bit chives.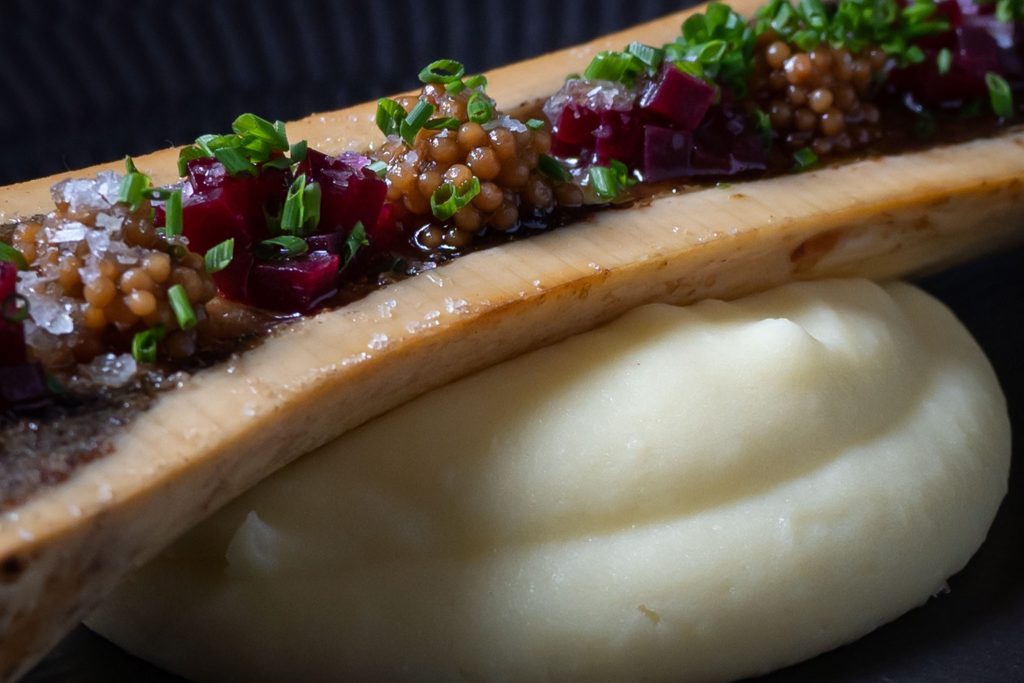 Next, place a couple of spoonful potato purée in the middle of your plate, then carefully transfer and balance your bone on top of that small potato mound. Serve immediately, and watch people swoon over this magnificent "boner" 🙂
The smoked bone marrow is a fantastic starter for the lamb chops with beurre noisette hollandaise sauce.