Unbeatably rich, beefy flavors, aromatic vegetables and silky smooth flour dumplings that melts in your mouth and warms your soul – this robust, yet elegant soup is a Norwegian classic, and truly made for those cold winter months!
As the temperature drops below freezing, and you put on so much clothes you waddle around as if wearing a sumo wrestling suit, and the very air you breathe starts to hurt your face, and the snot starts running in rivulets the minute you stick your head back inside again…few things beat coming home to a steaming bowl of delicious Norwegian vegetable and beef soup with flour dumplings.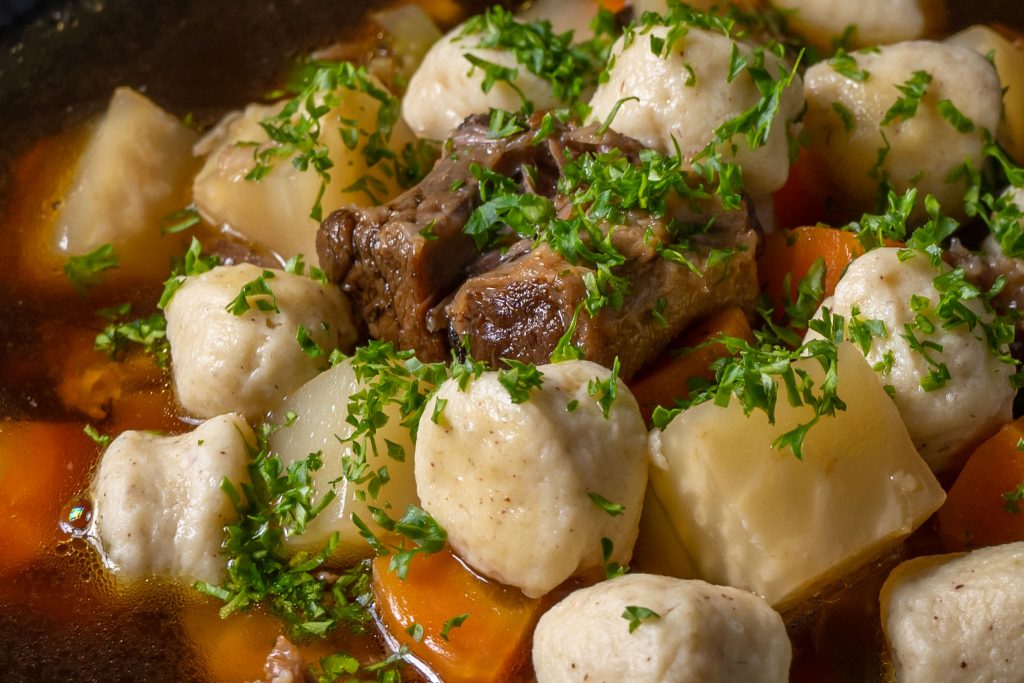 For me, this is the very essence of Norwegian comfort food, and once you have the beef stock, it's a really easy dish to make as well.
This dish is normally used with a beef stock made from stock bones and seared cubes of beef chuck or shank, but there is nothing that beats the flavor of oxtail stock.
The beef stock that I use is from the Rich oxtail beef stock recipe, and it'll take 2-3 hours to make. 1.5 hours if you have a pressure cooker. And anyone who says you can make a good beef stock in under an hour is trying to sell you a live unicorn.
This beef stock will, however, provide you with both the stock and the meat, and it's not at all difficult to make, it just takes a bit of time. There are, of course, shortcuts, and I'll discuss those as well.
Ingredients
Beef soup base
1.6-1.8 liter Rich oxtail beef stock
500 g oxtail picked meat from the Rich oxtail beef stock
1 tbsp gelatin powder (if you ice filter)
2 leeks, white and tender green parts only, sliced at 45 degree angle
6-700 g (6-7 medium) carrots, peeled and diced
6-700 g (1/2 large or 1 medium) celery root, peeled and diced
Norwegian flour dumplings
60 g real butter
70 g wheat flour
125 ml boiling water
2 eggs
1 tsp fine sea salt
1.5 tsp sugar
1/4 tsp cinnamon powder
1/4 tsp cardamom powder
Method
Since a great soup is driven by the quality of the stock, I need to spend a few words on that. Again, I need to be clear this is not difficult to make – I'm just being meticulous in my description.
The beef stock that I use is usually made beforehand, some times weeks or even months ahead, and then just put in the freezer for later use. Same with the picked oxtail meat.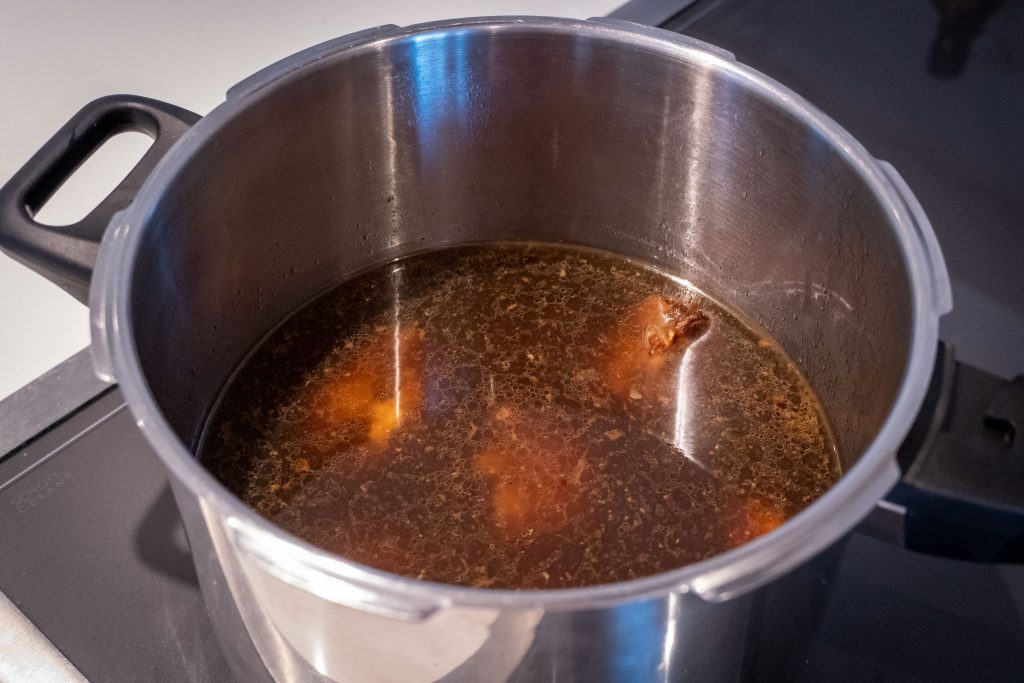 All I have to do is to take it out from the freezer, tip the container with the stock over a fine sieve that rests on top of a bowl, then put to thaw in the fridge overnight.
What happens in that fridge in the night is a bit of kitchen magic.
What happens is that as the stock is thawing, the liquid will thaw, but the gelatin stays solid, and the gelatin will then retain all the impurities from the stock. You're left with a wobbly blob of gelatin that looks absolutely disgusting (and which you discard) – and a mindblowingly clear stock.
This stock is devoid of gelatin, so I add back 1 tbsp gelatin powder to give it some of that silky rich mouthfeel that gelatin gives you.
Alternatively, you can make the Rich oxtail beef stock on the day of serving, or a few days ahead. You should strain the soup as a minimum, but it will be cloudy. If you don't mind that, the flavor will be just as good.
But since I'm a food blogger, and in the business of trying to blow peoples minds with eye candy, I use the ice filtration method to clarify my soup. And why wouldn't I, since it practically does all the work for me as the stock thaws?
A quicker method for clarifying your stock is egg rafting. This is all detailed in my article 4 methods for clarifying stock.
Shortcuts
If you don't have time to make the oxtail stock, a less flavorful, yet still extremely satisfying soup is to first make a classic aromatic vegetable stock (2 sticks of celery, 2 carrots, an onion, a few bay leaf, a few sprigs of thyme, few cloves of garlic, a few peppercorns) which takes about 30 minutes total, then sear off the cubed beef and boil them tender for 1.5h in that stock (or 40 minutes with natural release in a pressure cooker).
Strain and clarify however you want according to the article above. Then continue with the rest of the soup as described below.
The rest of the soup
To make the dumplings, bring the water with the butter to a boil, then stir in the flour, and set aside to cool when the mix slips from the sides and bottom of your pot.
Prepare the vegetables; slice the leek at a 45 degree angle, then push out the center to help separate the rings. Peel and dice the carrots and celery root to bite size.
Bring your clarified stock to a simmer along with the oxtail meat, add the vegetables, and bring a second pot with water to a boil for the dumplings.
When the dumpling mixture has cooled down a bit, stir in the eggs one at the time, along with the spices.
The dumplings are traditionally shaped with two teaspoons, but I prefer putting the dumpling dough/batter into my Lékué Decopen piping bag without a nozzle and just use a knife to cut off suitable sized dumplings directly into the simmering water. Simmer the dumplings for 5 minutes, then transfer with a slotted spoon into the finished soup.
We like to serve the soup in bowls with a sprinkle of finely chopped curly parsley. Many like to serve this dish with flatbrød (recipe) on the side to eat as well.
And that wraps it up. Like I said – if you have the stock, it's a breeze to make. And if you're really short of time, drop the meat, add more vegetables and make it a vegetable soup which gives you a very traditional Norwegian vegetarian dinner in 30 minutes instead 🙂