Tilslørede bondepiker is a very traditional Norwegian dessert, and both my grandmothers used to make it. Layers of soft cream, crunchy crumble and sweet apples gives this dessert a fantastic flavor and interesting textures.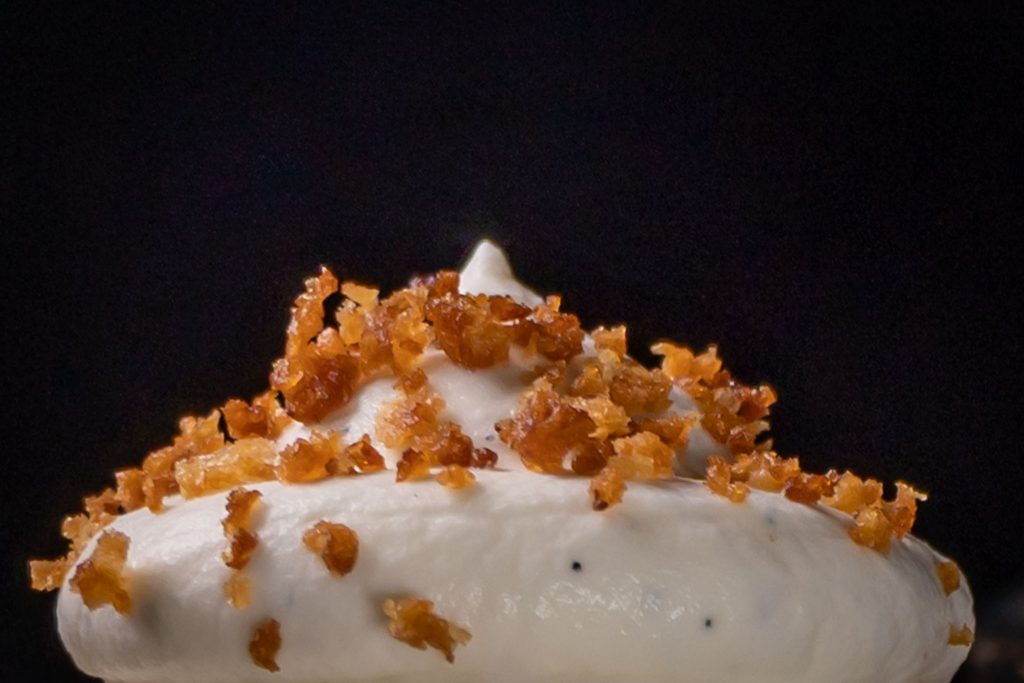 Tilslørede Bondepiker, or "Veiled Farmer's Daughters" is also found in the rest of Scandinavia. Though usually made with apples in Norway, all sorts of jam from berries can be used. Cloudberries for example is hugely popular.
Here's how to make the appley version:
Ingredients:
Apple jam
1.5 kg red apples
400 g sugar
1/4 tsp cardamom powder
Cream
1 vanilla pod, seeds
300 ml whipping cream
2 tsp sugar
1 tsp calvados, or spiced rum (optional)
Crumble
3 real thick slices white bread (we used Franskbrød)
1 tbsp white sugar
30 g/2 tbsp real butter
1/8 tsp cardamom powder
Method
Quarter and core the apples, then use a curved surface coarse grater (like a coarse Microplane or Eva Solo grating bucket) and grate the apple meat until you get down to the skin. Discard the skin.
If you don't have a curved surface grater, then you need to peel the apples before grating them. Either way work quickly so the apples don't brown.
I like to grate directly into my pot so I save on the dishes. But if not, toss everything into a large pot and bring to a simmer. Simmer for 15 minutes, then put on a sterilized or hyper sanitized lidded jar. I simply spray a clean jar with StarSan before filling.
To make the crumble, cut thick slices of white bread, take off the crust, then cut the slices into cubes. Toss a handful cubes into a upright blender, and blend until it's reasonably crumbly. Transfer to a bowl, then do the same with the rest. (this stuff is fresh breading and is amazing for breading anything you want to bread, and WAY cheaper than panko)
Melt the butter in a pan at medium heat, and when melted toss in the breading, sugar and spice into the pan. Continue stirring until everything is nice, crispy and beautifully browned, about 10 minutes. You could turn up the heat to make it go faster, but the sugar in there can burn very quickly. Transfer to a plate with a bit of kitchen paper on to soak up excessive fat and let cool to room temperature.
Right before serving, whip the cream with sugar and vanilla until very soft peaks form. Then gently fold in the rum.
When serving I prefer putting the cream on my Lékué Decopen piping bag, without a nozzle. You could also spoon the cream into the glasses, but a piping bag is easier and less messy up along the sides of the glasses.
Start with two spoonfulls apple jam, then cream, then crumble. Continue in layers, then finish with cream and a little sprinkle of crumble on top. Do not let this sit, or it will get terribly soggy.
We love to enjoy this dessert with Iseple or Edel dessert wines from ice concentrated hard apple cider – practically apple ice wine.