I so love a great burger. But some times you want something a little bit lighter. Maybe even something a little bit, dare I say it, healthy? This burger is it, but it still checks all the right boxes, and it still feels utterly sinful to eat!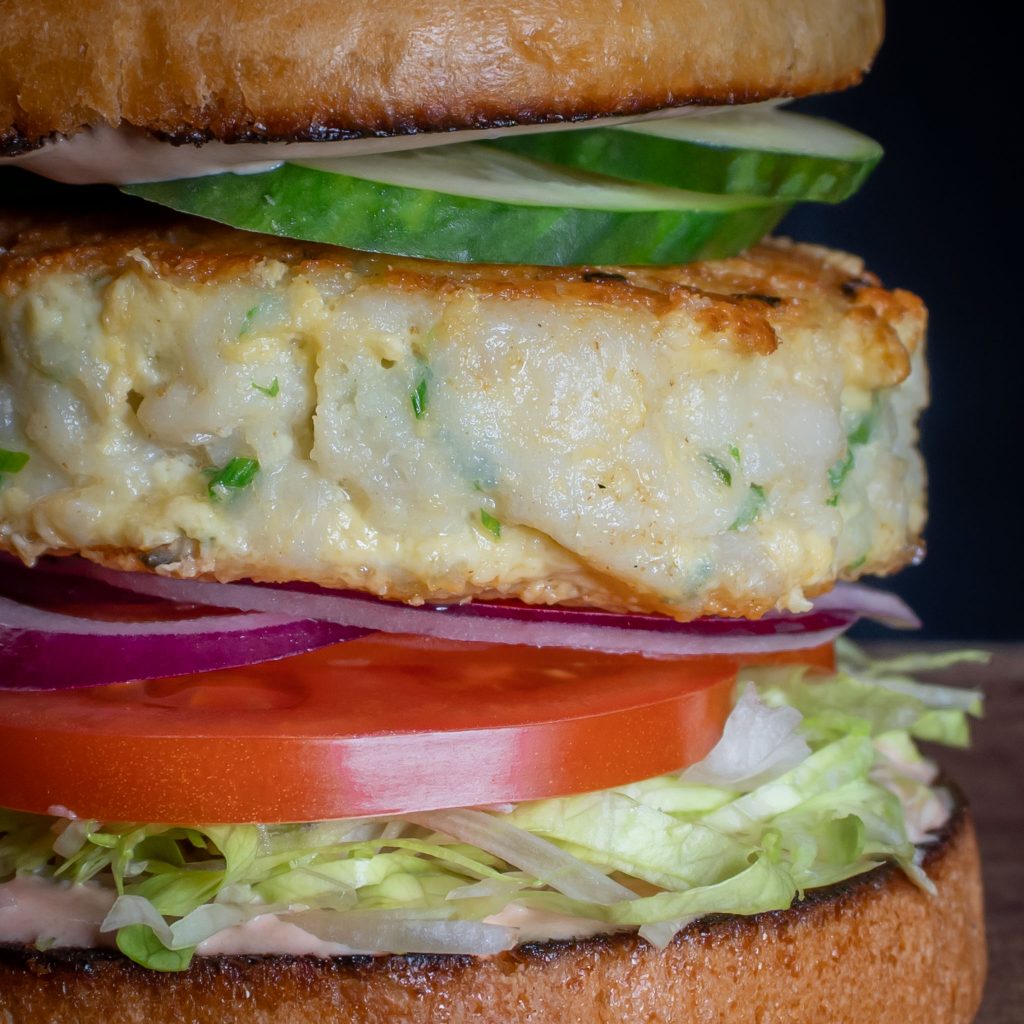 A cod burger (ca 100 Kcal per 100g) contains waaay less than half the calories of a beef burger (ca 265 Kcal per 100g). And even when using full fat sour cream, the dressing we use clocks in at less than half the calories of a regular, mayo based burger dressing.
Most of us absolutely do not need more red meat in our diet, so not only is it much healthier than a beef burger; Cod has approximately 10% of the carbon footprint of cattle, and a significantly smaller footprint than both pigs and poultry.
As long as the fish is sustainably caught, it is also much more environmentally friendly , without all the terrible pollution that comes from absolutely all farmed fish.
So in short, this burger is actually something really fucking tasty that you could eat every day without having your arteries clogged up in five minutes.
Let's get cooking!
Ingredients
Patty
600 g cod fish*
10 g fine sea salt
1 egg
A metric shit ton finely sliced chives
*We used common Ling, but Cusk, regular Cod, Skrei, Haddock etc are great too. Honestly though, you could probably use any kind of white, firm fish for this.
Dressing
4 tbsp sour cream or crème fraiche*
4 tbsp ketchup (we use Mutti)
6 drops Tabasco
small pinch fine sea salt
To serve
4 burger buns (consider making our Best goddamned burger buns )
1/4 Iceberg lettuce, shredded
12 slices tomato (approx. 2 medium tomatoes)
12 slices cucumber (approx. 1/3 cucumber)
Method
I prefer chopping the fish by hand, as I feel it gives me the best texture. If you have a meat grinder, you can use that on coarse. Alternatively, cube the fish, and use a stick blender. This will result in a much finer texture than what I prefer, but it's a bit quicker for most, but will taste the same.
Pro tip: If you have a whole fish, I prefer to take out the back loins for fancy dishes like Norwegian gourmet hazelnut crusted cod or Norwegian Juletorsk (Christmas cod), then use the tail and belly for burgers or Danish Fiskefrikadeller (fish balls). Otherwise, just use any fillet.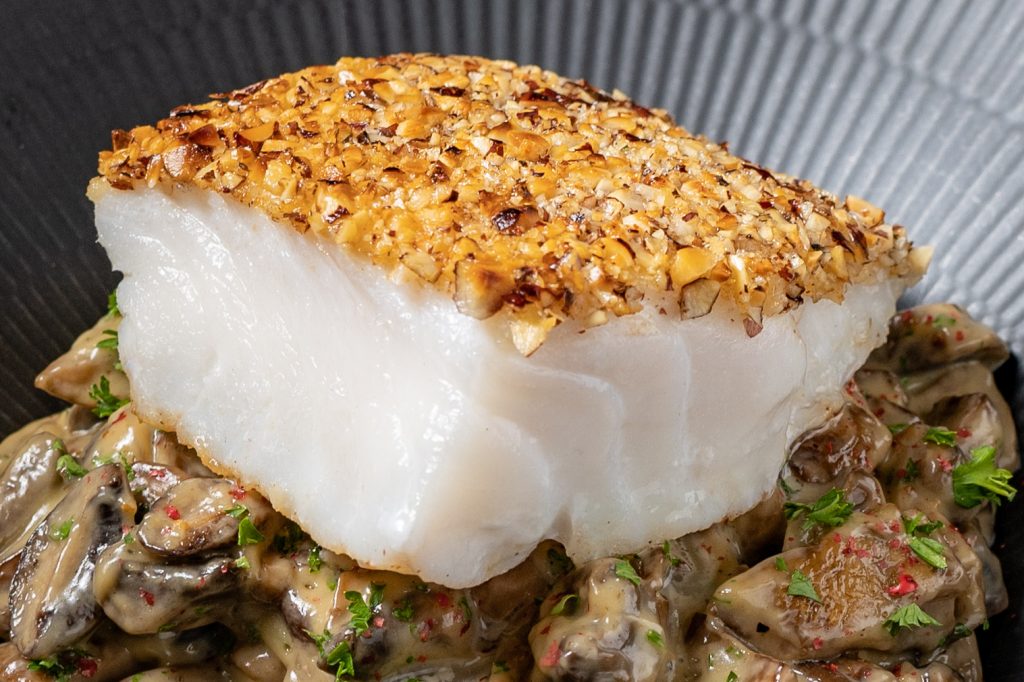 Next, toss in the salt, and stir until it starts to bind. You will know when this happens. Toss in the rest of the ingredients and stir well. Set aside in the fridge while prepping the rest.
For the dressing, mix everything together and set aside in the fridge.
Shred the lettuce using a razor sharp knife. And if you don't have a razor sharp knife, it is time to sharpen it. Go as fine as you possibly can. It has real impact on flavor and mouthfeel, because you can pack so much more of it on your burger and you can actually taste the lettuce. Yes, it does have flavor 😉
Same with the red onion – super thin slices, but this time so that it doesn't feel as if you're eating half an onion for each bite. Next slice the tomatoes and cucumber. Set everything aside on a plate or something.
Preheat a stainless steel or cast iron pan to medium high.
When making the patties, I use a ring mold the same size, or slightly bigger than the burger bun. I spread a tiny amount of oil on the inside of the ring to prevent the fish from sticking too much, then add a tbsp. neutral oil to the pan, put the ring on the pan, and then quickly add 1/4 of the fish into the ring, spread it out, and make sure the top surface is even.
Quickly remove the ring before it gets too fucking hot to touch and you end up with fried sausages instead. (But then again, fingers are for burning, according to Chef Marco Pierre White…)
Do the same for the three other patties as well. Obviously.
Fry the patties to perfection. Here's how you cook restaurant worthy fish.
When they are done, set aside on a cutting board with a juice gutter. Turn the heat down to right below medium, then quickly toast the cut side of the buns.
When the buns are nicely toasted, add a dollop of dressing on each top and bottom bun. Put each bottom bun on a plate, add the lettuce, then tomatoes and onion rings. Put the patty on top of that, and finish with three cucumber slices. Top it off with the top bun and serve.
If you want something on the side: Instead of fries (312 Kcal per 100g), consider the much healthier oved roasted potatoes (149 Kcal per 100g).

Simply cut potatoes into chunks or strips or wedges or whatever you prefer, toss with 1 tbsp. neutral oil, and bake at 200C until golden brown, about 45 minutes, then toss with a bit of fine sea salt and serve.
You can pre-boil the potatoes before roasting for even crispier result.
Pro tip: If you eat this burger with your fingers, beware that it is insanely juicy, and it will drip EVERYWHERE! Do have napkins ready. And maybe a straw for your drink. Cause this is gonna get MESSY!!
But you like that, don't you?
This burger is so healthy and easy to make it can easily be a everyday dinner. In which case we just drink juice on the side. Alternatively, for a weekend dinner, we love a good Belgian Blonde or Wit – they both pair extremely well with this dish. Skål!