Cod roe is a very traditional Norwegian eat, and I'm always looking forward to when the season starts in early January. It can be served many ways, but this is my favorite traditional way – pan fried, boiled potatoes, creamy mustard sauce, and quick pickled carrots for a fresh, crispy zing!
The very traditional way of serving cod roe is just poaching, not frying, but I absolutely prefer the fried variety. A variation to this dish is to serve it with poached fresh or salted cod instead of roe. Some even serve both at the same time.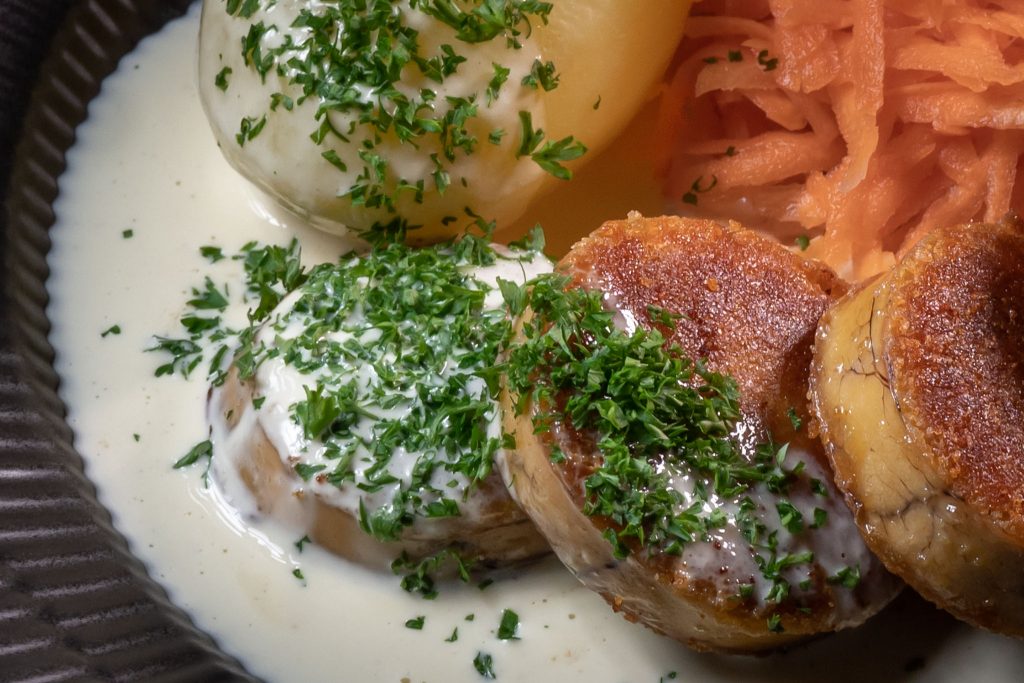 Ingredients
1 kg cod roe, whole sack

alternatively 800 g cod fillet
alternatively 500 g cod roe and 500 g cod fillet

25 g sea salt per liter poaching water
Potatoes
1 kg boiled potatoes
25 g sea salt per liter boiling water
Creamy mustard sauce
300 ml cream
2 tbsp Dijon mustard
Tiny squeeze lemon juice
Small pinch fine sea salt
Råkost quick pickled carrot
5 large carrots, grated on a coarse Microplane
Juice from 1/2 lemon
1 tsp sugar
Method
If making this with cod fillet instead of roe, you can choose to use either fresh, or salted cod. Salting it firms it up, but you need to start one day ahead. The salting is often referred to dry brining these days, but it's an old conservation method in Norway.

Simply sprinkle a layer of 100 g sea salt in the bottom of a container, add the fish, and sprinkle over another 100 g. Let this sit overnight, 10-14 hours, then rinse off the fish with tap water. It is now ready to use.

The salted cod is poached to perfection in unsalted water. Fresh cod is poached in well salted water, 25 g sea salt per liter water. They are otherwise poached the same way.
To make with roe, start by bringing a large pot of water to right below boiling, add 25 g fine sea salt per liter water, then gently slip the roe sack into the water. Let sit in the water, lid on, for 30-50 minutes depending on how thick the roe sack is.
It doesn't have to be fully cooked through, just firm enough to slice for frying afterwards.
For the quick pickled carrots, mix everything and let sit in the fridge for 30 minutes. It is traditionally made with white vinegar, but I think the lemon juice is just so much better.
Next put the potatoes on.
When the roe is ready, lift it out with a slotted spoon, then slice into 1.5 cm (1/2 inch) slices, then pan fry in some oil at medium high heat until golden brown. When you have flipped them over to fry the other side, start the creamy mustard sauce.
To make the sauce, add cream and mustard to a small pot, then reduce by about 30%, until it starts to thicken a bit. Season with a tiny bit of fine sea salt to taste, then add a tiny squeeze lemon juice to taste – it is not supposed to be acidic, it's there just to balance the fat in the cream. Keep warm under lid until ready to serve.
This meal is typically served family style, and everybody helps themselves to what they want. A sprinkle of finely chopped curly parsley is nice too. You usually just drink some juice on the side.