So this is one of our long time classics that we can never get enough of. It started out many years ago as a visit to a restaurant, and we went home and optimized those already magnificent flavors. This is the result!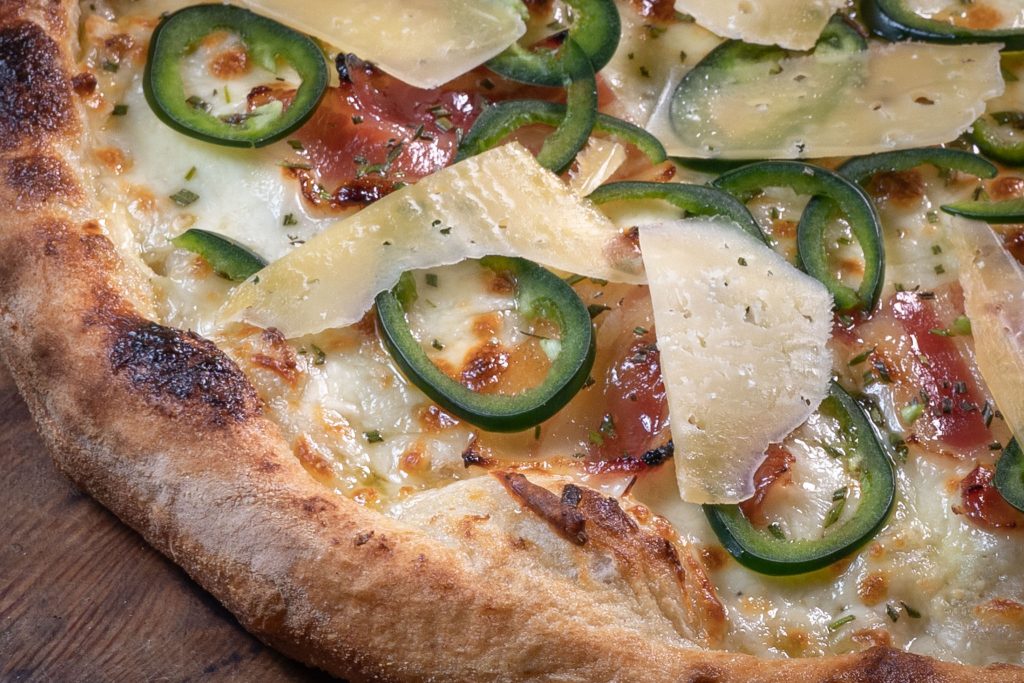 While it may look a bit complicated, it is really super simple, and the flavors and textures on this one will simply blow your fucking mind.
Ingredients, makes three 12″ pizzas
White sauce
300 ml sour cream or crème fraiche
3 medium cloves garlic, minced or finely chopped
pinch fine sea salt
Honey cured bacon
6 rashers streaky bacon
a few tbsp honey
To serve
a few sprigs fresh rosemary, finely chopped
3 jalapeno peppers, deseeded, thinly sliced
Semi-hard, mature cheese, shaved*
a drizzle high quality olive oil
*I used a local cheese called Rabben Farr from Ryfylke Gårdsysteri that's been aged for around two years, but honestly any tasty, semi-hard, aged cheese that shaves well will do. Use a potato peeler to shave the cheese.
Method
Make the dough according to recipe. Cut each bacon rasher into 4 pieces, then mix with the honey and let sit in the fridge for minimum 4 hours. Overnight or several days is fine too – whatever suits your schedule.
Next mix everything for the sauce. This sauce can easily sit for several days as well. Again – whatever suits your schedule.
For exact method for making, shaping and baking this pizza, go to the New York style recipe page.
When ready to bake, shape your pizza and add the white sauce. Par-bake according to recipe, then add the cheese and bacon, then continue to bake to golden brown perfection.
Transfer to a wire rack, then drizzle over a little bit olive oil, the finely chopped rosemary and super finely sliced jalapeno peppers – one per pizza.
We love washing this down with one of my home brewed IPAs, especially the one made with kveik and hopped with Citra, Mosaic and Mandarina Bavaria 🙂
Do you love pizza? Here are even more kick-ass pizza recipes from the guy who was in the Norwegian Pizza Championship once.