Simply put my favorite Sunday dinner as a kid back in the 80ies. I loved it so much I was looking forward to this dinner for days, and I still do! And now that it's fall in Norway, we have loads of lamb meat in the stores too.
While my dad always made it with Toro béarnaise from a bag, I'm taking this family classic up a notch with hollandaise made from scratch with beurre noisette and hard apple cider, flavored with parsley and freshly ground pink peppercorns. I serve it with hasselback potatoes and crispy brussles sprouts with bacon.
Ingredients
The meat
4 lamb chops*
Fine sea salt
*You can use other cuts too, but most importantly, they must be a little thick, around 2 cm/3/4″ or else they will turn out well done instead of juicy, AND WE CAN'T HAVE THAT.
Suitable cuts are lamb carré, saddle chops, lollipop chops, and foreshank.
The beurre noisette
120 g real butter (don't even bother to try this with margarine!)
The Hasselback potato
4 medium potatoes (100-130g each)*
Beurre noisette to brush
Fine sea salt
*make that 8 or more potatoes if you're not having a starter and dessert.
The brussel sprouts & bacon
400 g brussel sprouts
50 g high quality, dry cured streaky bacon
1 tbsp neutral oil
1 tbsp real butter
Fine sea salt
The hollandaise
1 small shallot, very finely sliced
50 g dry hard apple cider
1 bay leaf
1 egg yolk
50 g water
100 g beurre noisette
1 tbsp (ideally balsamic) Apple cider vinegar
A squeeze fresh lemon juice, to taste
A pinch fine sea salt
2 tbsp curly parsley, finely chopped
Freshly ground pink peppercorns
Method
Expect to spend 2 hours the first time making it. It'll go much faster the next time, but the potatoes do need 1 hour to bake, so it's impossible to go faster than that.
While not difficult to make, the trickiest part in this recipe is to have everything ready at the same time. That is why you must prep things in advance so that there is no stress at the end. Or as little as possible.
Prepping things
As with all meat, always clean, trim and sprinkle the meat with salt well ahead. This will help the salt fully penetrate the meat, and make it much tastier and much juicier. 2 hours ahead minimum, overnight is even better if that suits your schedule.
Next, prepare the beurre noisette, which is French for nut butter, or what's called brown butter in English.
Simply weigh up the butter in a small pot, then put on medium heat with lid ajar. It'll likely start sputtering after 5-10 minutes, and that's ok, cause you have the lid ajar. Remove from heat when the butter beautiful golden brown, skim the foam on top, then set aside to cool a bit.
Peel the potatoes, and with a sharp knife trim a flat base on each of them so they stay put when slicing them. I like to use my santoku (or chef) knife for trimming the base, and I like to use a super sharp pairing knife for making the slices.
Placing the potato in between two chopsticks will prevent you from slicing the potato all the way through. Check out the guy in the video embedded below.
I have done this so many times I just do it free hand, and it's much faster like that; I hold my super sharp pairing knife pointing downwards at an angle of about 45 degrees, and pull the knife towards me.
I like to cut as thinly as I can, so I guide my blade with the knuckles on my left hand to make 1 mm slices (thus increasing surface area and crunch!), but increasing thickness will make it much easier to cut too.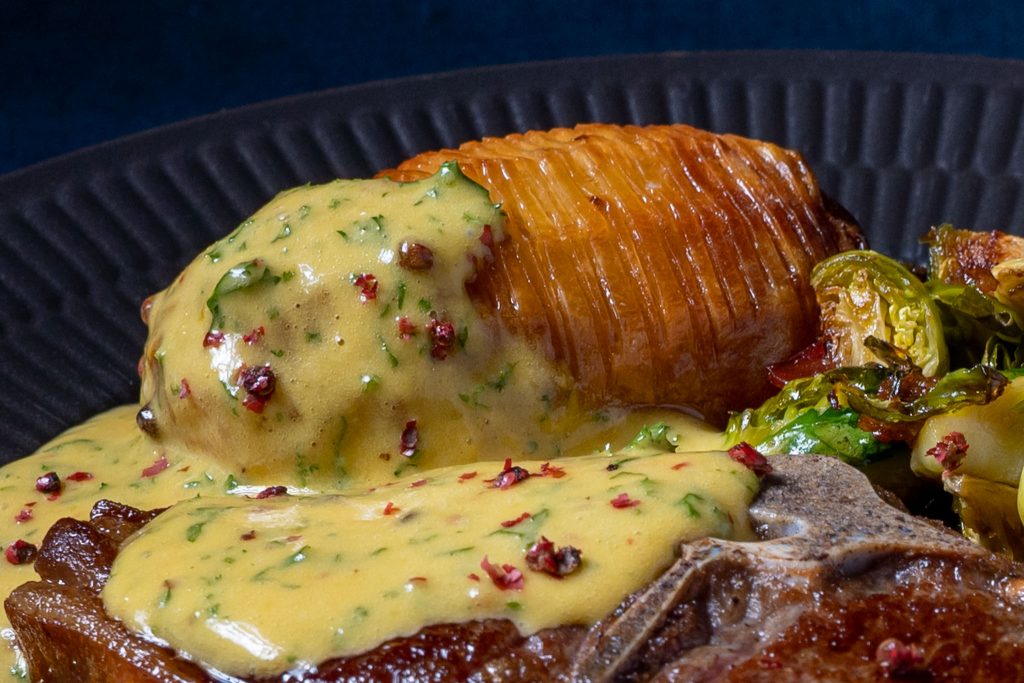 Use an old kitchen towel to wipe potatoes dry, then brush with nut butter, put them on a baking sheet, sprinkle with fine sea salt, and bake at 200C for about 1 hour, until tender. You may want to bump up the heat to 230C while the meat is resting just to really crisp things up right before serving.
In a medium small pot, add the shallot, bay leaf, vinegar and hard cider, and simmer on medium heat until all the liquid has evaporated. Remove the bay leaf, and set aside to cool down a bit.
The last thing to prep is the brussels sprouts and bacon. Simply trim the brussels sprouts and halve or quarter them, depending on size. Cut the bacon into 5-7 mm bits, the tip into a sauté pan with a bit of oil.
Action time!
Take your big, heavy cast iron pan and preheat it at medium-high. Don't bother with a nonstick pan here, you'll only ruin the thing with the heat you need for this.
Next, fry the bacon in your sauté pan at medium-high until it starts to brown, then turn down the heat a notch, add the brussels sprouts, a knob of butter and a pinch of fine sea salt and toss to cover. Keep frying and tossing until everything is nicely browned, smells unreal, and the sprouts still have a little bit of bite to them. Turn down heat to minimum to keep warm.
Turn the heat up to max on your cast iron pan, wipe off the chops with your kitchen towel, add a few tbsp neutral oil to the pan, and when it smokes, fry the hell out of those fuckers to a super crisp, brown crust. Turn them with tongs every 10 seconds or so to make sure they brown evenly, then sear off the edges holding them with the tongs.
Turn off the heat, and immediately transfer the meat to rest on a cutting board with a juice gutter.
To finish things, tip your egg yolk and 50 g water into your hollandaise pot, then whisk it well to aerate and make it nice and fluffy.
When well combined and it starts to thicken, add the pot to a warm water bath, then drizzle in the brown butter while whisking continuously. Don't add more butter until the previous is fully incorporated into the sauce you're building, or it'll split.
Make sure to not get any (or as little as possible) of the browned milk solids into your sauce, so be careful when you drizzle in the butter.
Below is a very good tutorial from Master Chef Australia (I think, but it doesn't say) with loads of great tips and tricks on how to make an "-aise" sauce:
When you have used all the butter, taste the sauce, then season with fine sea salt, then lemon juice. Taste in between so you know what you have to work with.
Finally stir in the finely chopped parsley and freshly ground pink peppercorns, plate and serve immediately. Don't crowd the plate, but rather let people help themselves to more of everything at the table.
Very nice with a glass of red wine with this, for example a Gigondas La Gille 2011.
Wanna go classy AF with a three course meal?
How about smoked bone marrow for starter….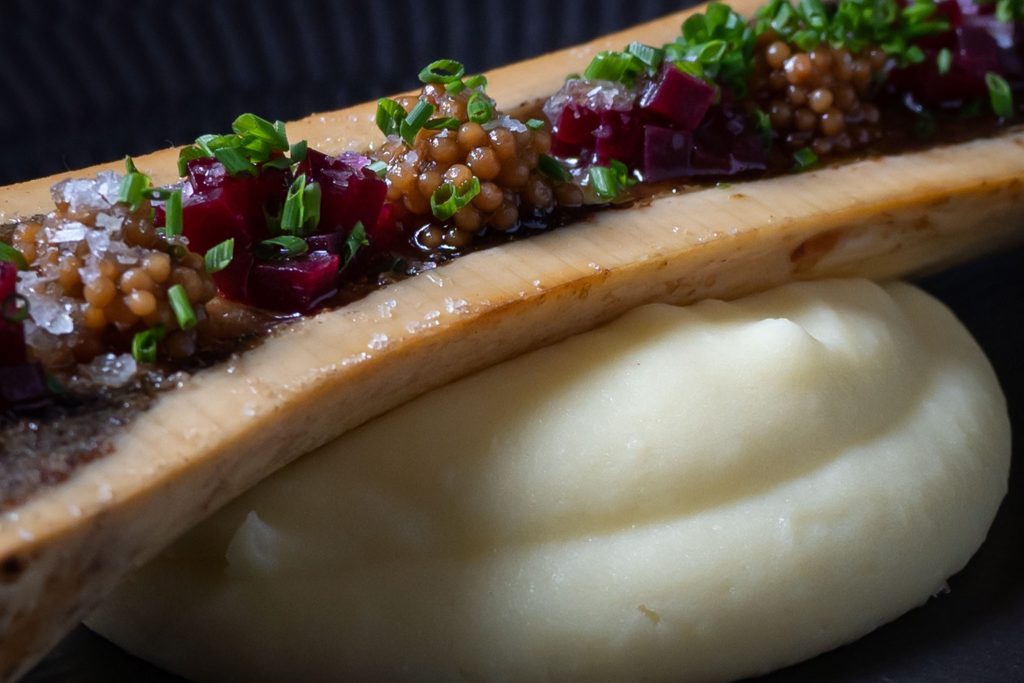 …and Tilslørede bondepiker for dessert?