Norway has never produced wine, so Gløgg with wine came from further south. Apples on the other hand…made with hard cider, apple brandy, vanilla, cardamom and citrus, this is a fantastic treat that warms the soul!
Along our deep fjords with mild, humid climate, Norway grows some the best apples in the world. In the 13th century, monks who immigrated from England taught fjord farmers to plant apple trees and kick-started fruit cultivation.
There are traces of ruins of monasteries in several of the fjords, and my own family farm Sjøtun lies in Balestrand in Sognefjorden, one of the very best apple areas in Norway.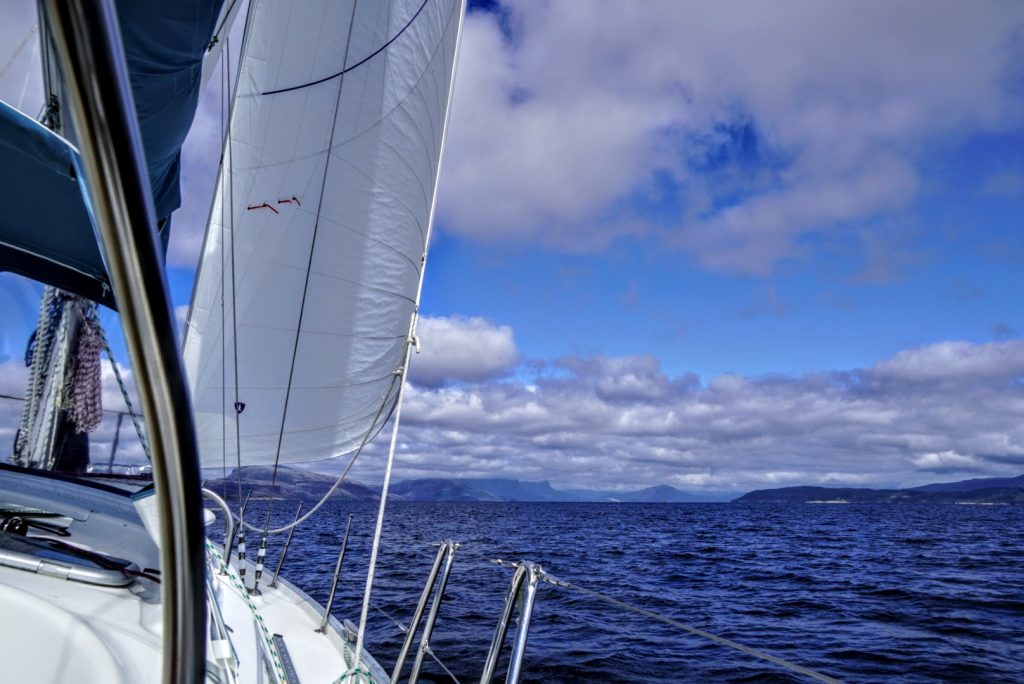 The magnificent Sognefjorden is also the second longest fjord in the entire world, and UNESCO World Heritage Listed 🙂
Enough rambling – we have a recipe to share!
Ingredients
The raisins
200 g raisins
150 ml apple brandy, or Calvados
The booze
2 liters semi dry apple cider, 6 % ABV
100 ml Viking Blod mead, or "Fine white" Port wine
150 ml apple brandy
40-60 g demerara sugar (unrefined sugar)
The spice mix
50 g succade (Sukat in Scandinavian), or peel from 1/2 fresh lemon*
15 g fresh ginger, peeled and sliced
4 cardamom pods
1 cinnamon stick
1 vanilla pod
Muslin bag or hop bag (optional)
*Succade is candied peel of from the citron, or Citrus medica in Latin, which is distinct with its very thick, green peel: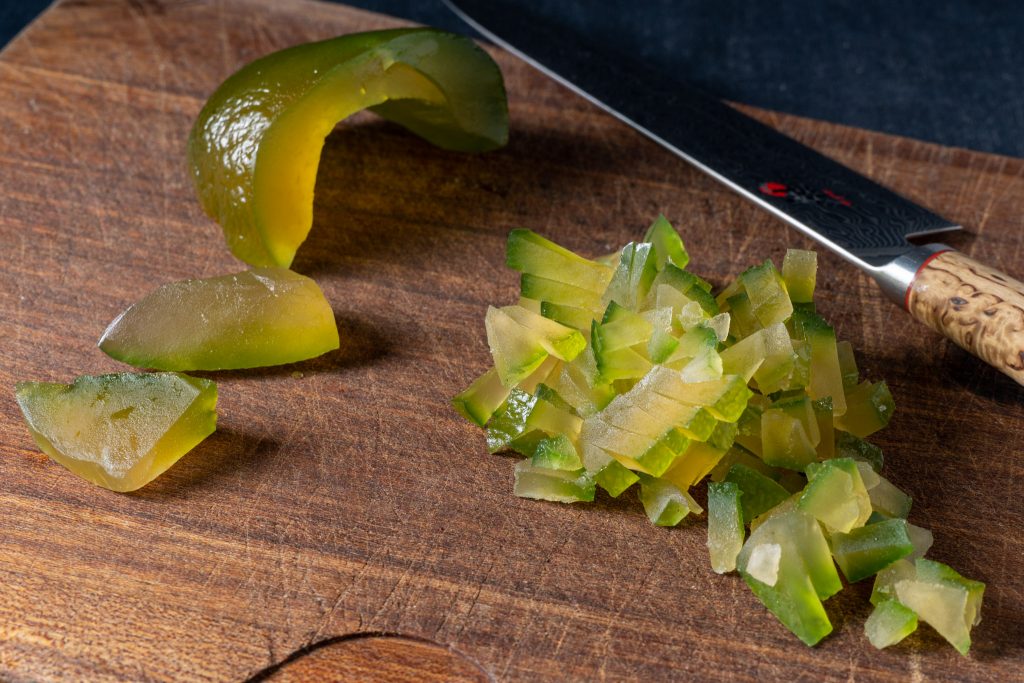 Skinned almonds
100 g skinned almonds, roughly chopped
Choosing the right booze
Just like our red wine based Gløgg, this is very balanced, so you have no dominating spices killing the flavor of cheap alcohol.
Depending on your choice of alcohol, it clocks in at around 16 % ABV, and flies right under the radar in terms of booziness, but the apple brandy-rehydrated raisins adds a spectacular alcoholic burst every time you pop one in your mouth…
No need to go for the really expensive stuff, but make sure to get some reasonably drinkable cider that's not overly sweet, and some apple brandy. If you can't get Viking Blod mead, use a decent "Fine white" Port wine instead.
We used Lovløs Cider with apples from Sogn, and Kjernekar crab apple brandy . If you can't find Fine White Port wine either, use 50 ml additional apple brandy to get to the same overall ABV.
Method
Put the raisins and apple brandy in a lidded container, and let the raisins rehydrate for a few days. The longer they soak, the better they become, so a week or two is just fine. Top up with booze as necessary so that the raisins are always just covered.
On the day of serving: Check your mooring or make sure your anchor is well set. You're not going anywhere after this.
Measure up the ingredients for "The booze" in a 3 liter pot with lid. Also tip in the remaining brandy that the raisins hasn't soaked up, and set the raisins aside.
Bring up to around 65C on medium heat. Since alcohol evaporates at 78C (that's 172F for you US people), it must not under any circumstances come to a simmer.
I try to keep it between 60 and 70C (140-160F) using a thermometer in the pot.
Meanwhile, prepare "The spice mix". If available where you are, make sure you get actual cinnamon, and not just cassia bark.
(If you want to learn more about cassia vs cinnamon, head on over to Spruce Eats.)
Peel and slice the ginger, cut the candied citrus into strips, slice the vanilla pod, and toss everything in a hop bag, toss the bag into the pot, slap the lid on, and let everything just sit for at least an hour.
While using a muslin or hop bag isn't strictly necessary, I prefer it, cause it makes it very easy to remove all the spices when I think the correct spice level is reached. And as a home brewer, I always have hop bags at hand.
While you can easily skin the almonds ahead, do not wait any longer than this; as the Gløgg is steeping, place your raw almonds into boiling water, and boil for exactly one minute. Drain in a colander or strainer.
Instead of using your fingers to squeeze the almonds to loosen the skin from them, only to shoot them across the galley, ricocheting on the wall, and from there to Gods knows where…wrap them in a kitchen towel and give them a good rub all over, then pick trough the ones that hasn't already been skinned afterwards. Chop coarsely, and set aside.
When ready to enjoy, find a few good mugs, add a spoonful raisins and almonds to each, then ladle up with the Gløgg.
Best enjoyed in good company, with a big bowl Danish Æbleskiver to snack on 🙂
Also make sure to check out our recipe for Danish red wine Gløgg with rum – it's fantastic!