Fårikål, mutton in cabbage, is the national dish of Norway, and a true reflection of our past; piss poor farmers who made do with what we had. And we found a way to make meager magnificent with dish. Here's the 100% authentic, traditional way, plus my own twist to the dish.
Before writing this recipe, I peeked around on the net to see what else was written in English about Fårikål. And it is shocking.
Let us get this straight: There should be no garlic, no rosemary, no BEEF STOCK (what the … ?!??), no butter, no carrot, no potato. It should not be seared, there should be no onion, and there should be no cream.
In fact the only five ingredients that traditionally goes into this dish are: water, cabbage, mutton, salt, pepper. Period. Ask any random Norwegian on the street; this is the answer you will get.
With this little rant over, appreciate the fact that this is poor man's fare. If you want to be authentic, make sure you have enough cabbage in there, as the bones and meat are mostly for flavor. Don't worry though; this robust dish is extremely filling, and will leave you gasping for air.
Bring to a boil and gently simmer for 1.5 hours. That is it.
Below is the full recipe, plus my own little tweak to the original, noted as "Optional" in the ingredients list. Others have their own little tweaks, but this is how I make mine.
Ingredients – 6 healthy servings
1 large cabbage (ours was 2.8kg)
Mutton – less than half the weight of the cabbage (we used 1.2 kg)
1.5 liter water
1/2 tbsp whole black peppercorns
Fine sea salt to taste
Boiled potatoes to serve
Optional ingredients
4 dried bay leaves
1 sprig fresh thyme
Flour slurry

100 ml flour wheat flour
200 ml cold water

A metric shit ton chopped parsley to serve
Method
The cut of meat you're after is called "fårikålkjøtt" (mutton-in-cabbage-meat) here in Norway, which are basically chunks and scraps from the rack, ribs, shank, neck etc. There will be lots of bones (for great stock), and a decent amount of fat (so no need for butter), as pictured below.
You could use lamb (5-6 months old), but most prefer young mutton (18 months), since it has more flavor. The younger lamb typically needs to simmer for 1 h, while you need to add 30-60 minutes for mutton, depending on age; you're after fall-off-the-bone tender.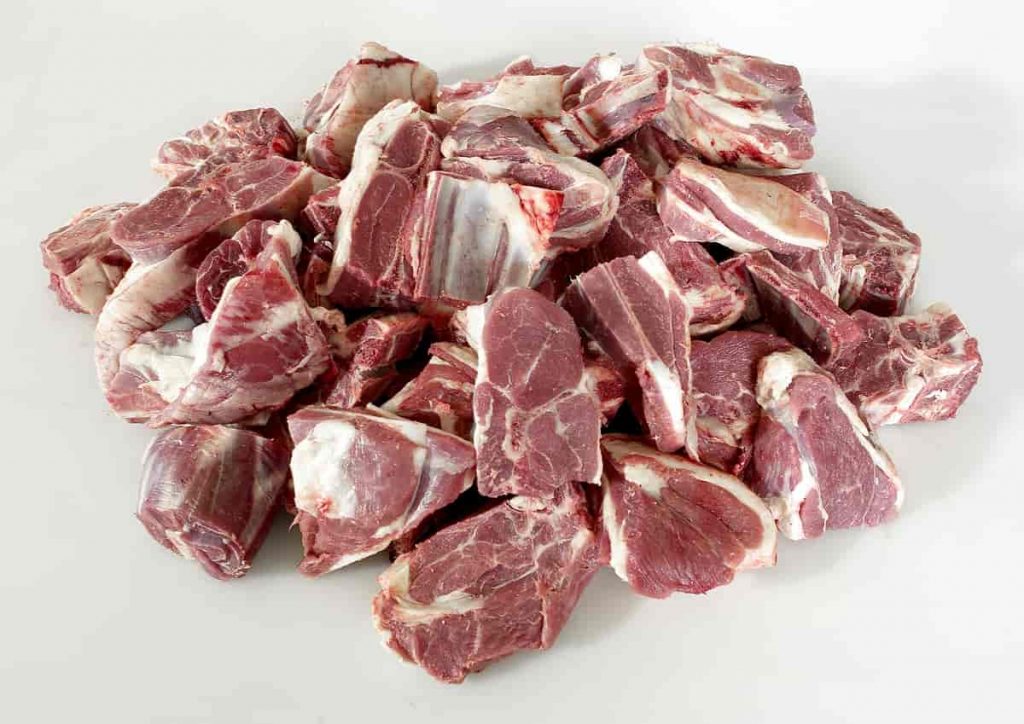 Bring a BIG pot (5-8 liters) with 1 liter of water to a boil, and season with 15g fine sea salt.
Meanwhile, trim off any big chunks of fat on the meat, but leave most on.
Using a very sharp chef's knife (minimum 25cm long), cut the cabbage in half. Cut each half into quarters, then each quarter into 3 thick, equal sized wedges.
Put a layer of cabbage in the bottom of the pot, using 1/3rd of the cabbage, then add a layer with half the meat, another layer of cabbage, and then the second half of the meat. Add enough water so you cover just 2/3rds of the meat and cabbage. Everything will collapse a bit as you cook, so eventually, it will all be covered in the stock.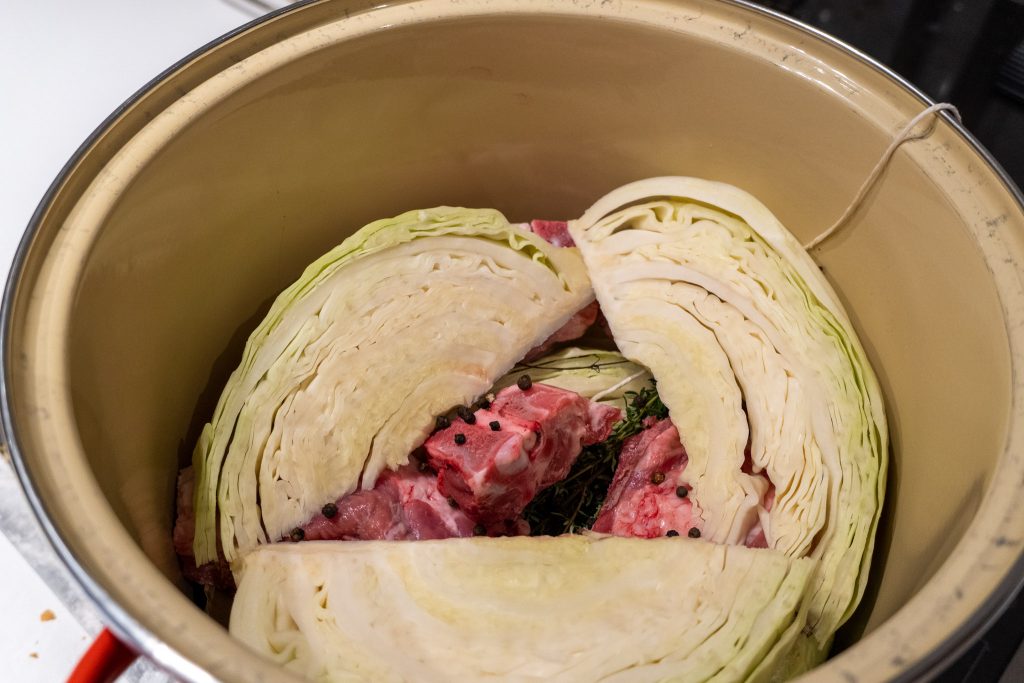 Tie the thyme twine (say it ten times fast) so it's easy to fish out when done. Add the thyme to the pot along with the bay leaves and black peppercorns (You could put the peppercorns in a tea strainer and fish them out too). Finish off with the last layer of cabbage, put on a lid, and let simmer gently for 1.5 hours.
Taste the stock after 20 minutes. Since there are so few ingredients in this dish, you need to season to perfection. It is not supposed to taste salty, but salt is a flavor enhancer, and this dish in particular will be horribly bland without enough salt.
Continue tweaking and seasoning with the fine sea salt until you are 100% satisfied, and you have a rich and flavorful pot simmering.
Right before its' done cooking, drizzle the flour slurry around, 1/5 at the time until desired thickness, and stir well to thicken the gravy; grab the pot and move it in circles, instead of using a spoon to stir.
Let it simmer for another 5 minutes to cook out the raw flour flavor. I like to let it sit in the pot with the heat off for another 30 minutes before digging in.
Many people who do add flour, like my dad, adds the flour from the very beginning of the simmering. But it is my experience that thickening the gravy this early more often than not results in a scorched bottom and burnt flavor infusing the entire dish. The flour slurry at the end of the boil eliminates that problem entirely.
While many serve the entire pot on the table, with potatoes in a pot on the side, I personally like to plate individually. (I always do regardless what we eat – years ago it was a nice way to sharpen my plating skills, and now it's just simple routine)
I use a slotted spoon to lift out the cabbage and meat. The slotted spoon will prevent slopping and dripping and splashing gravy all over the place; lift out a cabbage wedge, shake it once over the pot, and place it on a plate. Do the same with the meat, place a few potatoes on the plate, and ladle over the gravy, then finish off with chopped fresh parsley.
A glass of semi-dry, sparkly craft apple cider is amazing with the Fårikål. Or go with a strong, low hop caramelly ale, like home brewed Vossaøl (recipe) or a English barleywine or ESB. Skål!
Also make sure to save the date in your calendar – The Annual Fårikål Day is the last Thursday in September every year 🙂