Jerusalem artichokes are used extensively in New Nordic Cuisine, and is one of my favorite things to eat. This soup is a fantastic starter with wonderful Nordic flavors and textures, and with looks guaranteed to impress your guests. It's also incredibly easy to make.
Truth been told though, and not to be indelicate, but they should probably be called Jerusalem Fartychokes, cause they can make you really fucking gassy. These vegetables contains high levels of inulin, a non-digestible carbohydrate that is fermented by the lower bowel gut bacteria and makes you pass gas like crazy.
There are thankfully ways around that problem. Boiling Jerusalem artichokes in an acid will hydrolyze the inulin to digestible fructose and glucose, so that's what we're gonna do, and boil them in lemon juice. The lemon juice will also prevent them from discolouring, since the juice is a powerful antioxidant.
That aside – this soup really is a fantastic starter cause you can make everything well ahead, so that means far less stress in the kitchen when the guests have arrived.
Ingredients
The Jerusalem artichoke soup
500 g Jerusalem artichokes (sunchokes)
1/2 lemon, the juice
400 ml whole milk
1.5 tbsp hazelnut oil
5 g fine sea salt + more to taste
The parsley oil
25 g parsley, stalks and all unless very woody*
150 ml neutral oil**
*I used curly parsley, but flat leaf is just fine too.
**Grapeseed oil is best, but sunflower and corn is great too.
To serve
100 g toasted, crushed hazelnuts
120 ml parsley oil
Method
Seafood variation: Should you happen to get your hands on some beautiful, fresh diver scallops, you could serve this soup with one seared scallop per person instead of the hazelnuts. But then the dish isn't vegetarian any more, obviously.

Vegan variation: Drop the hazelnut oil and use hazelnut milk instead of regular milk. You can easily make this yourself by blending 50 g raw hazelnuts with 400 ml water in an upright blender until completely smooth, then pass through a very fine sieve or muslin cloth.
Start by making the parsley oil. Bring a medium pot with water to a roiling boil. Toss in the parsley, bring to a boil again, then strain and dump the parsley into ice cold water. The rapid cooling is vital, as it will fixate the vibrant green colour from the chlorophyll.
Squeeze out the water from the parsley, then toss into the pot again, together with the oil. Bring this to a boil over medium heat, and simmer gently for 2 minutes.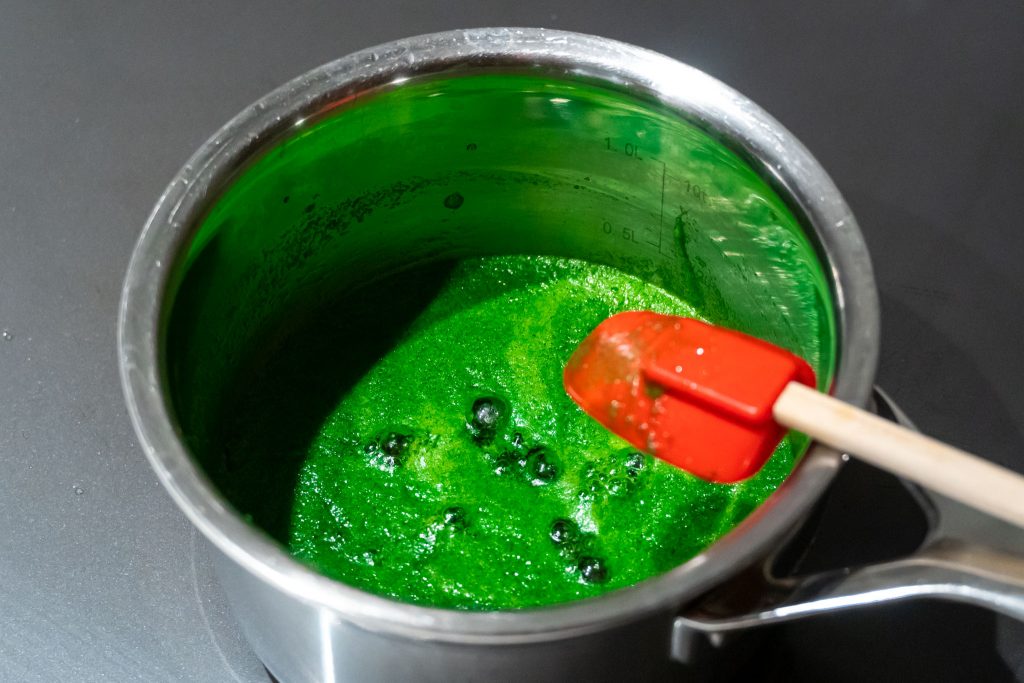 Line a sieve with a coffee filter and strain the oil through this, into a lidded storage container. This straining may take hours. When strained, discard the filter, put the lid on the container, and store in the fridge until ready to use. This oil will keep well for 4-5 days.
Next, toast the hazelnuts. Set your oven to 200C and toss the nuts in a ovenproof container. Let the nuts roast as the oven heats up.
Remove the nuts just as the skin starts to crack – or give them a few more minutes to get some more pronounced toasted flavors – but be careful so they don't burn. Set aside to cool.
Remove the skin by rubbing your nuts inside a towel (you can take that any way you want). The nuts will keep well for a week in an airtight container.
When cool, crush them with the back of your hand or the flat of a knife – or between two cutting boards. You'll figure something out.
To make the soup, peel and cut the fartychokes into chunks, then simmer in unsalted water and lemon juice until completely tender.
Strain, then add to your upright blender, add salt, 2/3 of the milk and hazelnut oil, then blend until completely smooth. You could also use a stick mixer.
Adjust thickness with more milk, if necessary. Taste, then adjust seasoning with fine sea salt.
Heat the soup to around 70C. Keep warm under lid, or serve immediately.
When ready to serve, add the 120 ml parsley oil to a 1 liter mug, then pour 800 ml soup into the mug (leftovers can be used for a sauce). This will cause the soup to split, like in the picture above. Use the mug to pour the split soup into four serving bowls, then add a spoonful hazelnuts to each bowl.
This goes down well with a fresh Riesling from Alsace.
Try it as a starter for our Lamb chops with beurre noisette hollandaise!