After days of pure relaxation in Hardanger, we reluctantly started heading back south to our home base Stavanger. Join us on a journey filled with action, amazing food, and spectacular nature experiences!
Throughout this blog post I have linked to pin drops in Norgeskart, a 100% free and up to date map service by The Norwegian Mapping Authority. You can zoom in and out, switch between land and sea maps, as well as aerial view to explore the area with us 🙂
As we have told about in Part 1-3 in this blog post series, we had now spent over a week off the grid in coastal Norway, and it was time for provisioning again. Lea scoured her maps and found what looked like a close resemblance of civilization.
After lifting anchor in Bjøllebøvik we made our way east, then north towards Sæbøvik. Again with a very narrow weather window before the next gale hit. The stretch is 30 nautical miles, and a short 1 hour sail. Normally.
A fresh breeze was blowing already, so we made good way, practically flying away despite being on a reefed genoa alone. But entering Sundnessundet, after only 30 minutes underway, the wind almost died off, so it was down with the genoa, and up with the code 1 light wind sail.
And then, after another sloooooooow 1.5 hours, only (normally) 20 minutes from the marina, it was "ok fuck it" and fire up the engine instead, cause we were utterly becalmed. We did see the porpoises again, and the weather was beautiful, so we enjoyed ourselves none the less.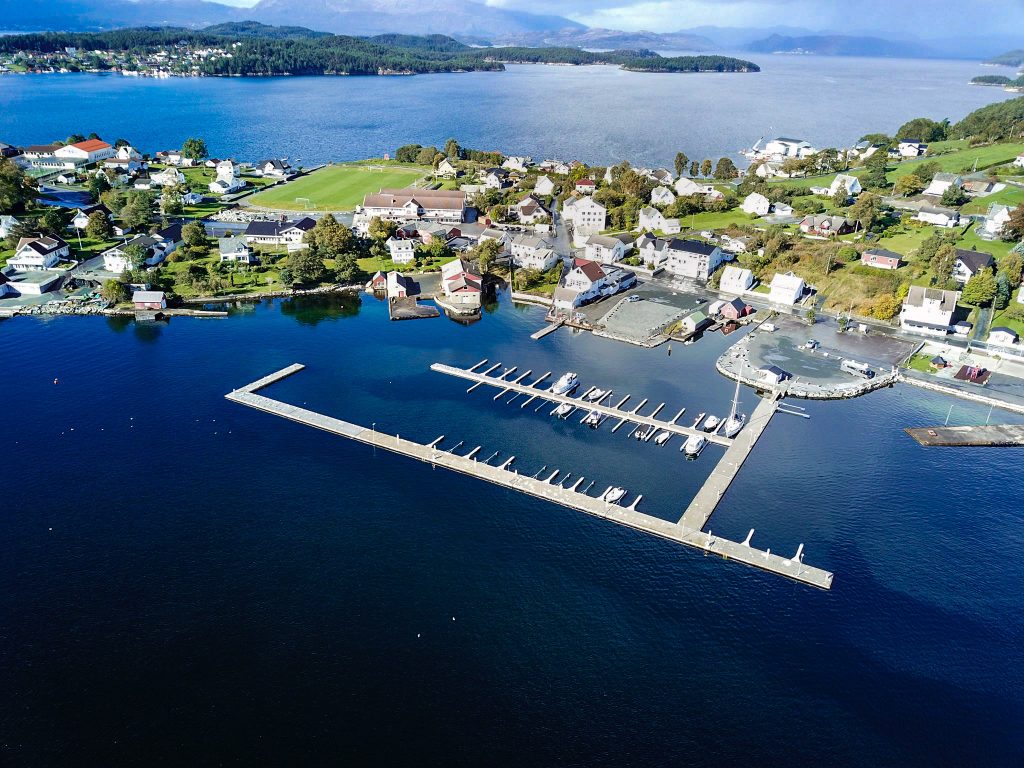 Finally approaching Sæbøvik the wind picked up again, and as we got ready to moor in their wonderful marina, it was fresh. Very fresh. So much so I had to abandon my initial plan of mooring in one of the sheltered spots with mooring fingers and just ever so gently slam into the pier on the outside, and have Lea jump on land and just secure the boat just somehow before being forcefully blown away from the pier again.
Pheew!
Later on we had to help several other boats moor in whatever fashion the wind allowed in any given moment. At least the pier is new and solid and can take a lot of abuse. And thank the Gods for good fenders.
We decided to stay here for a few days. Ok…so WE didn't decide. The wind decided for us. Regardless, this turned out to be a very charming little town.
Their local grocery store had a great selection, and also many local things we had never seen before. A guy that we found kneeling on the floor stacking the shelves turned out to be the store manager, and also the marina manager, and he was very helpful in telling us what the different stuff was, and how it was used.
The first item we found was a sausage. Not just any sausage though, but Sundepølsa, produced by Rosendal Gardsmat, just 40 km away. It turned out to be the best sausage we had ever had.
It was thick and richly smoked, almost like a BBQ smoked brisket, and it even had a smoke ring! The meat was coarsely ground, and it was oooohhh boy juicy!! We served it with creamed cabbage and tiny new potatoes from a local farm. Soooo good!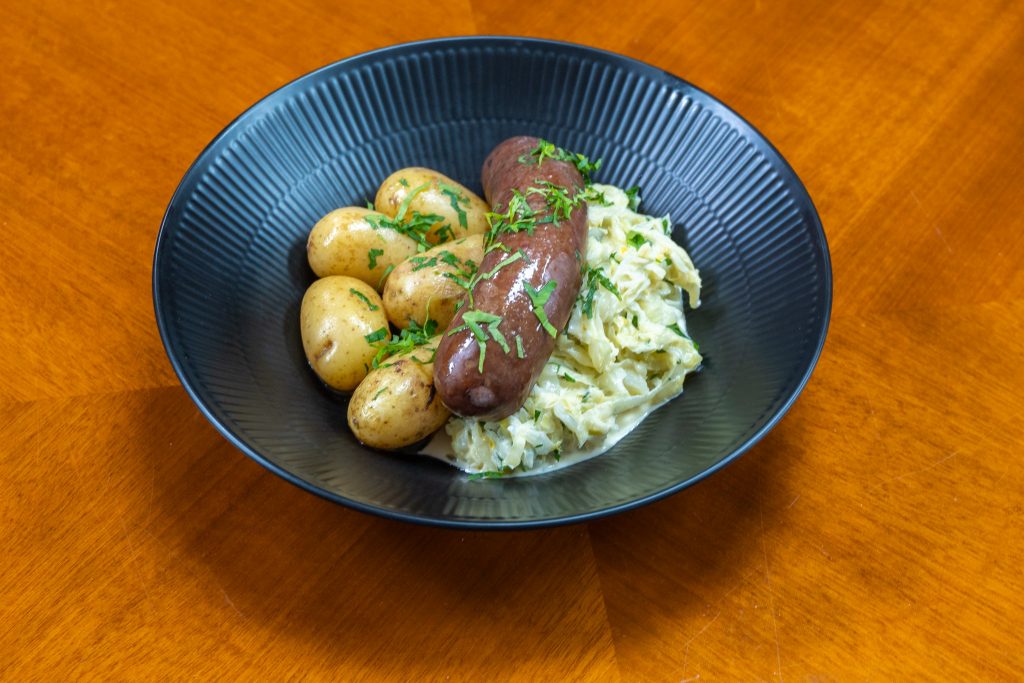 The second local "thing" we found…what came deceptively disguised in a nondescript, beige plastic tube turned out to be the gastronomic highlight of our entire trip.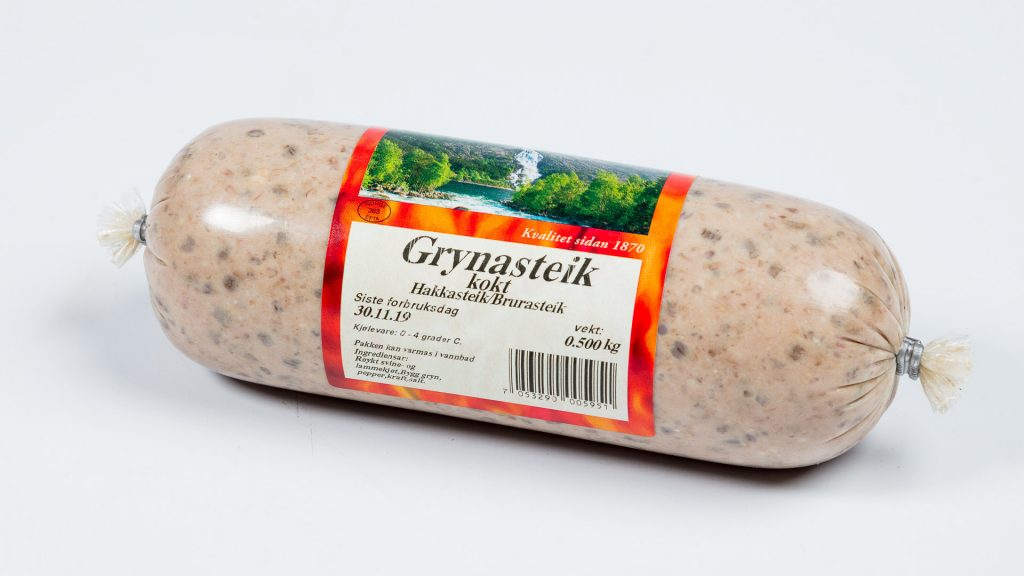 Hakkasteik (or Grynasteik) is a very old dish from Hardanger in Norway, traditionally reserved for big feasts, weddings and so on; one of its three names, Brurasteik, translates to "Bride's roast" and reflects how highly regarded this dish is.
The best way of describing it is a rich, creamy and luxurious orzotto (pearl barley risotto) with smoked pulled lamb and pork mixed in. It is traditionally served with boiled potatoes, mashed rutabaga and pickled beetroot. It is absolutely amazing.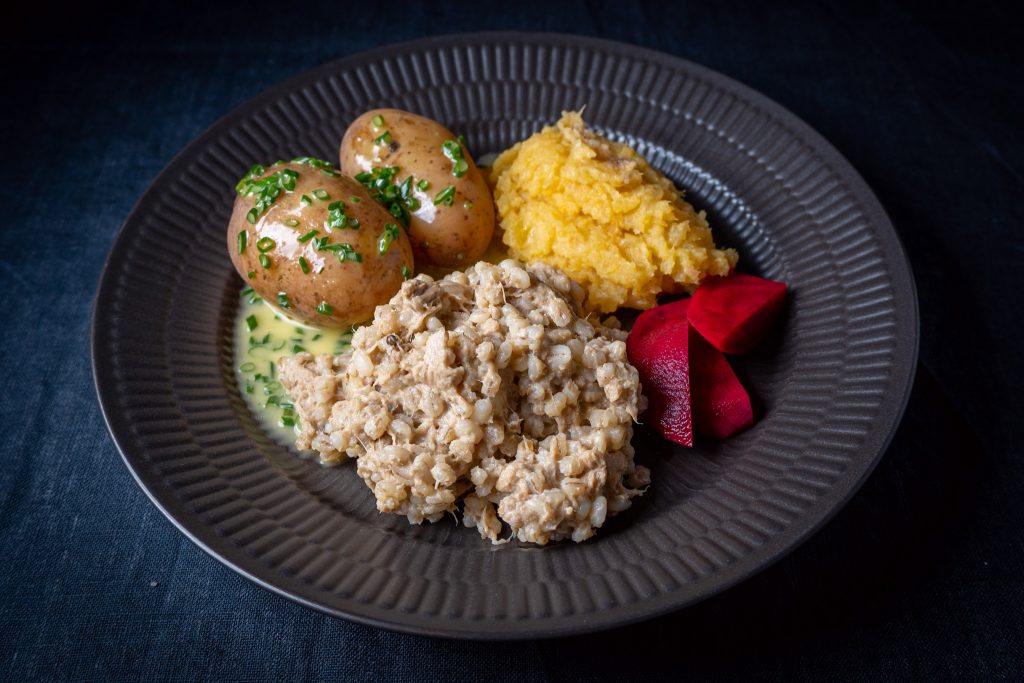 After we got back to Stavanger, I have played around with the dish, and now published a recipe where you can make it yourself, from scratch, in lieu of deceptively disguised, nondescript, beige plastic tubes. The full recipe for Hakkasteik can be found here.
Life of a cruiser
They say cruising life means "fixing your boat in exotic places". I suppose the definition of "exotic" depends on where you yourself is from, and though beautiful and charming in it's own provincial way I'd be hard pressed to call Sæbøvik exotic. But one thing is for sure, and that is we got to repair something!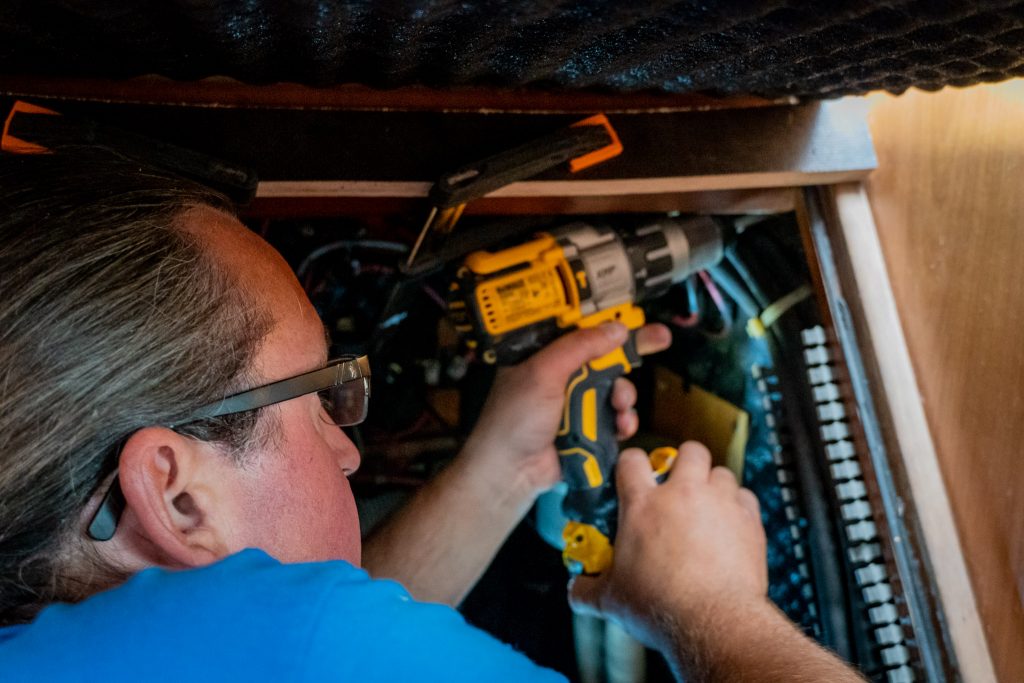 A constructional weakness in the companionway on these boats had simply demolished the joint between the supporting beam and sidewalls. After a few phone calls, I was able to get some leftover pieces of wood from the local hardware store, and they also helped me with a couple of vices, screws, angle iron, and Tec 7.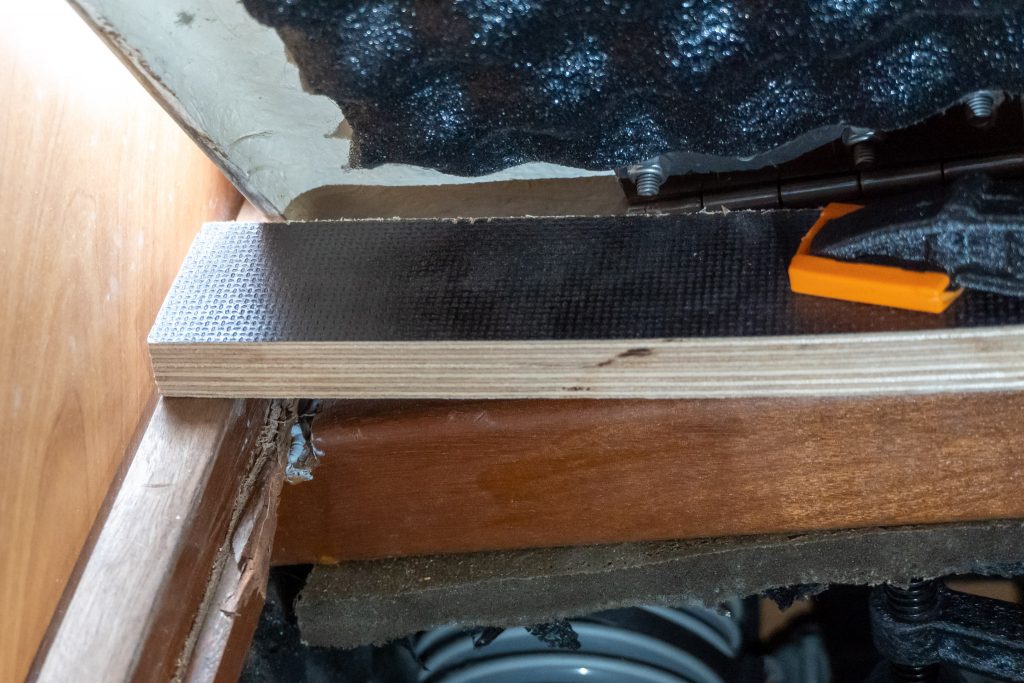 Here's the leftover plywood strip that I got used to clamp down the supporting beam. It is absolutely incredible how stupidly this is put together, but it'll most certainly hold the next few decades with this fix.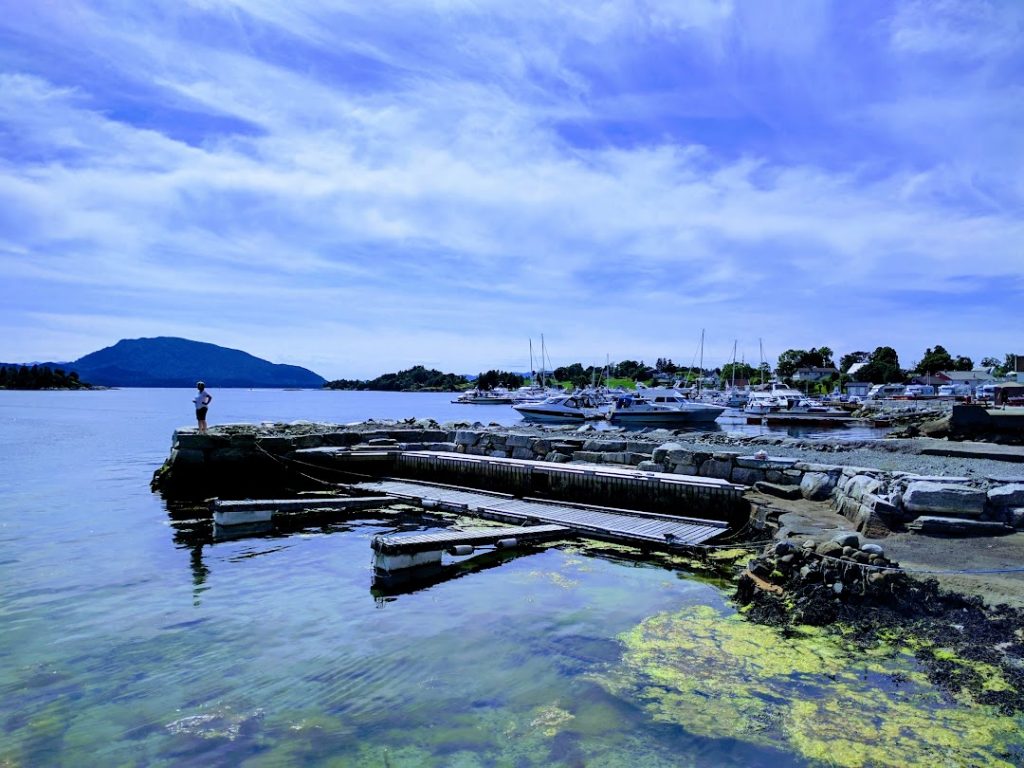 Later that evening, after the repairs and meandering about for a while, we sauntered over to to the pub at Halsnøy Samfunnshus. The pub was run by Vaage Bryggeri micro brewery, and we had a long chat about beer with the head brewer Gaute Vaage. And we also tasted every single beer on the menu. That was a fun evening 😉
After a few days, the wind came down, and it was time for us to move south again before the next gale came howling from the North Sea. So we grabbed our backpacks, went shopping for groceries, topped up with water and diesel and cast loose.
Lea had yet again found us a secluded anchorage that looked extremely promising, so we sailed into Halsnøyfjorden, then south-west, heading to Lindøya in Førde, a short 2 hour sail at our average cruising speed.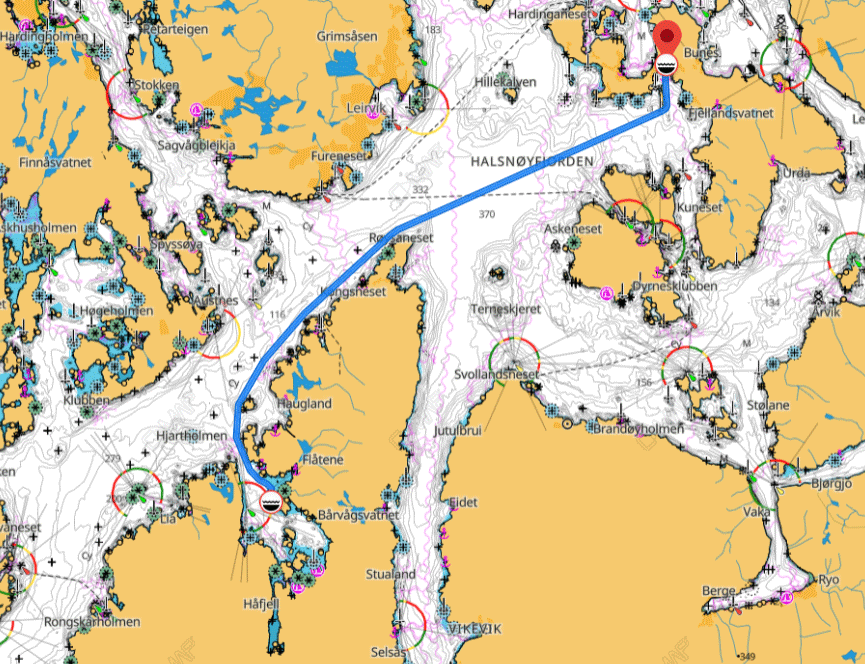 And holy crap did this place deliver! Two families with kids were occupying the little sandy beach area, but they packed up shortly after our arrival, so we got the entire anchorage to ourselves, just as we like it.
The time we spent here was absolutely magical, and pure relaxation; swimming, reading, laying sprawled in the cockpit basking in the sun. Enjoying some more homebrew. Hectic days. Mindblowing sunsets.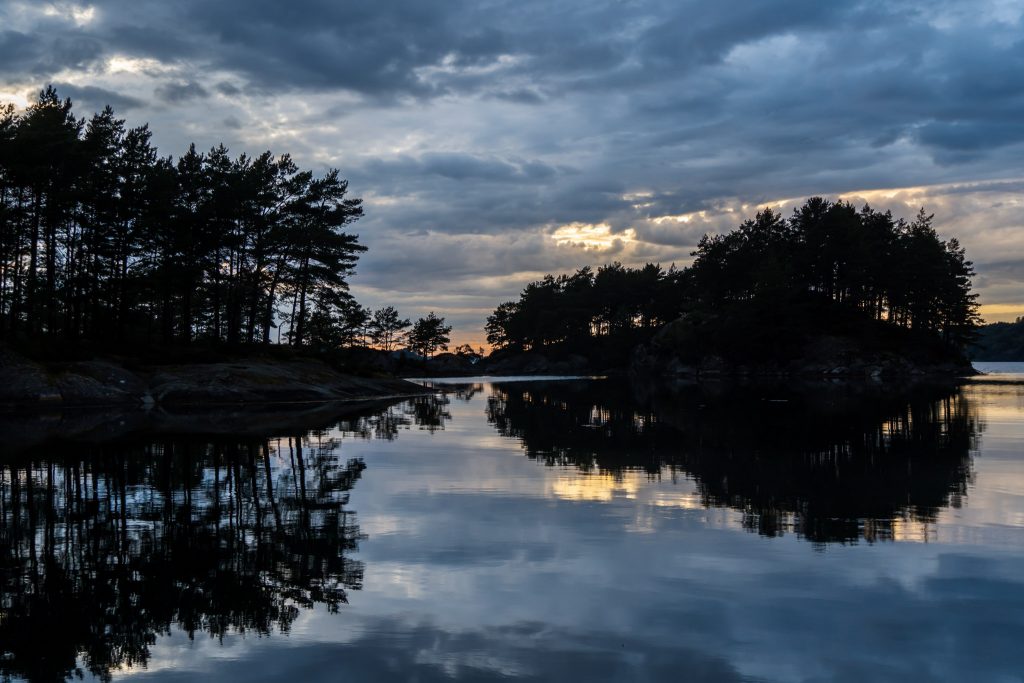 Our last afternoon at this magical place was spent, surprise!, in the cockpit. And then we heard a familiar sound. A Stark reminder.
Winter is coming.
Cause overhead, the first plow of geese were heading south, honking excitedly as they flew past. They knew winter was coming, and Lea and I were not AT ALL in a mood, nor a place, where we wanted to be reminded of exactly that.
We dearly wished we could join them – to set sail southbound, towards more temperate waters, and not have to endure yet another winter up here, in wet, windy west coast Stavanger…but we are working on that. It'll happen. Eventually…
In the mean time we'll enjoy the hell out of this magnificent piece of rock called Norway. In the next and final chapter of our 2021 journey we fire up our pizza oven again, get attacked by (actual) monsters, and disaster strikes as our engine stops and we drift towards land…
So go ahead and like our Facebook page to stay tuned!