Hakkasteik is a very old dish from Hardanger in Norway, traditionally reserved for big feasts, weddings and so on; one of its three names, Brurasteik, translates to "Bride's roast" and reflects how highly regarded this dish is.
The dish was completely unknown to us until our 2021 cruise up along the Norwegian coast to explore our own country, culture, and food.
I like looking around in local grocery stores where we land, and while in Sæbøvik in Hardanger, I came across this….thing. Not much to look at, I admit, but I had never seen it before, and as the curious fucker that I am, I had to buy it.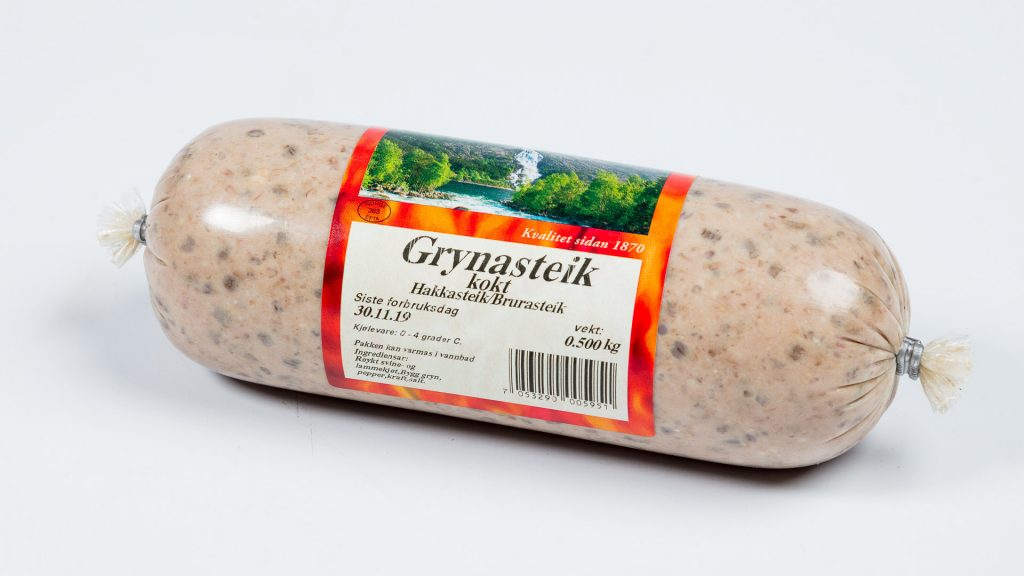 Man oh man were we blown away by this beige grey tube!
The best way of describing it is a rich, creamy and utterly luxurious orzotto (pearl barley risotto) with smoked pulled lamb and pork mixed in. It is traditionally served with boiled potatoes, mashed rutabaga and pickled beetroot. It is absolutely amazing.
Alternatively it is served in Lefse, which is basically a wedge from a Norwegian big-ass wheat tortilla, like here, with pickled herring: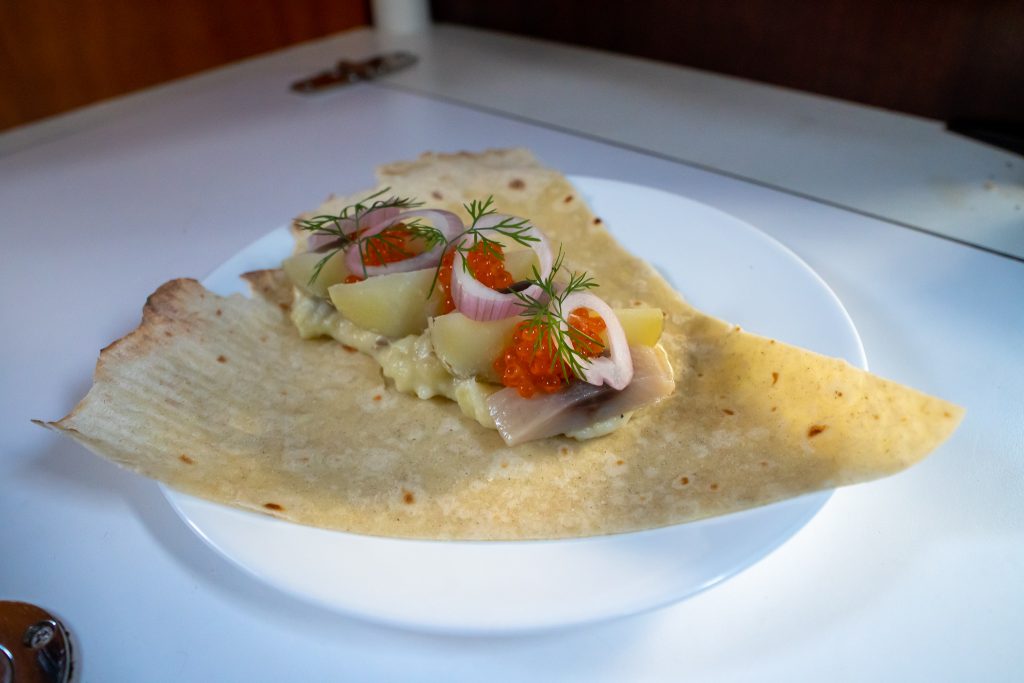 As I'm sure you can understand, I am so furious that it took me 46 turns of the sun to discover this culinary gem, cause Hardanger is only 60 nm, or a day's sail, from where I grew up in Stavanger! What else are those Hardanger bastards holding back?!? I don't like this at all!
While Hakkasteik means "chopped roast", Grynasteik means "groat roast", and both of them hints at how it's made:
You take some leftover meat from the first day of your three-day wedding, shred it and mix it with some cooked pearl barley, slap it into a Lefse and hand it out to your starving, hungover guests; some probably still hammered, and some starting over early…
But if you're not on day two of your three day wedding, and you don't have left over meat, this is how you make it from scratch:
Ingredients
1 smoked ham hock (1.5 kg)
1.5 kg fårikålkjøtt*
1 kg pearl barley
4 bay leaves
1 sprig fresh thyme
*Fårikålkjøtt (mutton-in-cabbage-meat) here in Norway is basically chunks and scraps from the mutton rack, ribs, shank, neck etc. There will be lots of bones (for great stock), and a decent amount of fat. Use 1 whole shank if you can't get the scraps.
Note: this is a HUGE batch, enough to feed 18 people 200g each, or there about. This is also the beauty of this dish – how else are you gonna feed 18 people on just 3 kg meat, where 1 kg is skin, bones, and connective tissue?
This highly prized dish isn't a vegetarian dish, but with around just 100g clean picked meat per serving, you have reduced your carbon footprint, and economic budget, by almost half! Not bad for a fine wedding dinner!
You could also use just half the hock and reduce the rest of the recipe by half (then maybe use the rest of the meat and stock for gul ertesuppe?), but it freezes extremely well, so making the full recipe is not really a problem.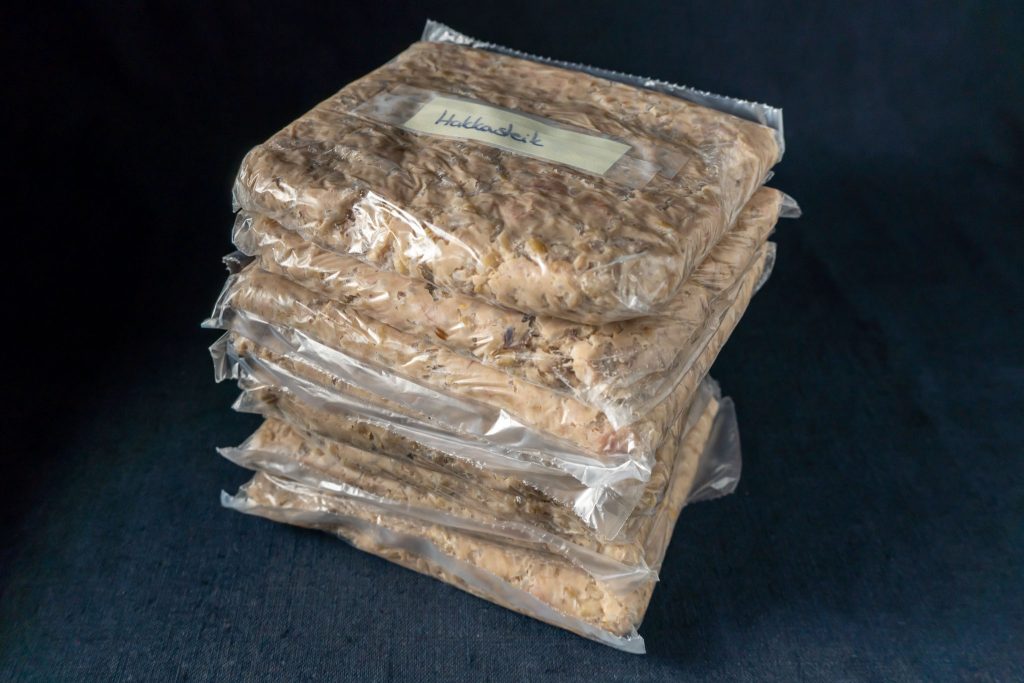 8 dinners for two bagged, tagged, and ready for the freezer.
Method
If you have a pressure cooker, put all the meat in your pressure cooker, add water so you just cover the meat, toss in a few bay leaves and a spring or two fresh thyme, and cook at full pressure for 40 minutes, then natural release. This is how we do it.
If you don't have a pressure cooker, add the smoked ham hock to a big pot with water and bring to a boil. Toss in a few bay leaves and a spring or two fresh thyme. Simmer for 2 hours.
Tip in the mutton, add enough water to just barely cover the meat, and simmer for another 1.5h. Both the ham hock and the mutton should be fall of the bone tender.
Let it sit in the pot or pressure cooker until cool enough to handle, or overnight.
Pick the meat, most of the fat and gelatinous connective tissue off the bones, and set aside. You could keep the super soft pork skin to put in Gul Ertesuppe . Discard herbs, sinew, cartilage and bones.
Tip the barley into the stock pot from the pork and lamb, and simmer for 25 minutes. Let cool in the liquid until cool enough to handle.
Tip the meat back into the stock pot with the barley and massage everything together to a soft, even, and cohesive mass. It should have the consistency of a somewhat thick risotto. If it's too dry, you could add some more stock, water, whole milk, or cream. Everything is traditionally acceptable.
Taste it, and season with more salt as needed. Massage well in between each seasoning.
Serve with mashed rutabaga (recipe on this page), boiled potatoes, chive butter emulsion (or just melted chive butter), and pickled beetroot.
The pickled beetroot really makes this dish sing, and it's really easy to make too! If you want to try to pickle your , you will need:
one large, or 2-3 small beetroots, peeled and cut into wedges or 5mm slices
50 ml sugar
80 ml apple cider vinegar
150 ml water
pinch of salt
2 star anise
Put the wedges in a lidded glass. Bring the sugar/water/vinegar to a boil, add the salt, star anise, and tip everything over the beetroots. Put on the lid and set aside to cool. Let sit for at least a day. Keeps for ages.
Hakkasteik is amazing paired with a really strong and caramelly ale, and some Norwegian barrel aged aquavit.