The best things about Norwegian ribbe is the insanely crispy crackling. The second best thing are the leftovers. Here we have paired the super crispy with super fluffy in a perfect, hand held format!
Norwegians and Chinese alike are crazy about our pork belly, but we treat it very differently. While the Chinese savors the silky soft texture of a long braised rind, us Norwegians go in the exact opposite direction, crisping it the hell up until it's virtually impossible to keep a normal conversation going as you eat cause it's soo crunchy!
This is a proper fusion dish using the leftovers from the traditional Norwegian Christmas dinner called Ribbe (full recipe).
The fluffy steam buns contrasts so well with the crunchy crackling, while the crisp pickled red cabbage adds a much needed hit of acidity to balance the fat. And the prune sauce and caramelized apples rounds everything off for a absolutely delectable sweet and savory treat!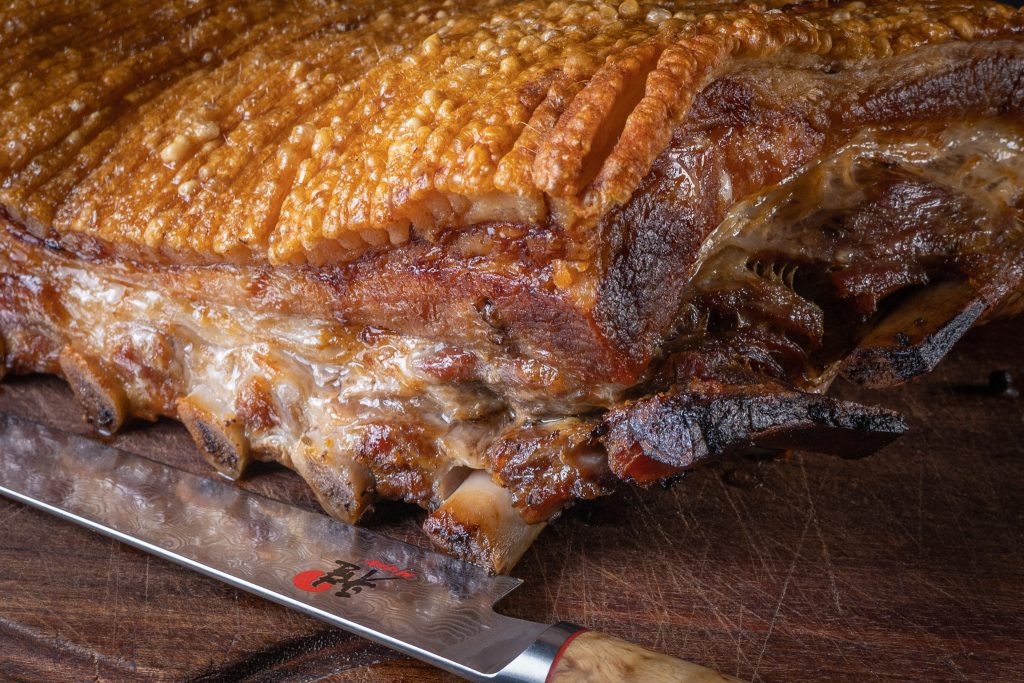 Ingredients (serves four)
Pickled red cabbage
1/4 red cabbage, finely sliced
100 ml white sugar
150 ml red wine vinegar
300 ml water
1 tsp caraway seeds
1 pinch of salt
Steamed buns (makes 24)
640 g flour
12 g dry yeast
40 g sugar
15 g fine sea salt
1 tsp baking soda
1 tsp baking powder
400 g milk or water
2 tbsp rendered pork fat, or duck fat, or oil
Prune sauce
125 g prunes
125 g water
7 g fine sea salt
1/2 tsp sherry vinegar
Juice from 1/2 lemon
2 tbsp brown sugar
1 tbsp premium dark soy sauce
1 tbsp decent port wine (optional)
Caramellized apple wedges
2 apples, sliced into thin wedges
real butter, to sauté
To serve
Method
Basically everything can be made ahead for a stress free food service:
The prune sauce and pickled cabbage keeps for weeks.
The bao steamed buns freeze really well.
The roasted pork belly keeps well for 3-4 days in the fridge, and even longer frozen. The crackling will crisp up nicely in the pan either way.
If you don't have the leftover porkbelly, make the porkbelly, as described here.
Pickled red cabbage
Make the pickled red cabbage at least a day ahead. Simply finely slice the cabbage using a very sharp knife, or a mandolin. Stuff the cabbage into a clean, lidded glass jar, and sprinkle over the caraway seeds.
Put the remaining ingredients in a small pot, bring to a boil, pour it over the cabbage, and put the lid on. Let sit in the fridge for at least 1 day. Keeps for weeks.
Steamed buns
You could of course purchase frozen steamed buns, but please don't; they are usually very, very sad….
Instead, to make the steamed buns, melt the rendered fat in a small pot, take off the heat, pour over the milk and set aside to let the milk warm up a little bit.
In a bowl, mix all the other ingredients, then pour over the milk and knead until a smooth dough forms. Let rise until double in size.
Using a scale, divide the dough into 24 equal blobs of dough. Shape each blob into a small, perfectly round golf ball. Let rest and rise for 30 minutes.
Flatten one ball with your hands, then use a rolling pin to roll out 10 cm/4 inches long oval. Brush a little bit of oil or rendered fat on the 1/2 that points away from you. Flip the nearest half over the fartherestestest half so you have a half moon shaped bun.
Transfer the to a small sheet of baking paper, and do the same to the remaining 23 golf balls. Let them rise until double in size.
While you would normally use a traditional bamboo steamer to steam them in batches for 10 minutes, we use our steamer oven that can take 12 steam buns in a batch. You could also quite successfully use a regular oven and put a big pot boiling water in the bottom so that it acts as a steamer oven.
If you use an oven, set it to 100C (210F), and we use 80% steam on our steamer oven.
Prune sauce
Keeps for weeks, so you can make this ahead if you'd like. Put all ingredients in an upright blender and blend until completely smooth.
Apple wedges
Core and slice the apples into 5mm thick wedges. Sauté in butter at just above medium heat on each side until golden brown and caramelized.
The meat
Cut the meat into 5 mm thick slices, then sear off at high heat until just browned on both sides.
To serve
Open up a freshly made steamed bun, spread a dollop prune sauce on one side, add a slice of meat, a few apple wedged, some pickled red cabbage, finish off with a generous sprinkle of chives, and STUFF IT IN YOUR FACE!
Skål!