What started out as one of Lea's "what if" moments turned into a magnificent idea sparring session, and consequently this recipe. What IF the Vikings did indeed have falafels? What would it taste like? Fucking amazing as it turned out!
So we set out to design a falafel recipe using only ingredients available to the Vikings. Yes, we do use a few modern tools, like a Microplane, but there is no part of this meal that cannot be done with absolute basic cooking equipment.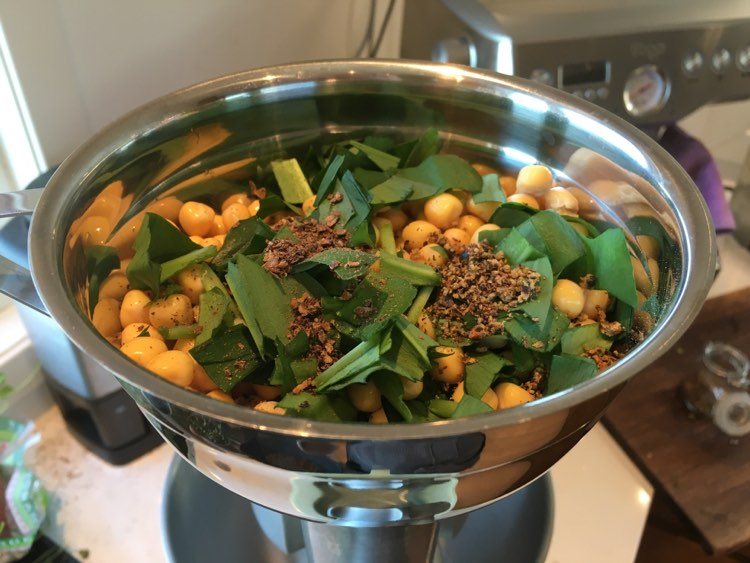 Sourcing the ingredients should be easy enough if you're in Europe, especially in the northern parts where we live. I suppose the most "exotic" ingredient would be the ramson, or wild garlic.
We foraged it ourselves, but if you don't live in Europe, or can't get ramson, just use a bit of garlic and chives instead – it will be deceptively close. Everything is detailed in the recipe.
Last few notes
Despite the fact that this recipe has six different components, it's not a very difficult thing to make. If you are competent enough to grate, stir, use an oven and a blender, then you are more than competent enough to make it all. Especially if you are able to follow, hopefully good, directions 😉
A few of the components of this dish is best made a day or two ahead to let the flavors settle and mellow out. For optimal result, make the pickled onions at least 2 days ahead (maybe even the weekend before?), and the burnt leek dip at least 1 day ahead.
Furthermore, the dough for the pita bread must be made 1 day ahead, and the yellow peas must be soaked overnight.
The rest is best made the same day, but the horseradish cream and ramson dressing keeps quite well for up to a week. In fact, spreading the tasks over several days or a week makes this dish way less daunting!
Suggested workflow could be something like this:
Saturday 1: Make pickles and burnt leek dip
Thursday 1: Whip together the horseradish and ramson dressings
Friday 1: Make pita dough and soak yellow peas
Saturday 2: Bake the pita, fry the falafels, dig in.
Ingredients (for 4 people):
Pickled red onions
Burnt leek dip
Horseradish cream
Ramson & sour cream dressing
Barley & honey pita (makes 12)
270 g wheat flour
140 g whole weat flour
140 g barley flour
20 g sea salt
3 tsp honey
70 g beurre noisette (brown butter)
350 g water
100 g sour dough starter (100 % hydration)
Yellow pea & ramson falafels
250 g yellow peas
1/2 onion
1/2 tbsp ground juniper berries
1 tsp ground allspice
40 ramson leafs
15 g salt
1 tsp baking powder (not soda)
3 tbsp barley flour
100 g linseeds (flax seeds)
1.5 liters rapeseed oil (for the deep frying)
Method
Barley & honey pita
DAY 1: Put all dry ingredients in a large bowl, and mix quickly together. Then add the liquid, salt and sourdough starter, and mix quickly together with a wooden spoon. After a 30 minutes rest, continue with stretch and fold.
Check out this quick tutorial with video on the stretch and fold technique if you're unfamiliar with it – you can tank me later 😉
After the stretch and fold, let the dough rise until the day after, until double in size. You know your sourdough best, but our culture usually takes 12-14 hours to double a dough in size.
If you have no sourdough culture, use 3 g dry yeast, and add 50 g water and 50 g four instead of the 100 g starter. Ferment in your fridge overnight.
DAY 2: 2 hours before baking, divide the dough into 12 dough balls of roughly equal size. Using a scale is a good thing. Each ball should be around 90-95 g.
Pay attention to your shaping; a roll that starts out less than round isn't going to get any prettier. Roll each ball in your hand to create surface tension, and consequently a nice, round shape.
Let the balls rest under cover for 30 minutes for the gluten to relax for the next step. I like to cover them with a deep sheet pan that I have, instead of using plastic wrap – it's good for the environment, and completely free.
Next step is to flatten your balls. You can take that any way you want, but be gentle either way. Gently press and flatten them until you have a roughly 15 mm thick and 10-12 cm nice and round disc. Transfer each disc to a lined baking sheet. Cover, and let rest and rise for 1.5 hour.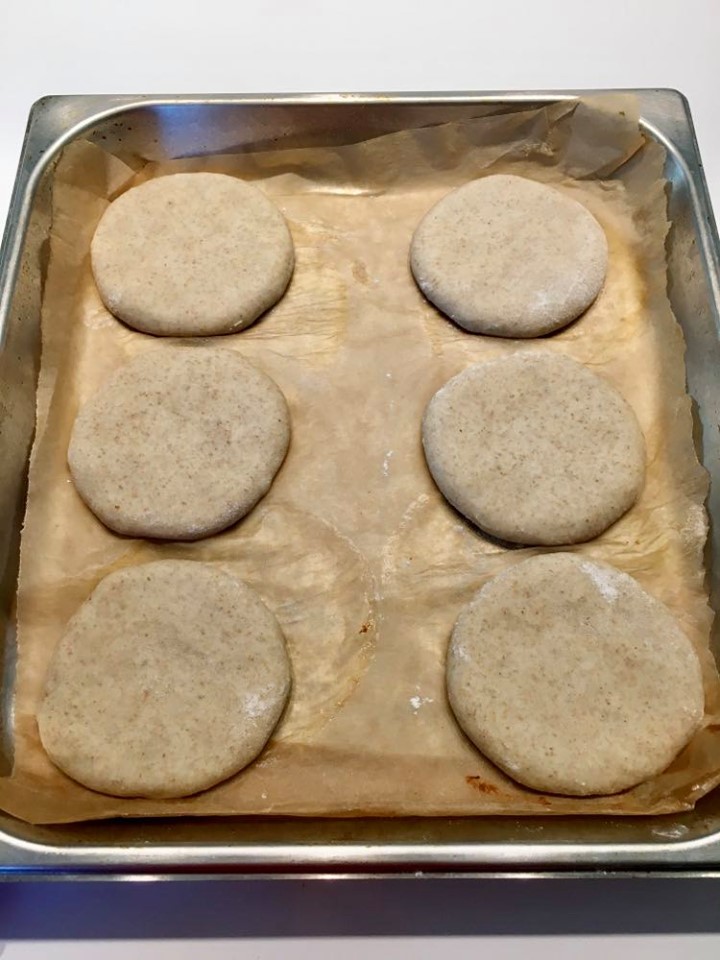 Bake at 230C for 12-15 minutes until just browning and nicely puffed up. use 80 % steam if you have it.
These pita are best fresh, keep well for a day, and freezes really well.
Yellow pea & ramson falafels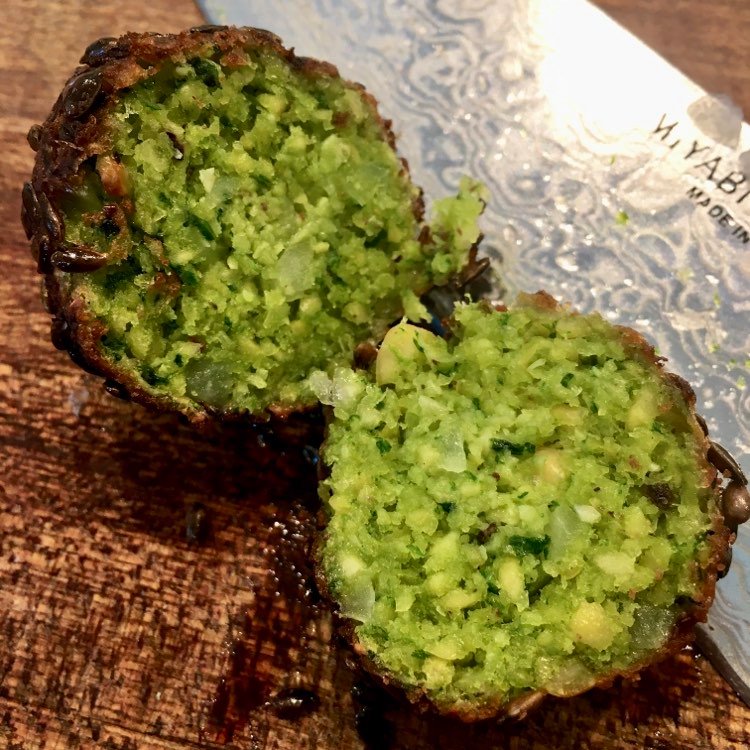 DAY 1: Put the peas in a lidded container, completely cover with water and soak overnight. Discard the water, rinse off the peas one more time. The soaking water will make you gassy as hell, and rinsing it off will prevent this.
DAY 2: There are 2 ways of making the base for the falafels – either with a meat grinder, or a upright blender. We tested both, and the meat grinder approach both give you superior texture, and is way quicker, easier, and less messy. So use it if you have it.
For either method, coarsely chop what needs to be chopped and mix all ingredients together, except the barley flour.
If using a blender, blend in 2 batches. If using a meat grinder, grind with your coarsest setting first, then one notch finer.
Put everything in a bowl and add the barley flour. Quickly mix well using your hand.
Slowly heat up the oil to 180C in a large pot. We use a 3.5 liter pot and 1.5 liters of oil.
The Vikings definitely didn't have corn oil, and if they made falafels, they probably deep fried them in rendered whale blubber or something, but that's a whole different story.

We chose rapeseed oil cause they definitely had rapeseeds, and they could've made cold pressed oil from it. The smoke point is 226C, and it's a very suitable oil for deep frying.
While the oil is heating up, ready one wide bowl or plate and fill with the linseeds. Using a spoon dipped in a glass of water, start shaping your falafels with the spoon and your hand, and transfer to the linseeds.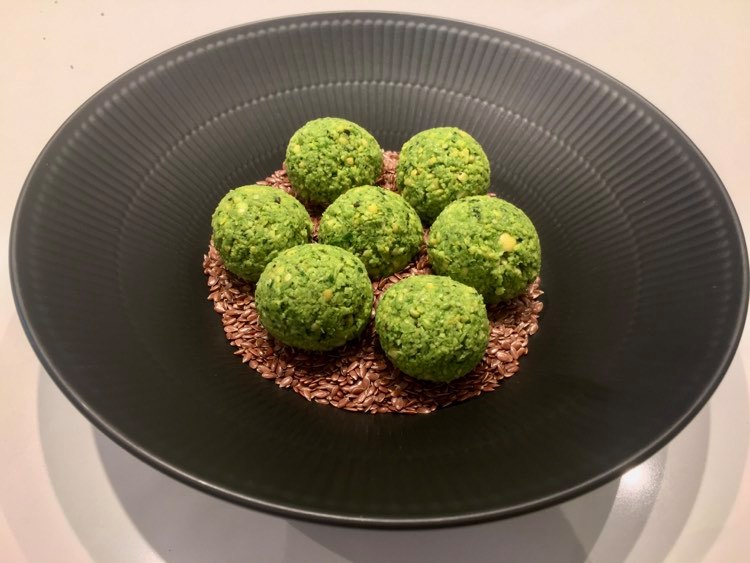 When you have 5-7 of them ready, cover them completely with the linseeds and deep fry till nicely browned. Lift out of the oil onto a wire rack with a slotted spoon.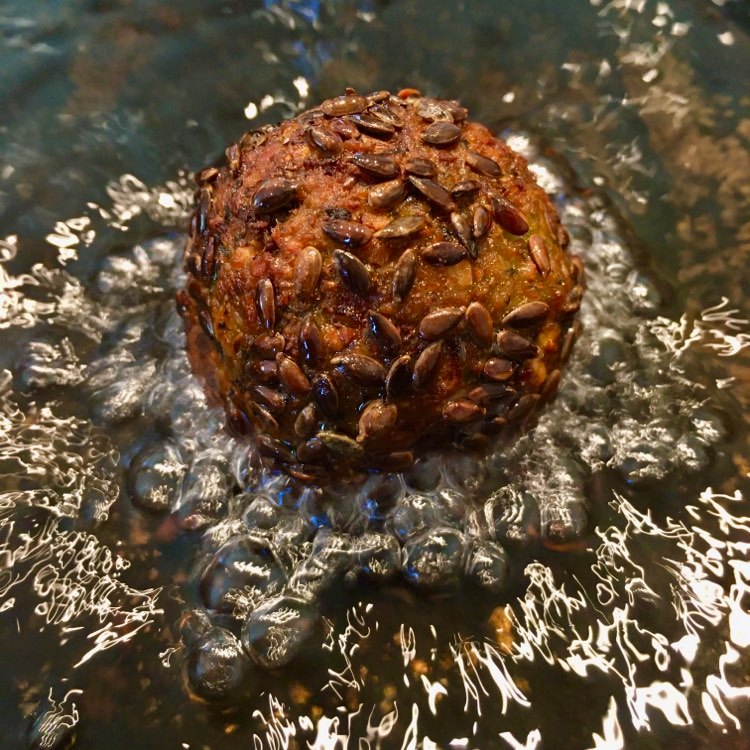 Continue shaping the next batch falafels while the previous is frying. Being two people make this whole process easier – one is shaping, and one is frying.
These falafels are best fresh, keep well for a day, and freezes really well.
No ramson?
Use 2 cloves of garlic and a bunch of chives for the falafels instead. It will be deceptively close.
To serve
Use a good bread knife to open the pita. Slather one side of the pita with a good dollop of the burnt leek dip. Add a few pickled onion slices to the bottom of your pita, then 2 or 3 falafels, drizzle the balls with the horseradish cream and ramson dressing, and finish off with some more pickled onion.
We also like serving these with some steamed or sauteed black kale – it really pairs well with the rest, but remove the stem and chop coarsely before sauteeing, or things can get really messy when eating.
Beer pairing
The ultimate beer pairing to this is of course a home made raw ale with juniper branch infusion, fermented using your own sour dough culture. It is quite likely a relatively historically correct beer.
Failing that, a nice, crisp gueuze or hard cider would work well – but make sure it's neither bone dry, nor too acidic.