Apart from perhaps Smalahove, this is the most notorious Norwegian dish there is. Period. It makes people gag, or screw their faces in pure disgust. I used to hate it, but I found the key to make it actually taste good!
The traditional Norwegian Christmas dinners:
This recipe is featured in The Big Five traditional Norwegian Christmas dinners & recipes:
Lutefisk: Lye treated stockfish (current recipe)
This was one of these dishes that I would love to like cause it's so "ultra Norwegian", but I just could not handle it; the flavor was off, the texture was off and the very presence of that gelatinous jiggly blob on my plate just really didn't improve on things either. No matter how hard my dad tried, it just didn't work for me.
Lutefisk – literally "lye fish" – is dried whitefish (normally cod, but ling and burbot are also used). It is made from aged stockfish (air-dried whitefish), or dried and salted cod, pickled in lye. It is gelatinous in texture after being rehydrated for days prior to eating.
I came across a recipe from Gastronomisk Institutt, the Culinary Institute of Norway, and I said to myself "OK…one last time. If this doesn't work, it's time to throw in the towel on this one." And then I made it myself. And it was magnificent!
In Norway, Sweden and Finland, lutefisk is a part of the Christmas tradition and is traditionally served with boiled potatoes, mashed green peas, melted butter and fried bacon. Often with whole grain mustard. Some times with carrots. Or lefse. Or flatbrød.
See? None of that meatballs and gravy heresy. Oh no!
I won't deviate too much from the norm, because this is, after all, a very traditional dish. But I am using the same technique for the fish as Gastronomisk Institutt, which is what makes it edible to me in the first place.
Ingredients (serves 4)
The fish
1.2 kg lutefisk
fine sea salt
Mashed green peas
500 g dried whole green peas
50 g real butter
Fine sea salt
Bacon butter
5 rashers good quality dry cured bacon
150 g real butter
Mustard sauce
100 ml Crème fraîche
1 tbsp Dijon mustard
1 tbsp whole grain mustard
1 tbsp honey
juice from 1/2 lemon
To serve
Method
We use whole dried green peas in Norway, not split peas. You may use split peas if you can't find the real deal. In a pinch, you may even use fresh, frozen peas.
If using whole dried green peas it is imperative that you soak them in water overnight, then toss out that water, and boil them in new water.
Failing to execute this crucial step will result in the most violent flatulence you have experienced in your whole life; shortly after consumption you will start feeling the pressure building, and you will quickly start passing gas incessantly the rest of the evening.
It will then build into a roiling inferno during the night, and you may, if you're lucky, have recovered by lunch the following day. Physically at least. The mental scars will be with you for life.
The key to good Lutefisk is this simple trick: sprinkle the fish liberally with fine sea salt. This will draw out a lot of moisture and firm it up. Do this right before you start boiling your peas.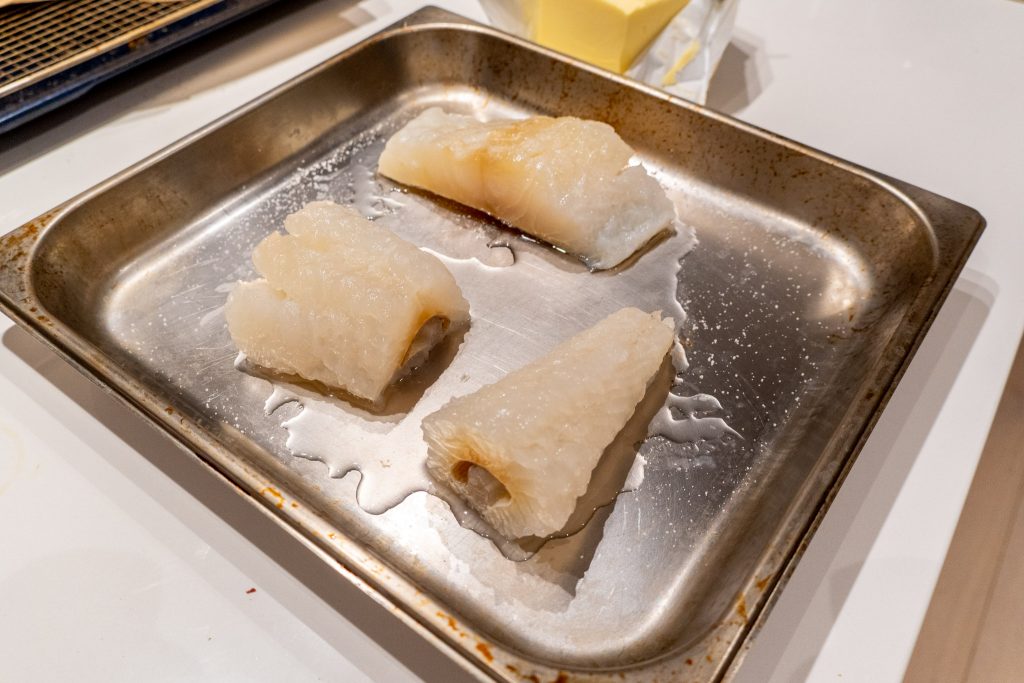 After 1 hour of salting, cover the fish with aluminum foil, making sure the foil does not touch the fish (or it could get stuck and rip apart the fish as you pull it off again), then bake the fish at 180C/355F for 20-30 minutes. Check for doneness after 20 minutes – it should just start to flake.
Boil the peas for 1-1.5 hours. Boil them quite hard in the beginning, so as to quickly loosen their skin. After 10 minutes hard boil, stir to loosen the skins. Continue to boil hard for another 5 minutes, then lift the skins out with a slotted spoon. They look like sad, little Packman ghosts.
When the peas are tender, let them drip and steam off properly, then mash well. If it gets too runny, sprinkle over a bit of flour and stir well. Keep in mind, though, that using flour as thickening agent anywhere will always mute the flavors, and you will also need to let it simmer ever so gently for 5 minutes to cook out the raw flour flavor.
Stir in the butter, then season to perfection with fine sea salt. Keep warm under lid.
While the peas are boiling, make the mustard sauce. Simply mix everything together, and put back in the fridge; it is served cold.
Right before you put the fish in the oven, put on your potatoes.
To make the bacon butter, cut the rashers into thin strips, then fry the bacon super crisp in a little bit of neutral oil, first at medium high, then as it starts to take on colour, turn down to right above medium heat.
When the bacon is golden and crisp, turn the heat down to medium, transfer the bacon to a small bowl, then add the butter to the pan. Take your time and let the butter brown beautifully at medium heat until it's nutty brown and smells amazing. Pour this over the bacon before serving.
We always serve this with a strong, caramelly homebrewed Norwegian farmhouse ale called Vossaøl (recipe), and some barrel aged Norwegian aquavit. If you can't find Vossaøl, then a English (low hop) Barleywine will do very nicely 🙂