One of my absolute favorite things to make is pizza. This sauce is a improved and simplified version of the one I came in 3rd place with in the Norwegian Pizza Championship in 2009.
The main difference between the sauce I made back then and the one I'm presenting you with now is the use of canned quality tomatoes rather than fresh tomatoes. The reason for this is two fold:
Ease: Opening a can of tomatoes is so much easier than blanching the tomatoes, plunging them in ice water, and then peel each one of them with a pairing knife. And then to proceed with coring them, cooking the core and the rest separately, de-seeding the core….etc….
Consistency: At least here up north in Norway, the quality of tomatoes varies wildly throughout the season and beyond. But by all means – if you do get your hands on super ripe tomatoes, go ahead and use those if you feel like peeling 🙂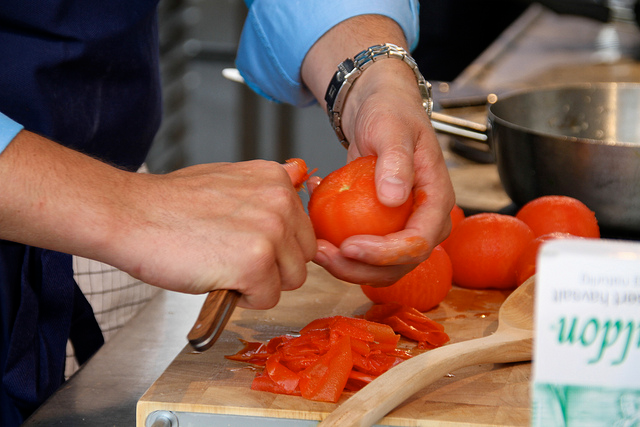 Whatever you do, DO NOT get the cheapest can of tomatoes you can get your hands on, cause that's gonna suck. Go for Mutti, Petti, Coppola or other high quality stuff. San Marzano are considered the best.
And finally – this is the basic sauce I use for nearly all my pizzas. If I want to take it in a Mexican direction, I may drop the fennel, and add perhaps some chipotle. If I want to take it in a Spanish direction, I might add some smoked, spicy paprika. It is also incredibly delicious as a pasta sauce. Just sayin'.
Anyway…
Ingredients
1 onion, sliced
3 cloves of garlic, crushed
1 can (400g) whole high quality tomatoes
1 tsp fennel seeds, crushed in a mortar
1 tbsp dried oregano
Small pinch chili flakes
Fine sea salt to taste
Method
Sauté the onions in a bit of olive oil until translucent.
Add the garlic, and sauté until the onion is completely soft. (Check Mini Masterclass at the end for details)
Add the tomatoes, herbs and spices, and run with a stick blender until completely smooth
Add a few pinches of salt, and simmer for a few minutes. Taste. Adjust with more salt (and sugar if too acidic).
Simmer on very low heat until desired consistency, typically 15-20 minutes.
That's it. Stupid simple. Fucking epic.
How do you like your pizza?
Mini Masterclass:
Adding acid, like vinegar, citrus, tomatoes etc will prevent beans and many other vegetables from becoming tender. That's why you should always soften your onions in oil before adding tomatoes for a pasta sauce, lest you'll be left with crunchy onions.
Adding a little bit of baking powder will have the opposite effect, by making it slightly alkaline, and helps producing super tender beans (or legumes as a whole).