Sfincione di palermitano, authentic Sicilian pizza – the greasy slob Chicago style deep dish pizza's fit and healthy grand dad that doesn't require a pound of cheese to be edible.
This is the Sfincione's answer to Margherita, so absolutely basic. And by absolutely basic, I mean absolutely delicious!
Ingredients
Dough:
550 g Caputo Pizzeria*
350 g cold water
18 g salt
1 tbsp olive oil
100 g sourdough starter (100 % hydration)
Use stretch & fold method to make the dough, then retard for 24-48 hours. Check out this page if you're unfamiliar with the stretch and fold technique, the superior way of making the most incredible dough 🙂
Sauce:
Topping:
100 g Caciocavalli
50 g breadcrumbs
50 g Parmesan
Method
A Sfincione is practically just a Focaccia with tomato sauce and cheese, so the shaping and everything will be pretty much the same there.
You know your own starter best, but with my starter, I typically let it sit in room temp for 12-16 hours, until double in size. There is a huge difference in fermentation time depending on if it's summer or winter; winter may even take 24h+.
If you want a longer fermentation, simply pop it into your fridge overnight, or longer. For longer fermentation than 48h I recommend using at least 50% Caputo Cuoco or Manitoba since they are much stronger, and longer fermentation has a tendency to weaken the gluten, and that is the last thing you need with such long fermentation times.
Then I simply sprinkle some oil over the dough, run a scraper along the edge of the dough to loosen it, then tip into the pan, flip it over and stretch it a bit at the same time. Then I let the gluten relax for a bit, then stretch again, rest, and stretch again until it reaches each corner of the pan. Then it's a longer rest (1.5-2 hours-ish) until it looks ready to go into the oven: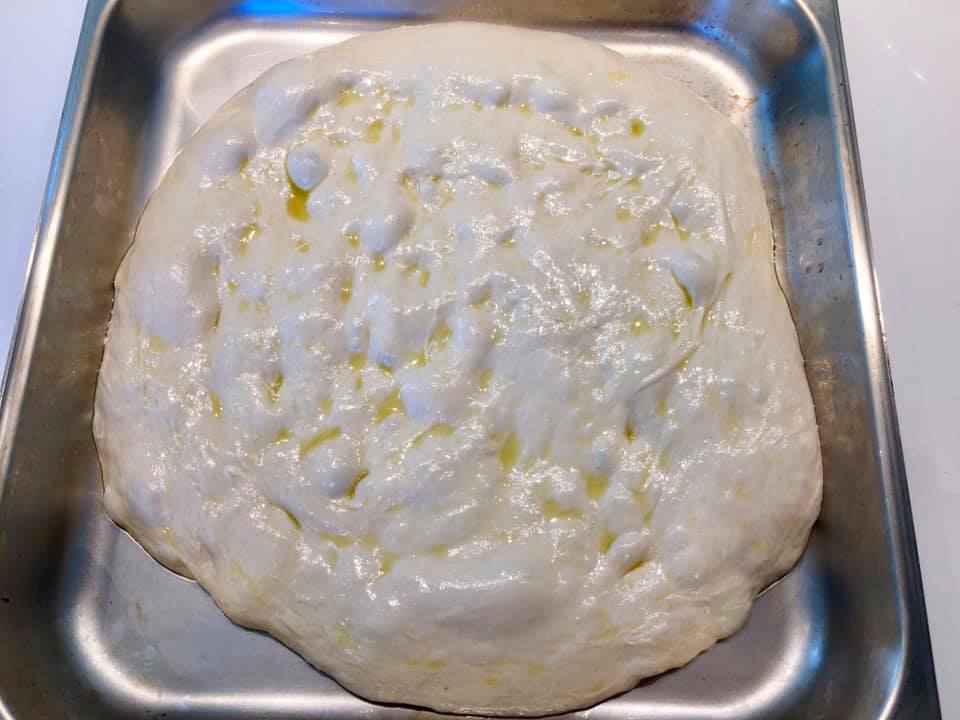 Sprinkle 100g planed / grated caciocavallo cheese on dough.
Distribute sauce ON TOP of the cheese.
Mix bread crumbs (50g), grated parmesan (25g) and 2 tbsp quality olive oil, and sprinkle on top. Granted, the purist may argue that parmesan isn't authentic for the style, but it makes the crumbs incredibly crispy.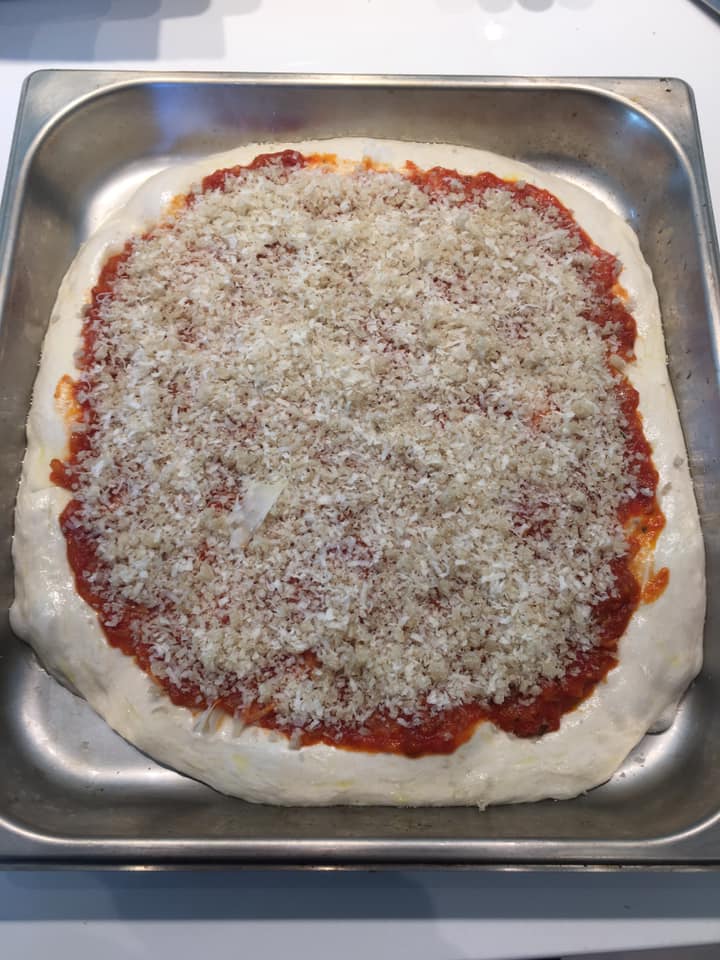 Make your own bread crumbs for best results. Bake a simple pain, or buy a white loaf, cut of the crust and blend it in a upright blender, then mix with the grated Parmesan.
Bake at 230C-250C until golden crispy.
No sour dough?
If you have no sourdough, replace the starter with 50 g water and 50 g flour, and add 3 g dry yeast. Ferment in the fridge for 48 hours.
Do you love pizza? Here are even more kick-ass pizza recipes from the guy who was in the Norwegian Pizza Championship once.