I hate Pizza Grandiosa with a passion. And yet it's the most consumed frozen pizza in Norway, so no Norwegian food blog worth a grain of salt could be without a recipe for a homemade version of it. Here's a Pizza Grandiosa that's actually really, really delicious.
Pizza Grandiosa was launched in 1980. By 2005, Grandiosa (also called Grandis) was Norway's best-selling frozen pizza, and it now has a market share of 50%.
So it's safe to say this gastronomic abomination has secured itself a place in the Norwegian cuisine; With a population of only 5.4 million, we eat 28 million Grandiosas each year. It's almost as if Pizza Grandiosa is to Norwegians what Americans think Lefse is. Holy shit.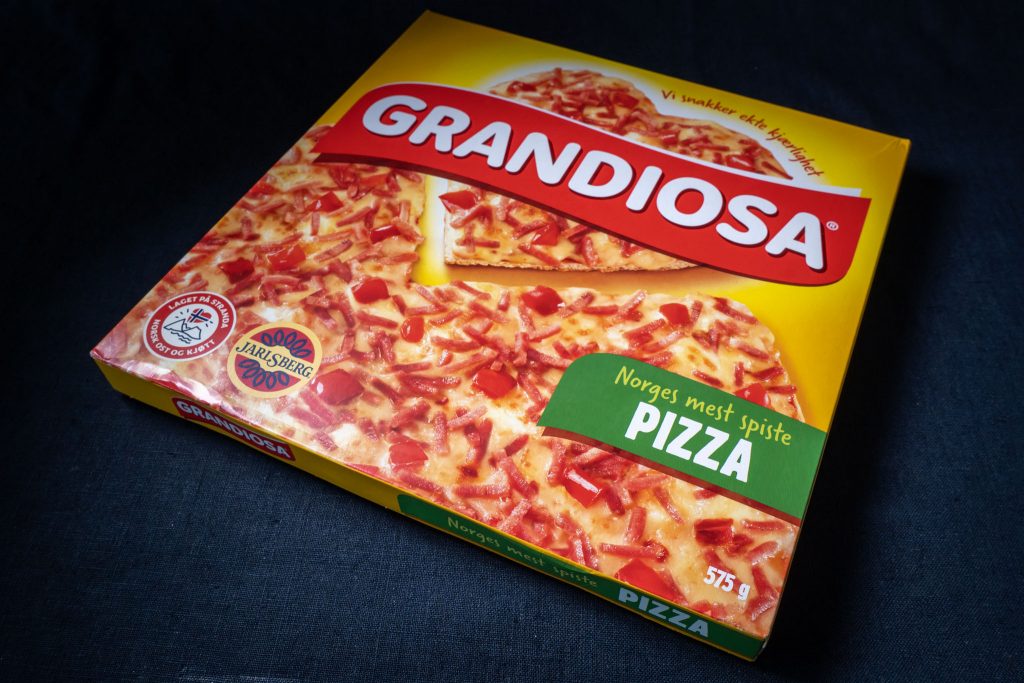 Some will call me a traitor and a defiler of Norwegian culture and heritage. Others will declare me a liberator of the bonds of poor taste and shareholder's demands for maximum return on investment. Others again will simply nod, acknowledge that things have turned for the better, and with a hungry grin give in to the carnal pleasures that is pizza.
Tasting my homemade Grandiosa for the first time was a serious mindfuck; I had done everything I could to make the pizza taste exactly the same, while also absolutely fucking not, but taste incredible instead.
For this recipe, I took the concept of Grandiosa and maximized flavors and textures, but I still could not get past the fact that it was indeed a Grandis I was chomping down.
But first some R&D
On the back of the packaging the manufacturer boldly exclaim "exquisite quality, long craft traditions, and a unique flavor.". Fucking liars.
The ingredients list states: "wheat flour, water, cheese (Jarlsberg), pizza meat (beef, water, soya protein, wheat starch, starch, salt, spices, spice extract, preservative (E250)), tomato puree, paprika, yeast, rapeseed oil, salt, spices (including garlic, onion), sugar."
Note how they just invented a new term here, cause it would be illegal for them to simply state "beef". You bet there's so little actual meat in there it's closer to a ultra-processed vegetarian pizza than people would want to know.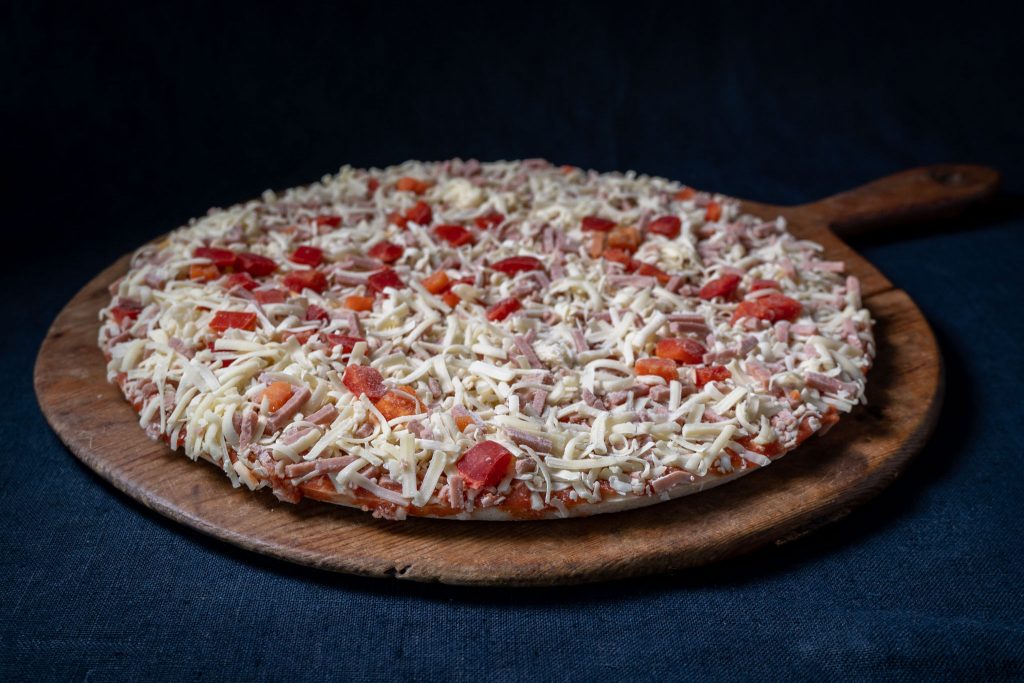 As part of the R&D phase for this recipe, I decided to take one for the team, and I bought my first Pizza Grandiosa in a quarter of a century. Last time I bought one was when I was in the Norwegian Army, and made $1 per day. That's how pathetic the original is.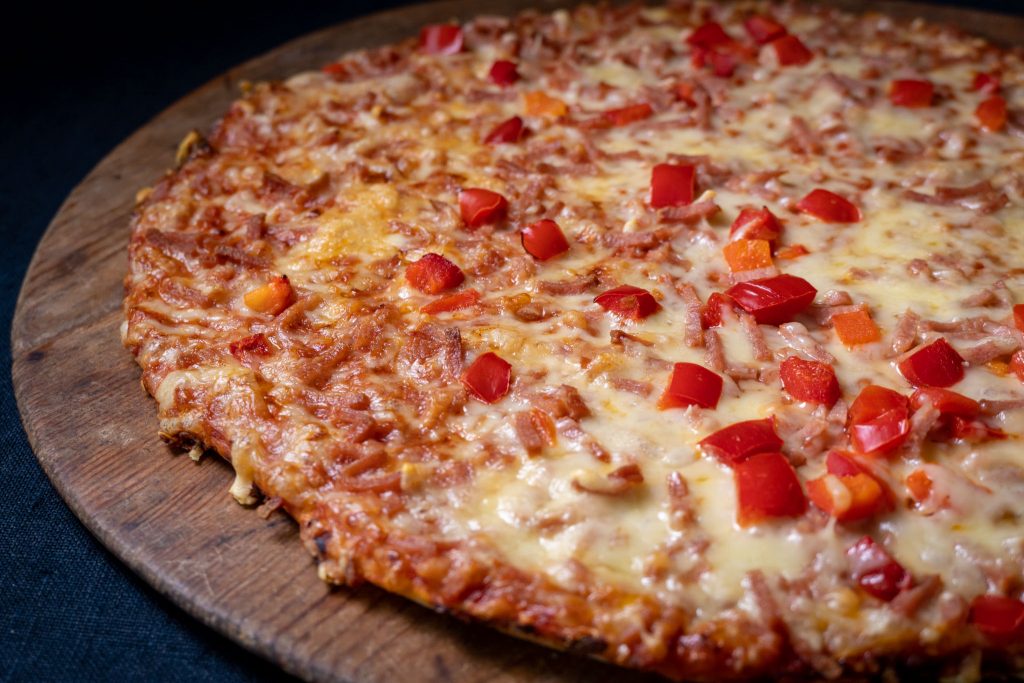 My gustatory analysis revealed the following:
The crust is dense and cardboard-like. Or perhaps dry-sponge-like is more descriptive. It does not brown, nor does it crisp up, but retains its pale, anemic look and flavor thanks to the absence of Maillard reactions. I'd be surprised if they didn't use baking soda instead of yeast for leavening.
The overall flavor profile is mainly driven by red bell pepper and Jarlsberg cheese. The Jarlsberg cheese is, well, Jarlsberg cheese; a decent enough, mild Swiss-style cheese.
The sauce taste watery. And that's probably what it is; watered out tomato paste with the cheapest thickening agent money can buy to prevent it becoming too runny. Its flavor is "dominated" by hints of oregano and the faintest touch of chili, garlic, and onion.
It is impossible to distinctly identify neither the texture, nor the flavor of the "pizza meat".
I honestly don't know how the fuck they managed to make a pizza taste this indifferent. I don't even know where I'd start to even achieve such…peak performance blandness.
So here's what we're gonna do: We're gonna take the most flavorful cut of beef, and then we're gonna braise that stuff in ale until fall off the bone tender. Then we're gonna grill those red bell peppers, and we're gonna use my New York style crust to create some real flavors!
You ready? Let's go!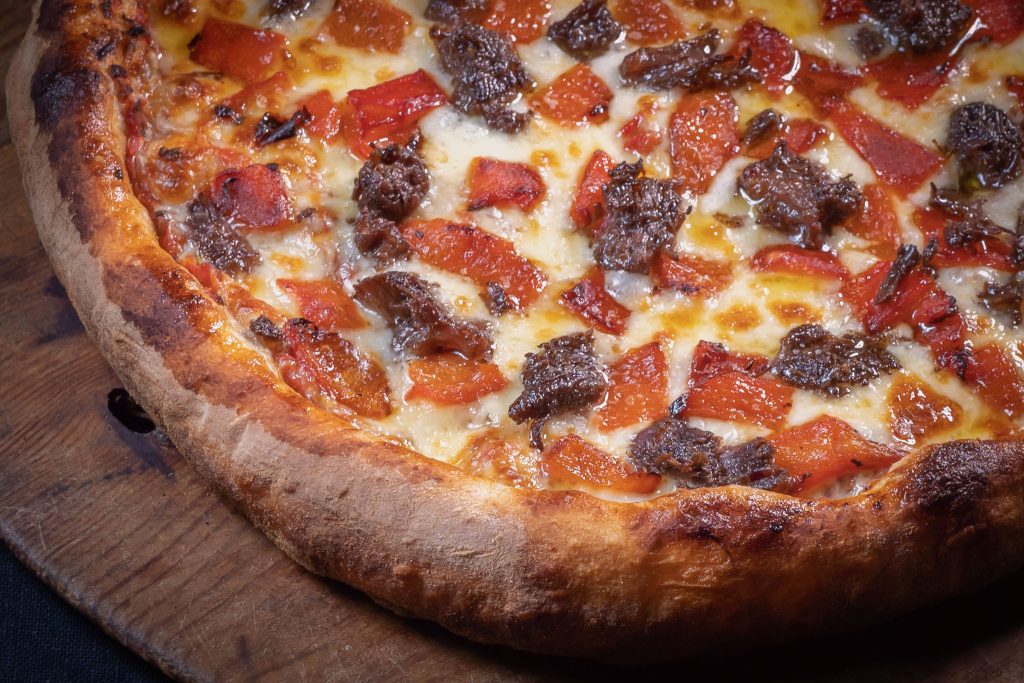 Ingredients, makes four 12″ or three 16″ pizzas
150 g grated Jarlsberg cheese
150 g grated mozzarella
3 red bell pepper
The meat
1 beef cheek or 500 g ox tails (or 200 g beef tenderloin)
500 ml dark, low hop ale
500 ml water
2 bay leaves
2 cloves garlic
1 celery stalk
Fine sea salt
1 tbsp. neutral oil
Method
Beef tenderloin is clearly the quickest, but also the least flavorful option. If using beef tenderloin, simply slice into as thin slices as you possibly can, massage in 1 tbsp. neutral oil, then add raw to the pizzas before they go into the oven.
Otherwise, start by searing off your beef cheek or ox tails in a big pot. Pour in the ale & water, add the bay leaves, garlic and celery, and a good pinch fine sea salt. If using a pressure cooker, cook at full pressure for 1 hour with natural release. If using a regular pot, simmer for 3 hours.
Let cool down to room temperature, then pull the meat, and massage in 1 tbsp. neutral oil. Set aside until ready to use.
The braising liquid makes a absolutely killer soup or gravy, so definitely save that for later. Maybe try our traditional Norwegian beef soup with flour dumplings? Or Norwegian meatballs with gravy?
Grill the red bell peppers, remove the skin, and dice. Peppers are grilled the same way as poblanos, so head on over here for detailed instructions on how to grill peppers.
When ready, shape the dough, spread the sauce. Par-bake (exact instruction on the NY style pizza recipe page), then add the Jarlsberg cheese first, then the mozzarella. Scatter one cubed roasted bell pepper for each pizza, then 1/3rd of the pulled meat.
Bake the pizza until perfect, transfer to a wire rack, then drizzle a little bit high quality olive oil over each. If you're feeling particularly bold, a sprinkle of finely chopped parsley is magnificent.
As always, pizza is best enjoyed with a cold one. An ESB or something similar would not be the worst you could choose.
Do you love pizza? Here are even more kick-ass pizza recipes from the guy who was in the Norwegian Pizza Championship once.