Among the Big Five Christmas dinners here in Norway, this is by far the easiest to get right if you know how to do it. But the matter of fact is that most people have absolutely no clue how to make good fish. Here's how to seriously kick ass at it.
The traditional Norwegian Christmas dinners:
This recipe is featured in The Big Five traditional Norwegian Christmas dinners & recipes:
Juletorsk: Poached cod (current recipe)
This dish hails from the southern and south-western parts of Norway. It has a relatively modern feel to it with the butter sauce called Sandefjordsmør, but fish for Christmas dates all the way back to before 1536, when Norway was Catholic, since you were not allowed to eat meat during the fast from Dec 1st until Dec. 25th. What a load…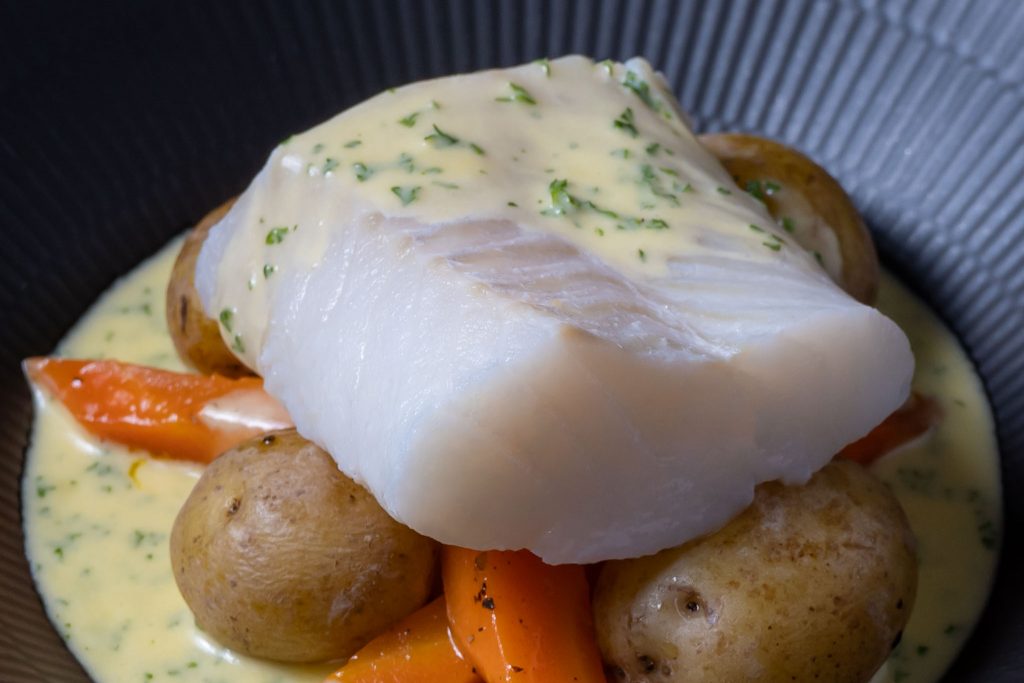 Since I'm a west coast guy, there's absolutely no chance in hell you'll make me eat Juletorsk for Christmas – Pinnekjøtt is on the menu here. But I do think it is a very, very elegant and refined dish, and you can fancy it up or down however suits you; using skinless back loin vs. cod chops, or plating individually, vs. serving family style where everybody helps themselves.
Since I usually cook just for the two of us, I used some nice cod back loin fillets about 3 cm thick (a good 1 ") for this recipe. Go for the same thickness if using chops.
Ingrediens
The fish
800 g skinless cod back loin/fillet
1 tsp black peppercorns
2 bay leaves
4 slices lemon
25 g fine sea salt per liter poaching water
Potatoes
1 kg potatoes
25 g fine sea salt per liter water
Carrots
700 g carrots
1 tbsp water
1 tbsp butter
1 tsp sugar
1/2 tsp fine sea salt
Sandefjordsmør
200 ml whipping cream
200 g real butter
1 pinch fine sea salt
small squeeze fresh lemon juice
A metric shit ton curley parsley, finely chopped
Method
Before you continue, I urge you to read my article How to cook restaurant worthy fish. It will tell you exactly how to cook this recipe to absolute perfection.
This dish is easy to make, but there are a few tricks to make it really shine. Aside from poaching the fish to perfection, timing things is key; it is better that the potatoes and carrots finish before the fish and sauce, cause they are very easy to keep warm under lid.
Here's how to line things up:
Start by boiling the potatoes. Set your timer.
Heat the poaching water for the fish to 60C/140F. Use a thermometer.
Prep all the other ingredients.
When the potatoes have 10 minutes left, start cooking the carrots
Immediately after, start reducing the cream for the sauce.
Immediately after, add the fish to the poaching liquid. Set your timer to 10 minutes.
Detailed description:
Different potatoes have different cooking time, so set your potato timer to the cooking time of the potatoes your use, minus 10 minutes. Cook the potatoes until tender, then strain the water and keep warm under lid.
If your thermometer has an alarm, set it to go off when the poaching liquid reaches 60C/140F, then just keep it there.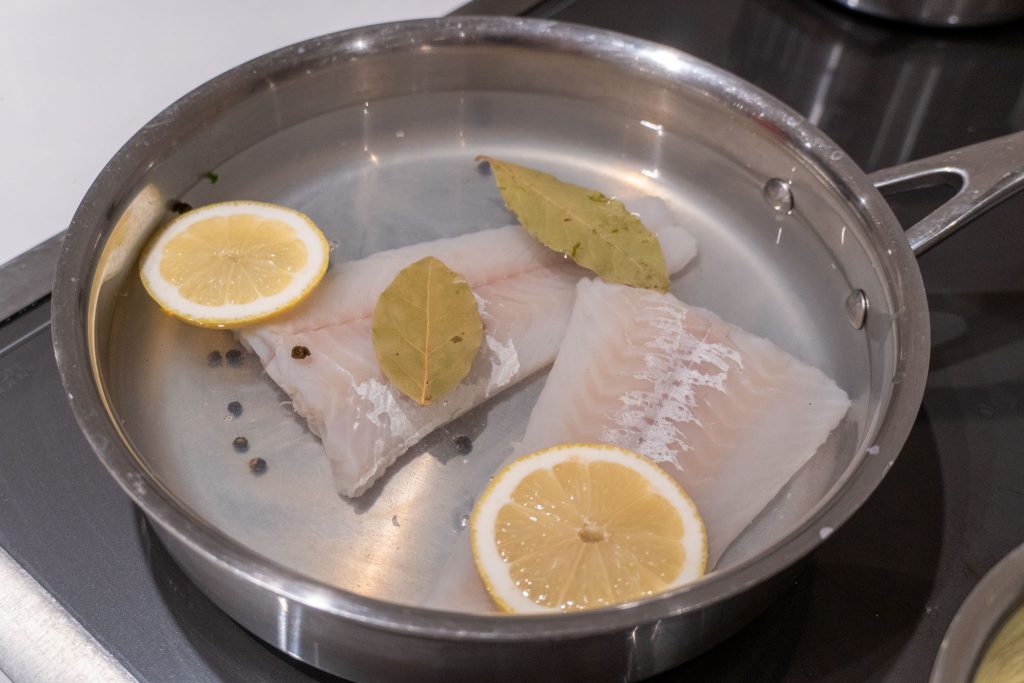 Peel the carrots and slice them at an angle. If the carrots are very big, like the ones I used here, slice them lengthwise, then across at an angle. It's a bit more elegant that way.
Add water, butter, sugar, salt and pepper to a lidded pot, then cook the carrots tender with lid ajar. Keep warm under lid at minimum heat until serving.
For the Sandefjordsmør, add the cream and a pinch of salt to a small pot, then simmer and reduce by half. Turn down the heat to low, and whisk in cubes of cold butter, little by little, until you have a rich butter emulsion sauce.
Add the parsley and a squeeze of lemon to taste. It is not supposed to be acidic, you're after only a hint of citrus to balance all the fat. Turn off the heat and keep warm under lid.
For the fish, simply slip in gently into the warm poaching liquid and keep it there for 10-12 minutes, until it starts to flake a bit.
From the article How to cook restaurant worthy fish:
When using such low temperature, it is very hard to ruin the fish and a few minutes extra has relatively little impact on quality. But if you let it sit for too long, the protein will start denaturing, and become more and more "mushy" instead of nice and flaky.
When the fish is done, you are ready to serve. If you plate individually, here's how to do it:
I like to preheat my plates to 60C/140F in the oven
Add a good spoonful Sandefjordsmør to the bottom of your plate
Place a few potatoes around, then carrots in between
Place the fish on top of that
Drizzle a small spoonful Sandefjordsmør over the fish
As for what to drink with this dinner, the home brewer in me recommends a Belgian Wit or Blonde. If you prefer wine, you really cannot go wrong with a good Chablis Premier Cru or a Muscadet Sur Lie. I would not consider having any kind of Aquavit with this meal.
So there you have it – Skål people!