What should have been a 14 month cruise from Norway to the Caribbean and back again turned out quite differently thanks to Covid. Now firmly on the right side of 2021, it was time to wrap up our journey!
As hard and painful as it was to acknowledge that we were not going to sail to the Caribbean, 2020 has been a blessing in disguise for us. We had been working ourselves to the brink of complete exhaustion the past year in preparation for the voyage, and really needed to calm the fuck down.
With Covid shutting everything down in March, we had no choice but to take a deep breath and reevaluate the whole situation.
Long story short, instead of sailing 12,000 nautical miles from Norway, to the Caribbean, and back again, we went sailing up along the magnificent coast of Norway. And despite having our boat stuck on land with no mast for over half of 2020 thanks to Covid, we managed a full 640 nautical miles this year. Not bad!
For those of you who want the story from the beginning, here's The Norwegian Covid coastal cruise Part 1.
For the rest of you, here's a shitload of pictures from our voyage, and the reason why we think 2020 has been a fucking amazing year. Throughout this post are links to the different places for you to check out in the map.
You can zoom in and out, and try areal view in the lower right corner etc. if you like 🙂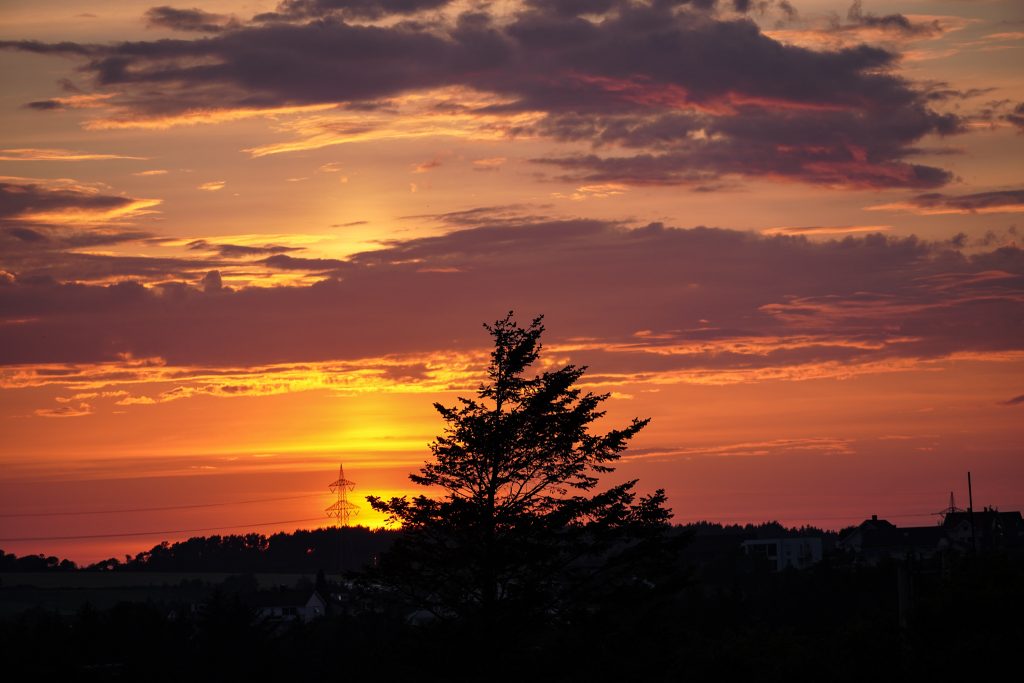 We left from our house at Hafrsfjord in Stavanger with a magnificent sunset sending us off.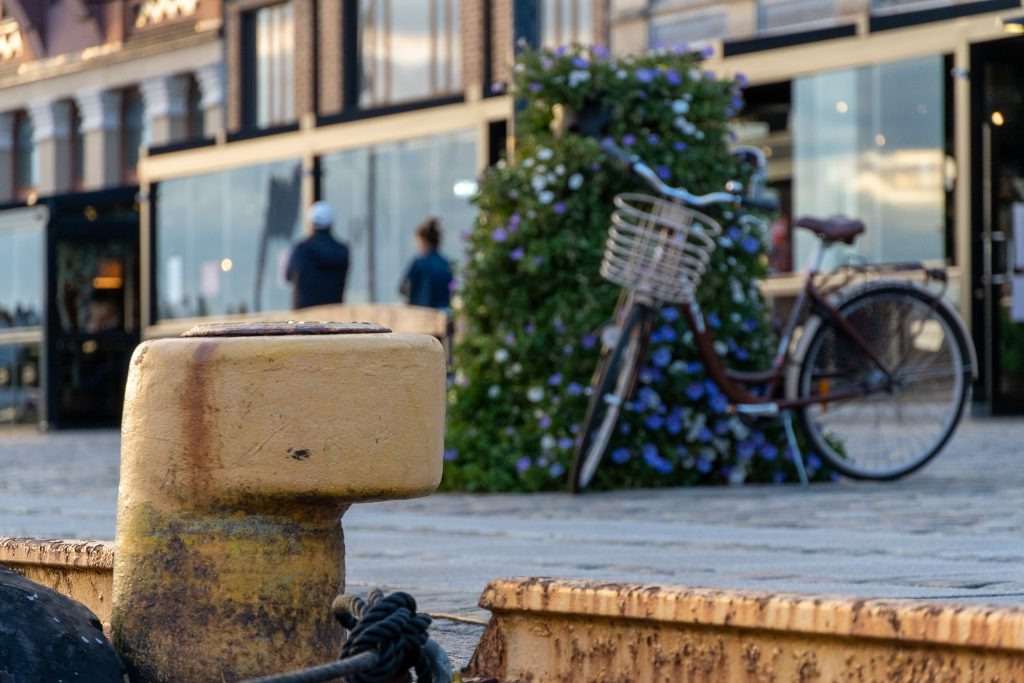 After a few hours underway northbound, we arrived in Haugesund, and sailed out into the wilderness from there…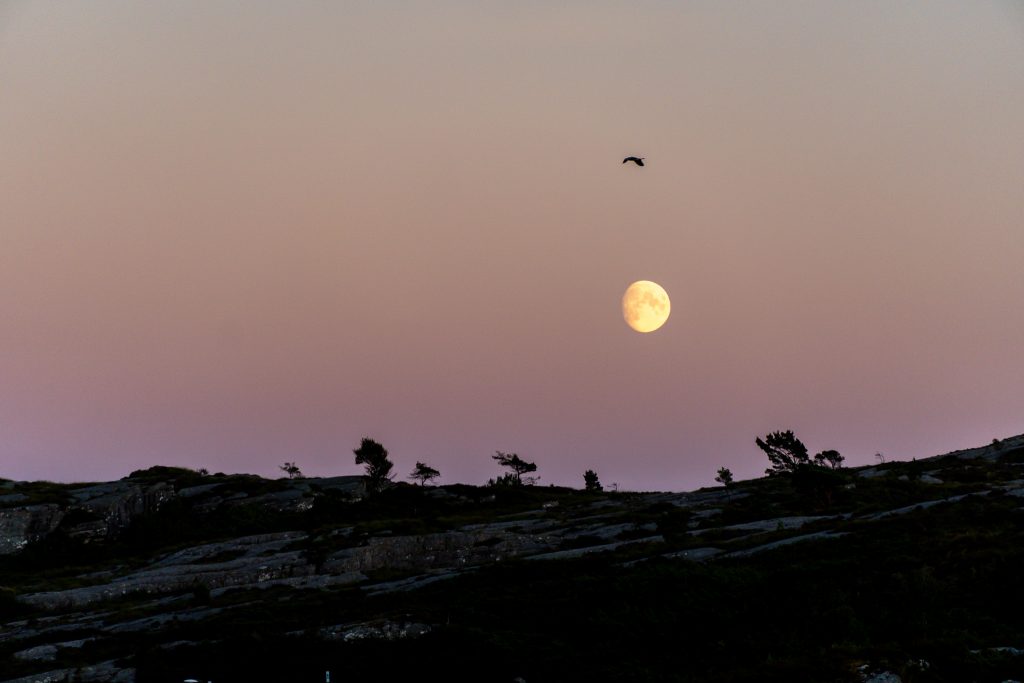 Amazingly clear skies and moonlight near Børøy Naturhavn, just north of Bergen. As we talked about in Part 1, we spend two weeks going back and forth from this anchorage to someplace near Bergen to meet up with the LPG specialist and sort out a gas leak that just did not want to get fixed.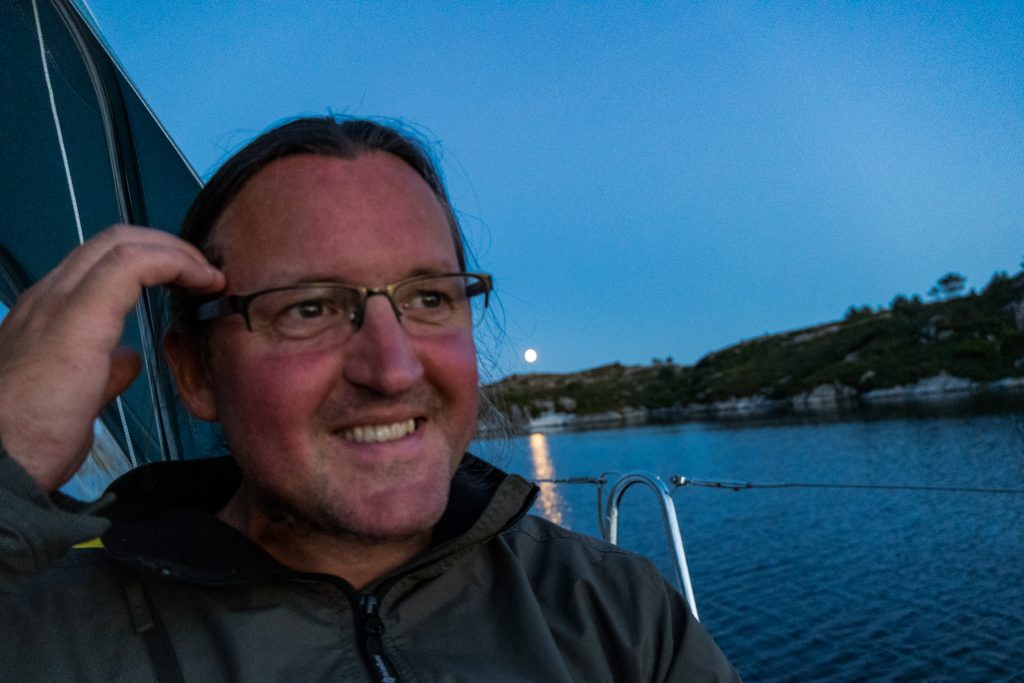 But you know…life's good on the hook, and when the scenery is as beautiful as this, you really can't get too annoyed 😉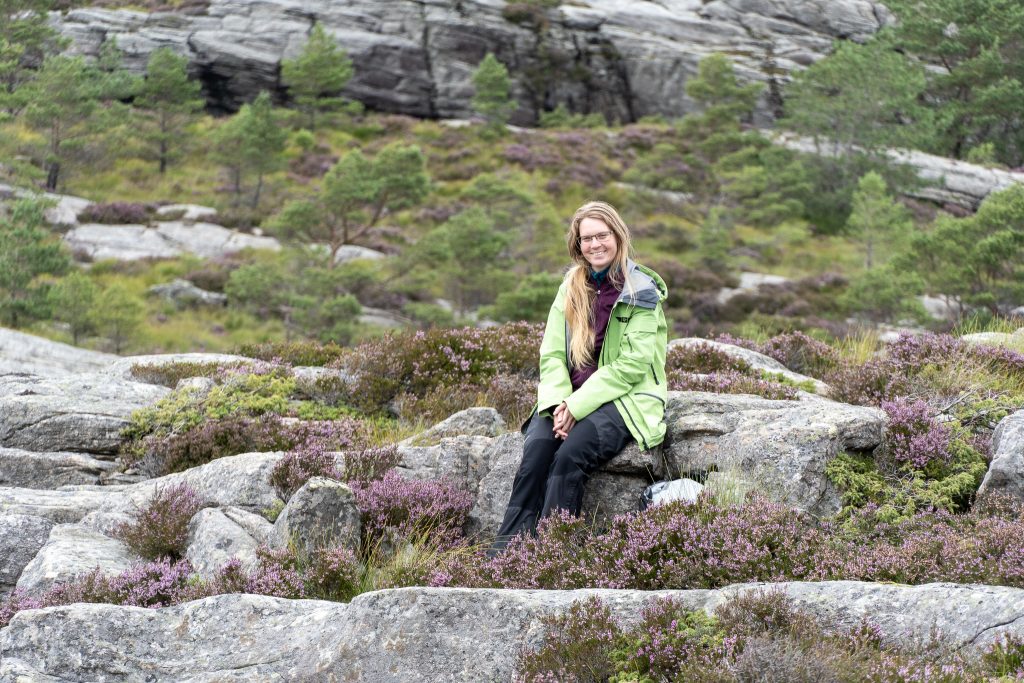 Cruising takes you to the most quaint little places in Norway. Like this tiny settlement of Herdla where we filled our water tanks and diesel to the brim, because we knew we'd be away from civilization for a week.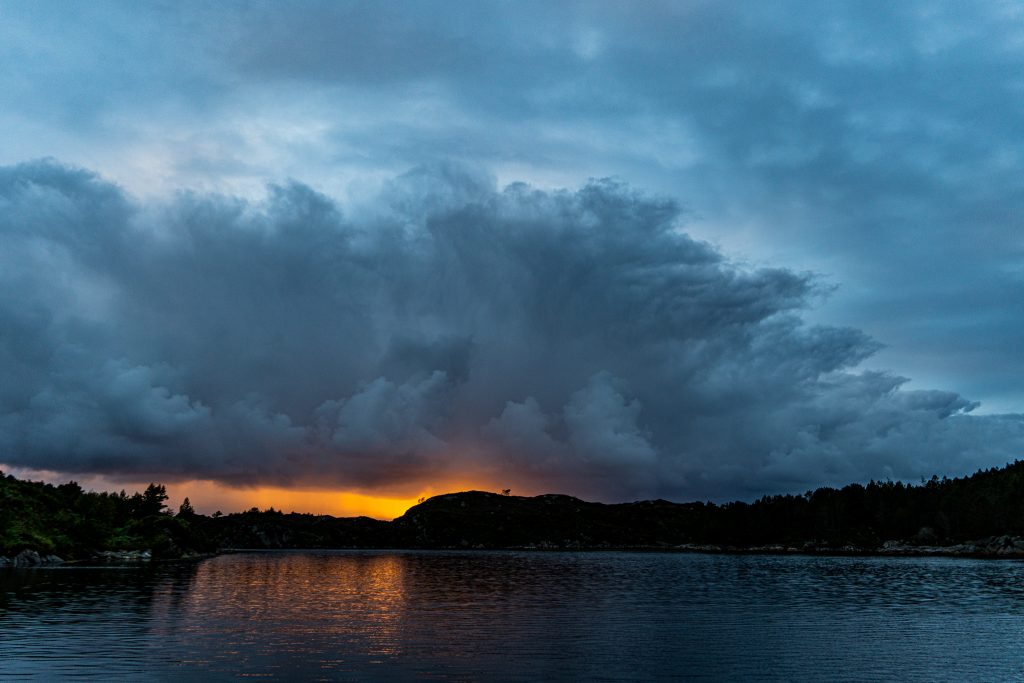 The coast of Norway is riddled with amazing, well sheltered, and free anchorages like here on Uttoskavågen. Which is good, cause when you see a storm coming in like this, you know you're in for a very lively night on the hook.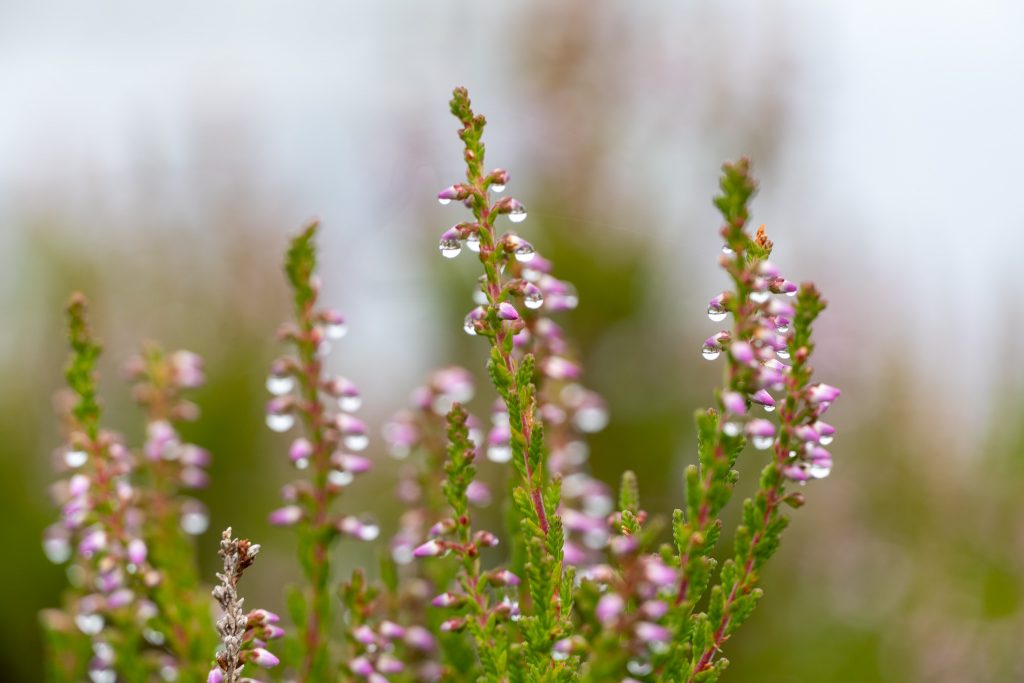 And then the next day it's like nothing ever happened…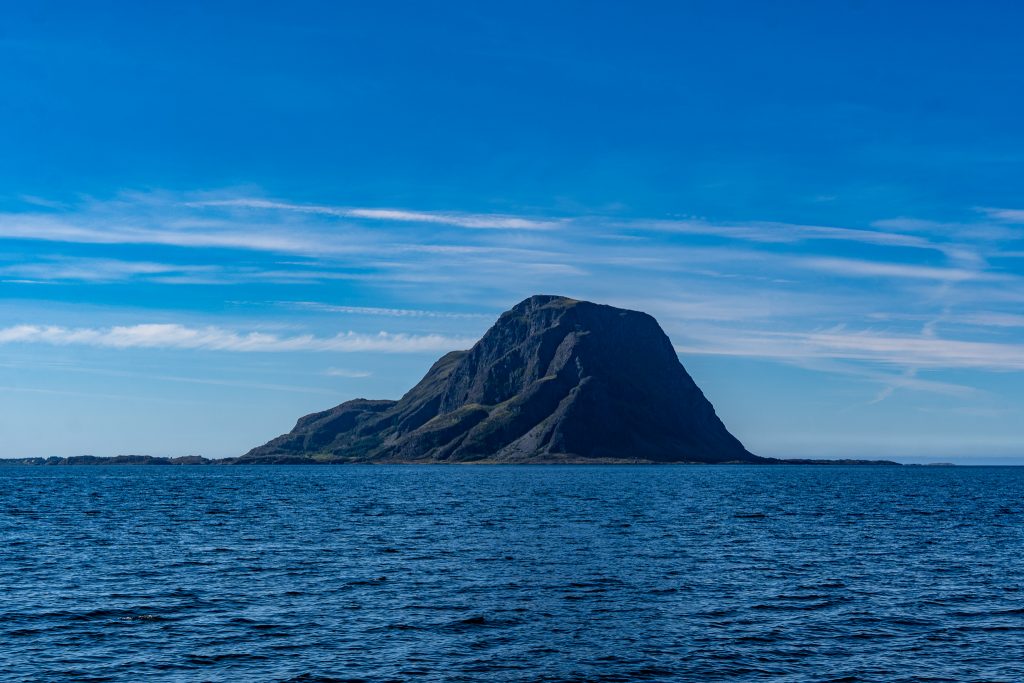 Yet again on the move, we closed in on the monumental shape of Norskehesten on the island of Alden.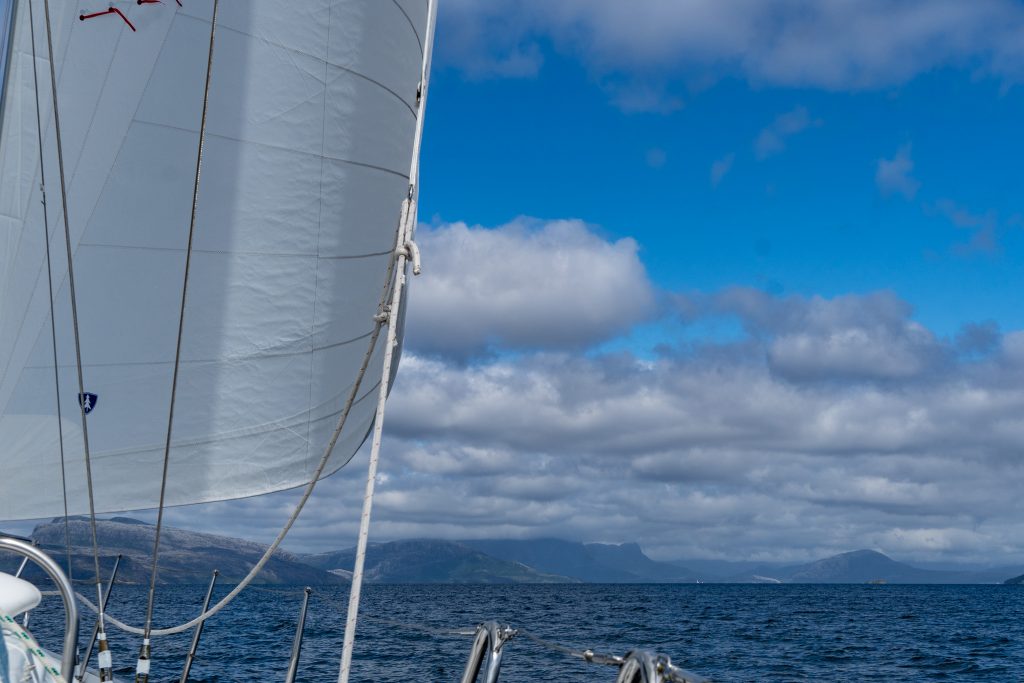 Here entering and crossing Sognesjøen, the entrance to Sognefjorden, the second longest fjord in the entire world, and UNESCO World Heritage Listed.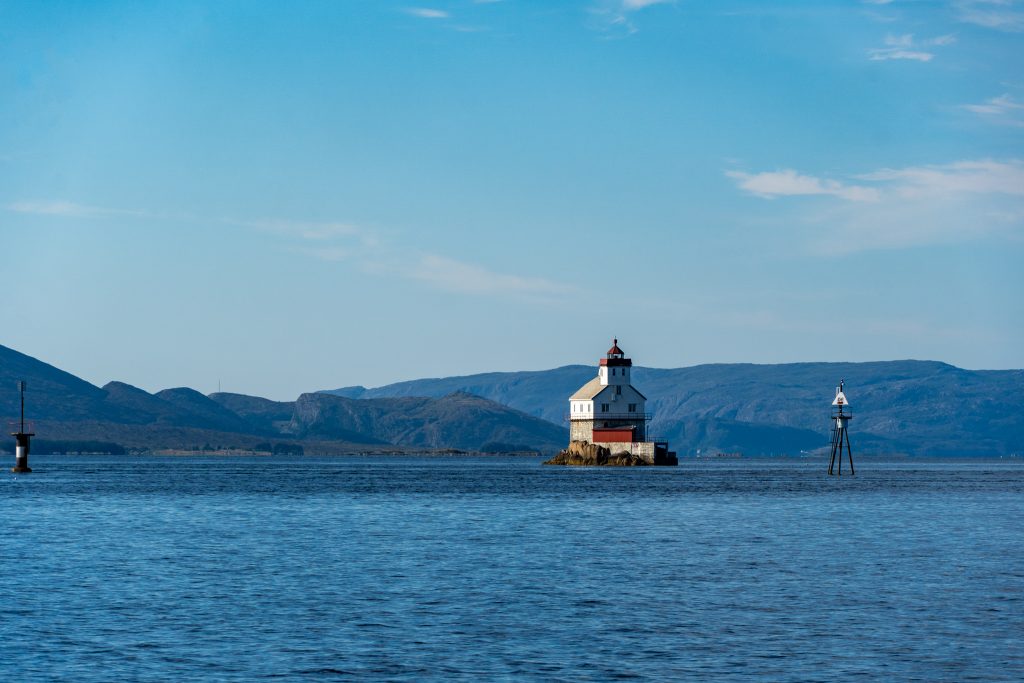 The iconic Stabben lighthouse right outside Florø. We stayed in Florø for provisions, laundry, and then set north again…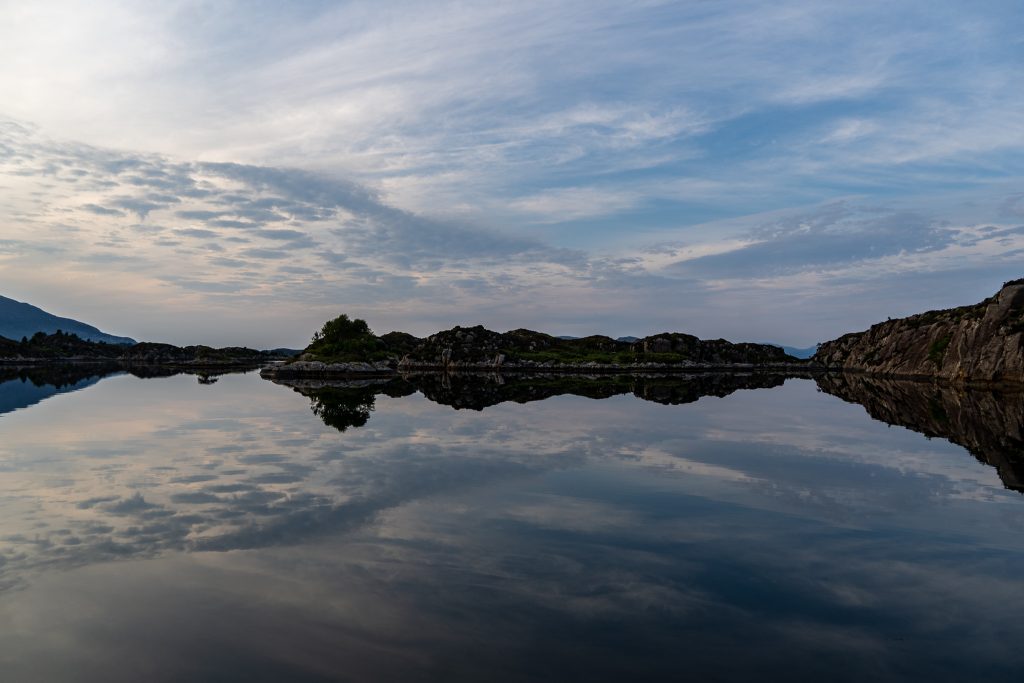 Until we found this magnificent place. We loved this anchorage so much we stayed there for a whole week!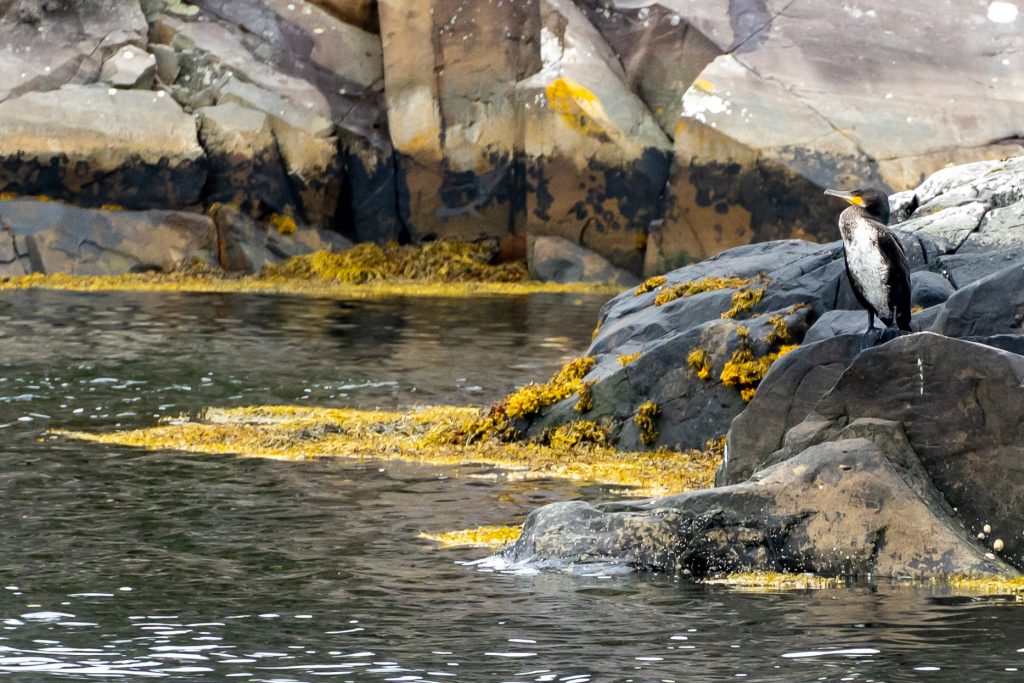 A lone Cormorant just chillin on the rocks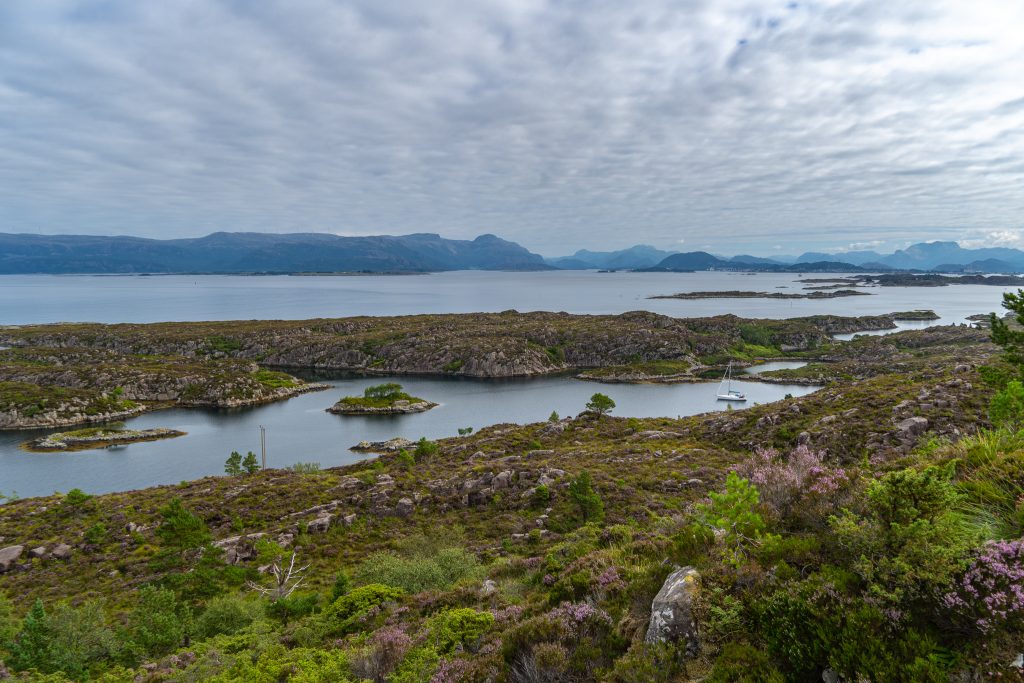 We got this entire anchorage to ourselves for a full week!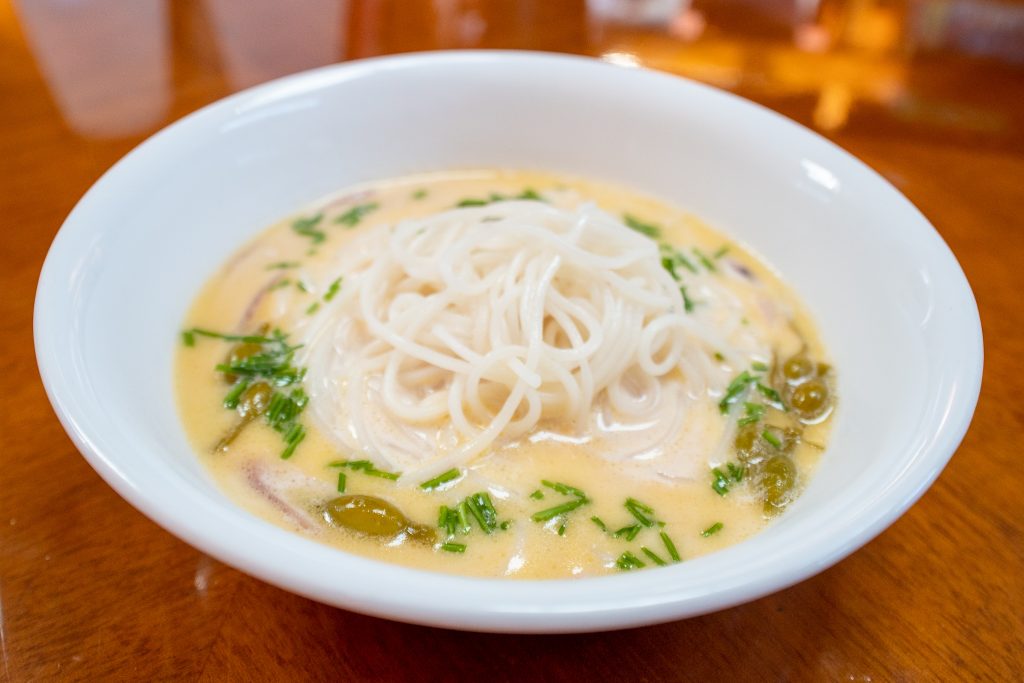 Foraging brings food on your plate and in your bowl. Here's a simple noodle soup with freshly picked knotted kelp that we made a creamy broth on.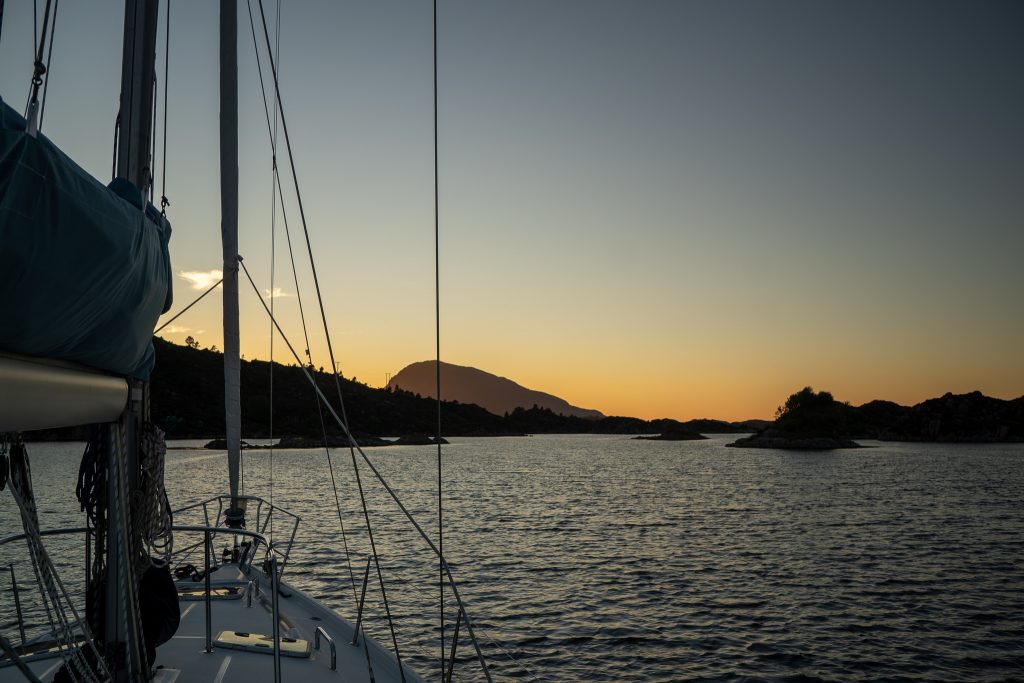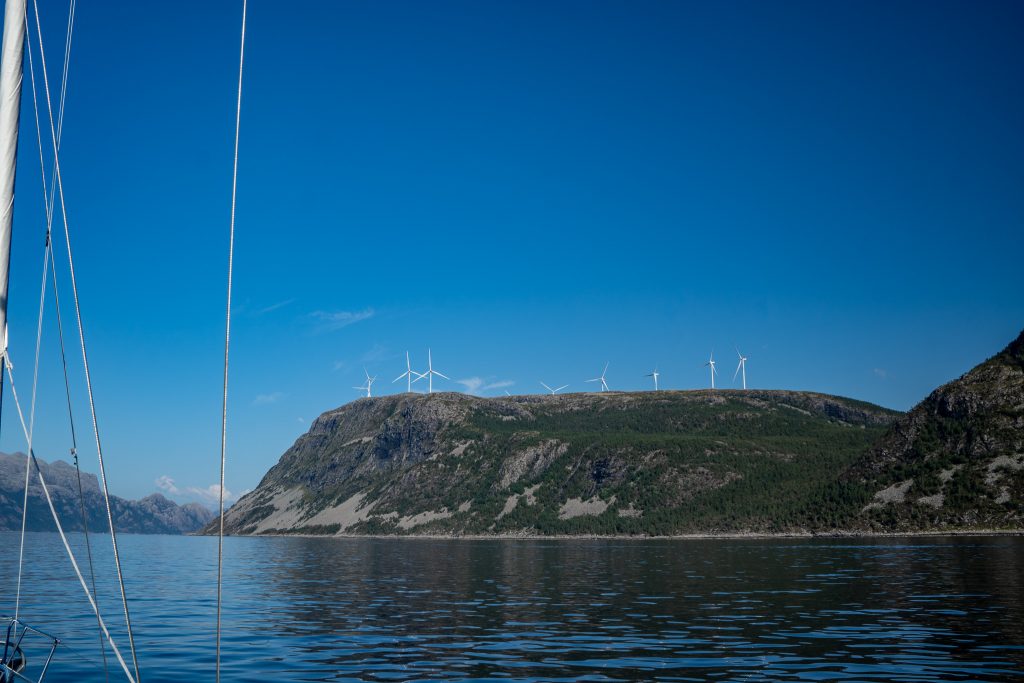 Sadly Norwegian nature is not so pristine anymore. With oil on the decline (as it should!), greedy corporations are now ruining our nature and heritage by putting up these colossal monster wind turbines everywhere.
Just to give you a scale of these monstrosities on Hennøy Vindpark, that is a BIG-ASS MOUNTAIN 500 meters tall.
These wind mills are 150 meters tall, and their rotors are 133 meters in diameter, giving them a total height of 215 meters; that is the equivalent of a 65 story building, and nearly half the height of the mountain itself. Let that shit sink in.
Do not be fooled. This has nothing to do with green energy, and everything to do with corporate greed.
As much as it hurts to see our magnificent nature ruined for a quick buck, it is all the more satisfying to see the beauty of it untouched.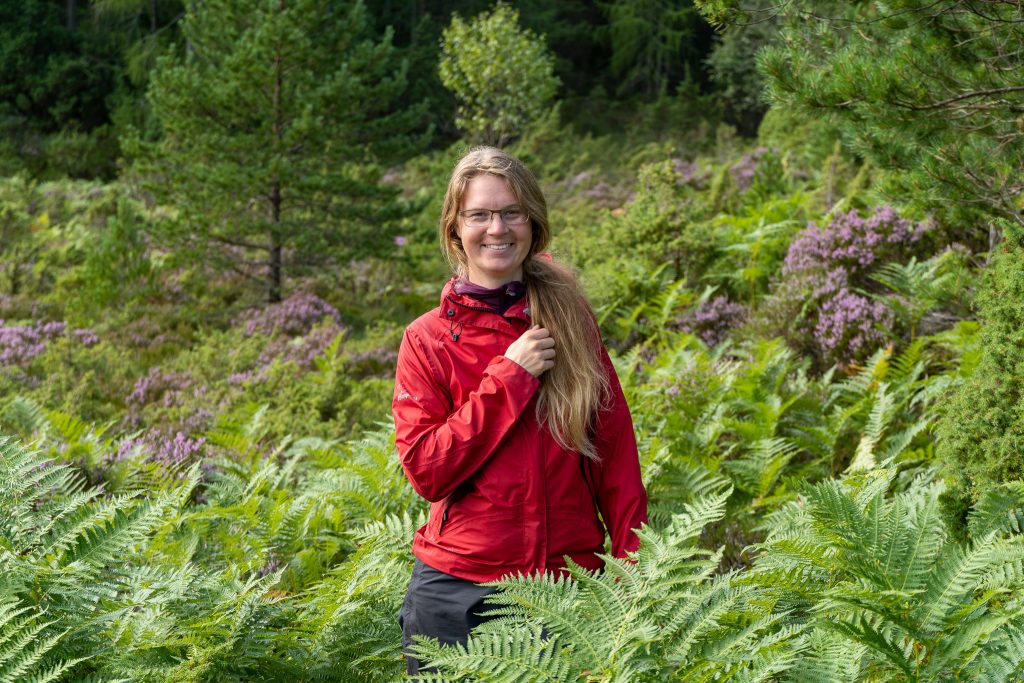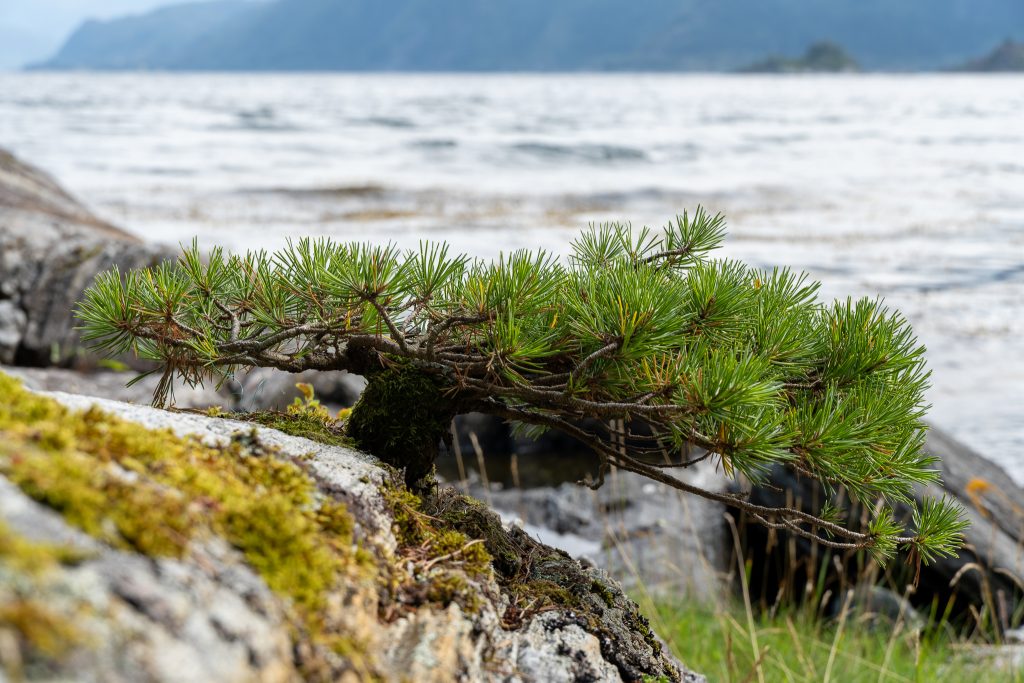 Almost like a bonsai pine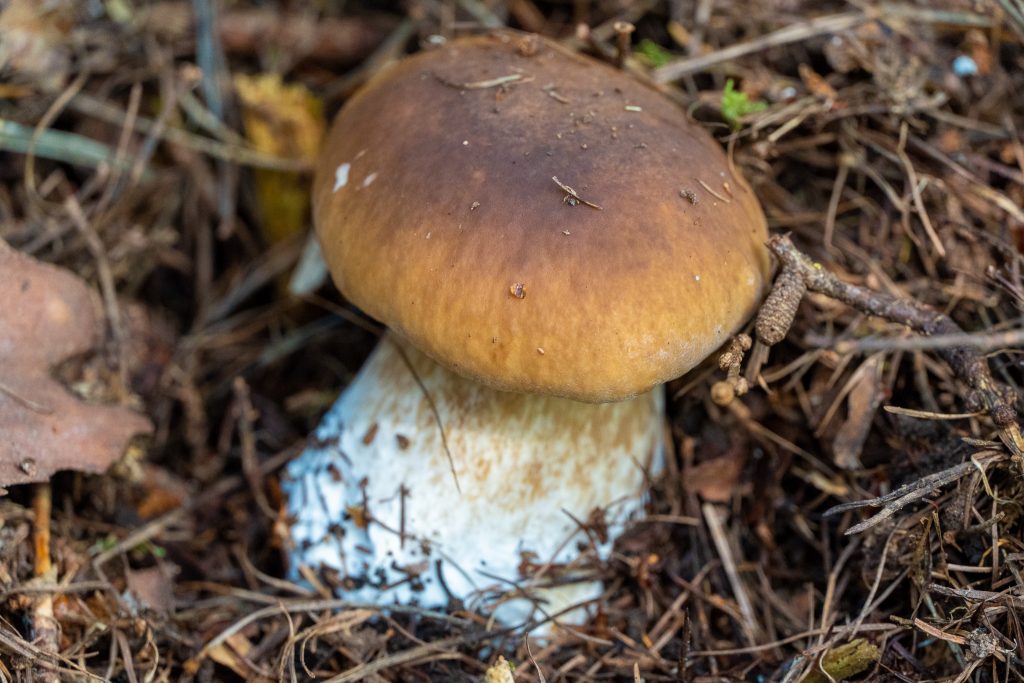 The best mushroom in the entire northern hemisphere; the porcini (Boletus edilus). Available in nature for free, or $80-100 per kg in the stores…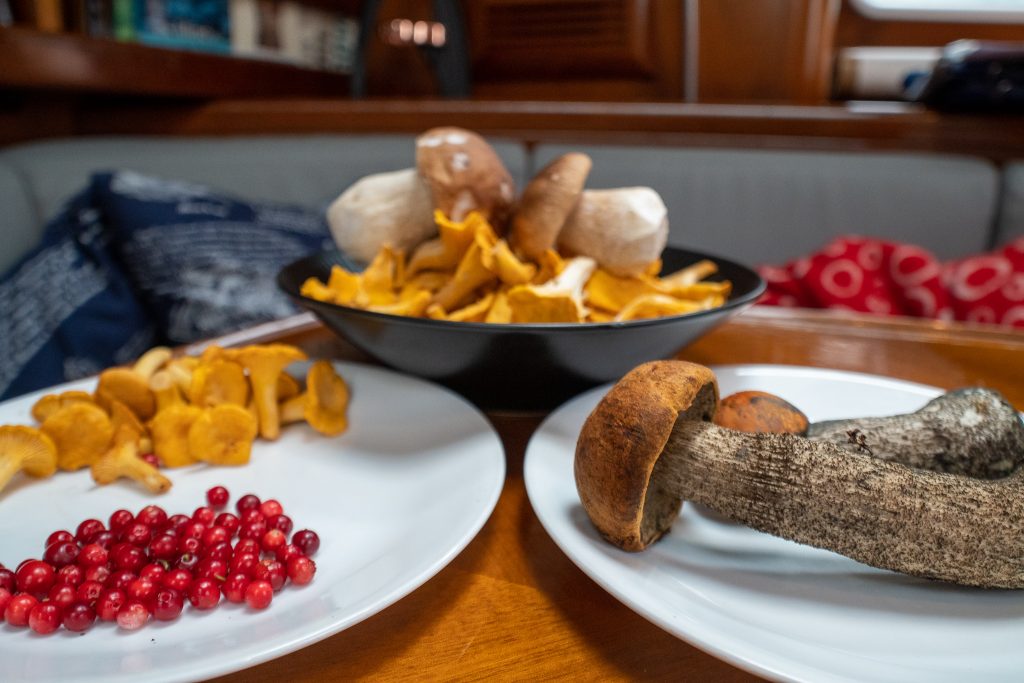 We also foraged chanterelles and other boletes. There were sheep in the area, and they love mushroom too, especially the porcini, so we were very lucky to find even one!
They are however not crazy about chanterelles, and you cannot eat the orange birch bolete (Boletus testaceoscaber) raw without getting severe cramps and shits, so they stay away from it. Which is very good for us, because when cooked properly, it is an absolutely magnificent mushroom!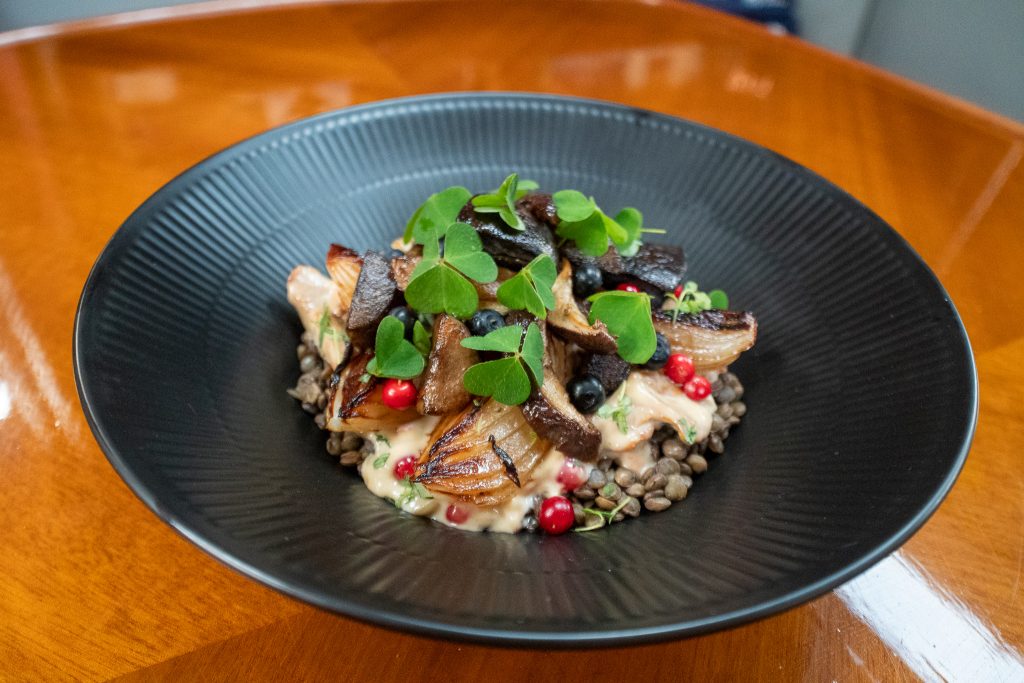 When going off the grid, we ditch meat on the menu, cause it doesn't last long enough. Instead, it's dried beans, and lentils and whatever we fish and forage, and we eat like royalty every day 🙂

Above is improvised forager's stew with Puy lentils, various pan seared bolete mushrooms, caramelized onions, creamy port wine sauce, and wild herbs and berries.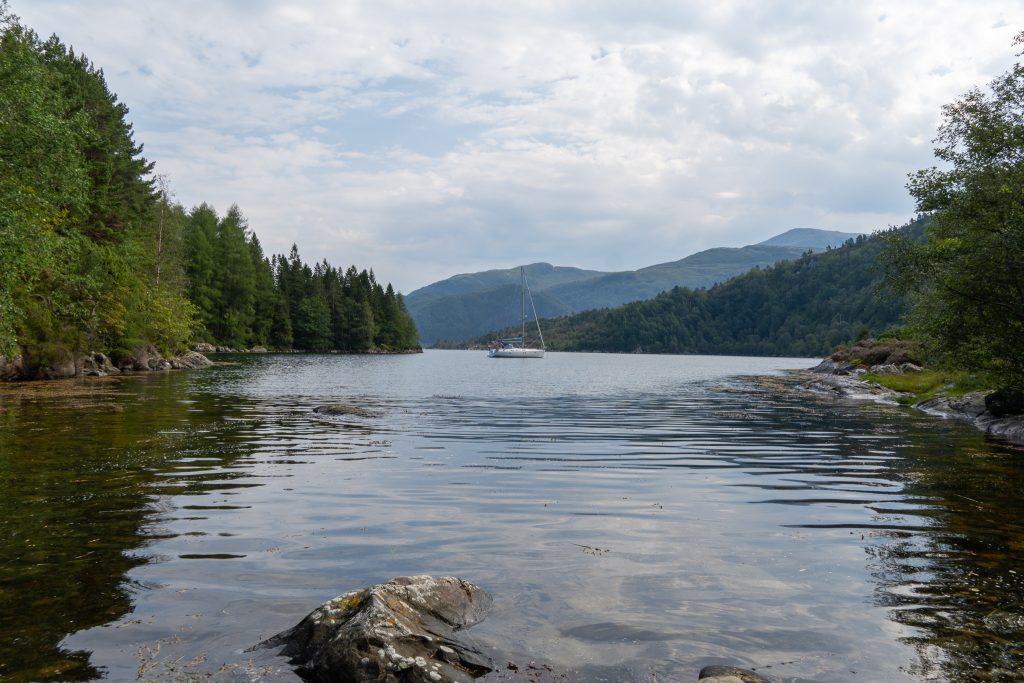 Yet another quiet anchorage all by ourselves 🙂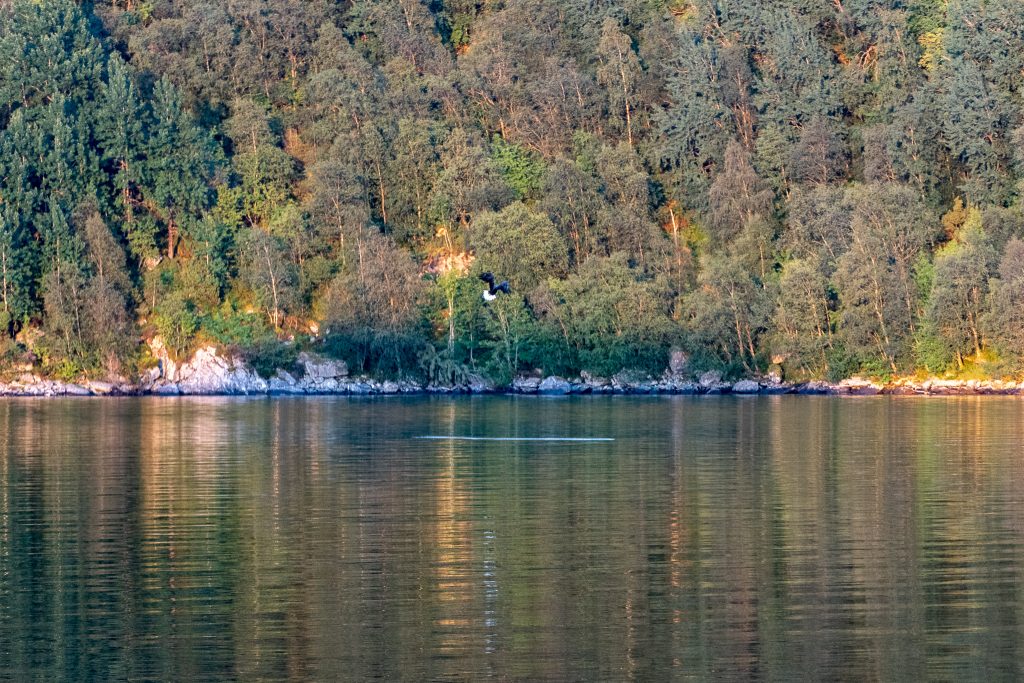 A mother white-tailed sea eagle kept diving in food for her young ones. Magnificent animals that we saw all over the place – I just wish I had a more powerful zoom lens so I could really capture these moments…but they are painfully expensive!!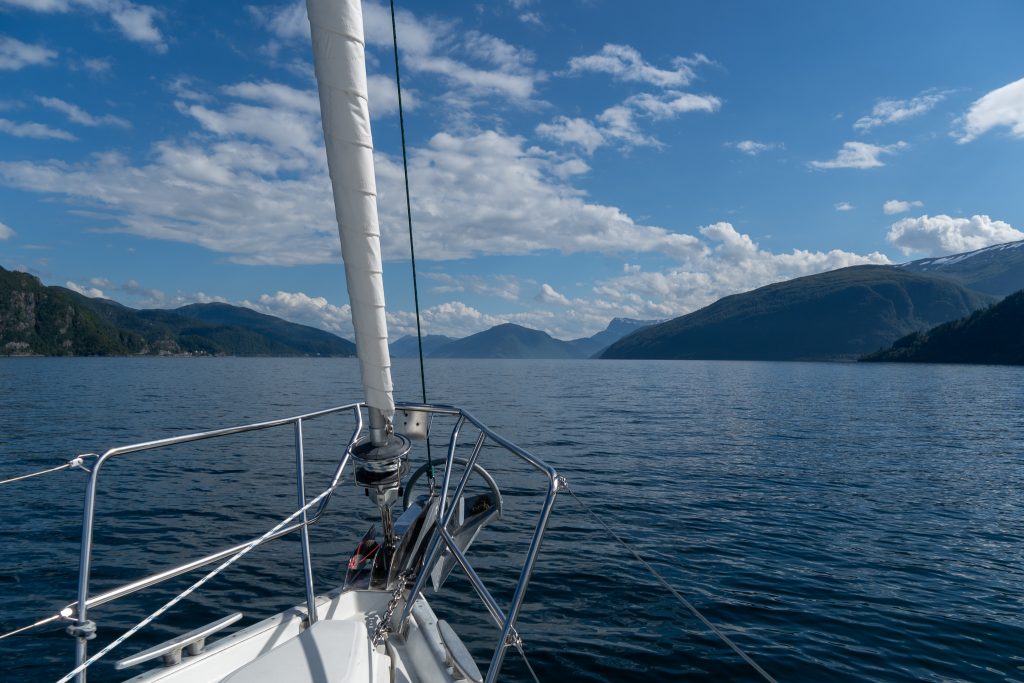 On our way deep inside Nordfjord to hide away from an incoming storm.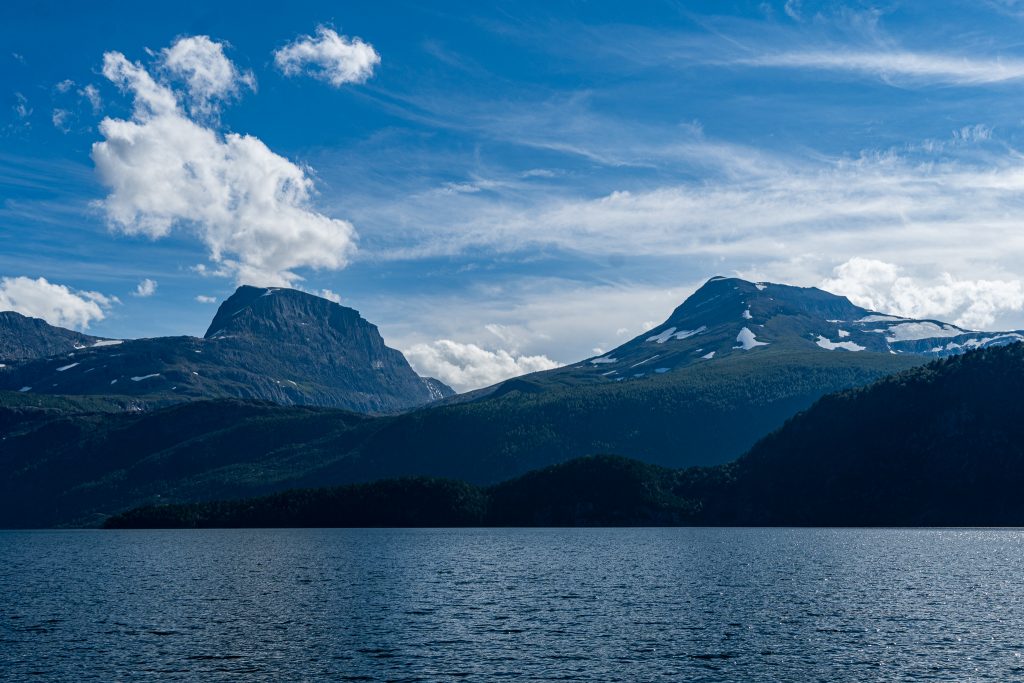 Dramatic cloud formations warns us of the incoming storm…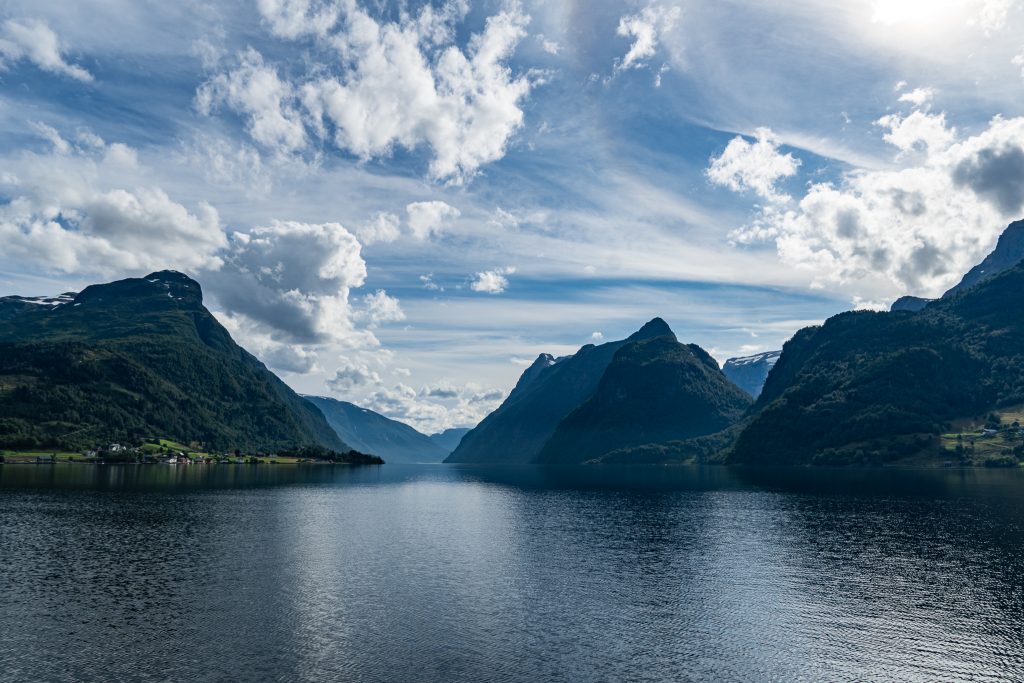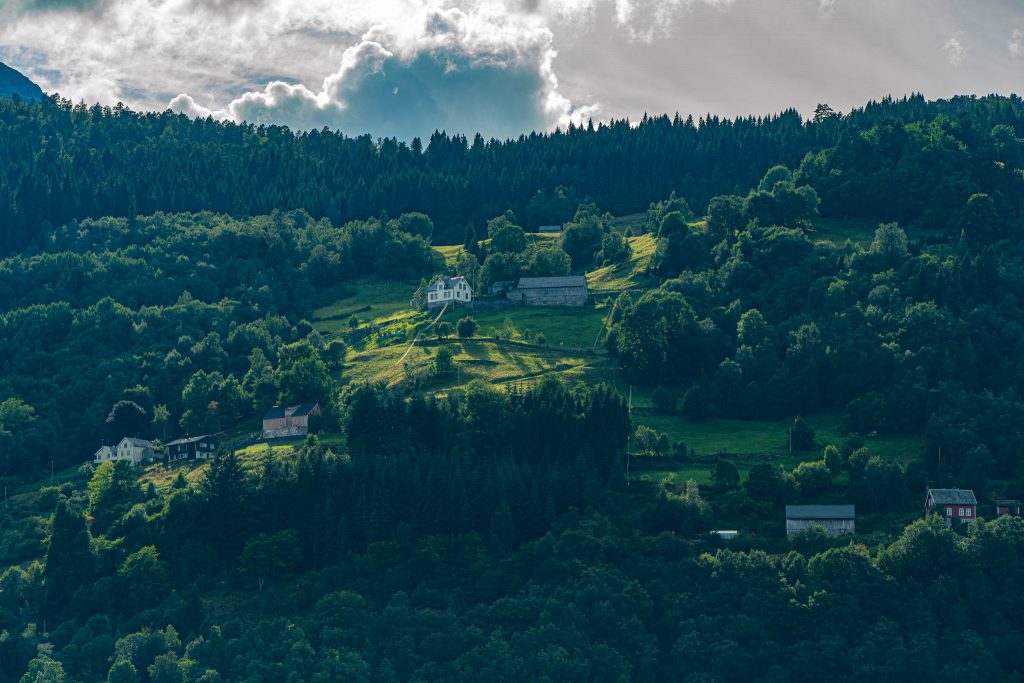 Farming on the Norwegian west coast has always, and literally, been an uphill battle…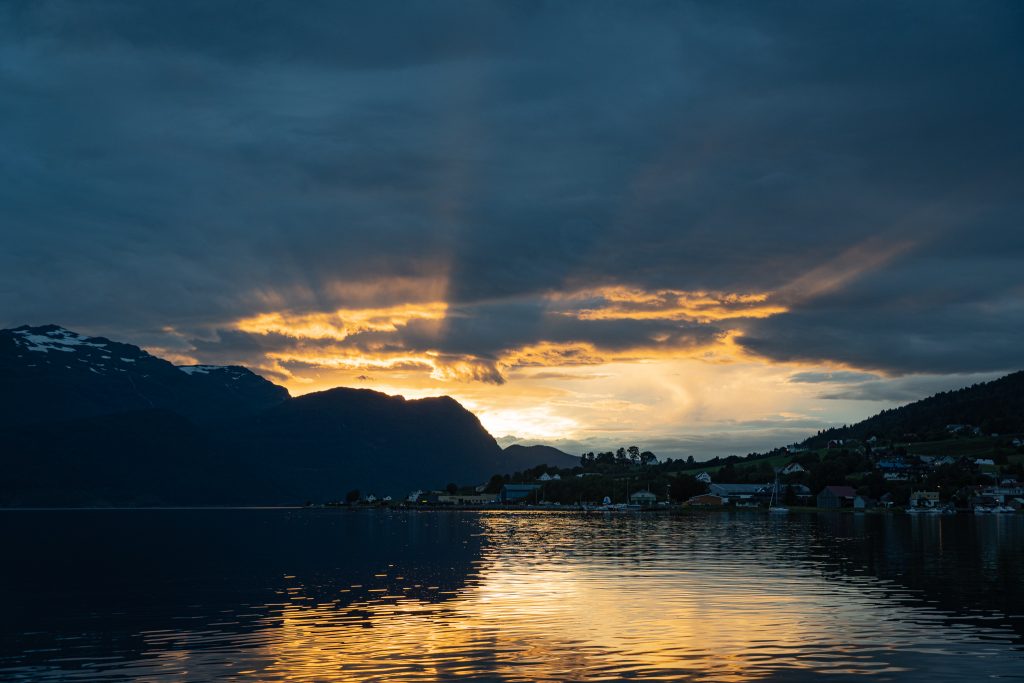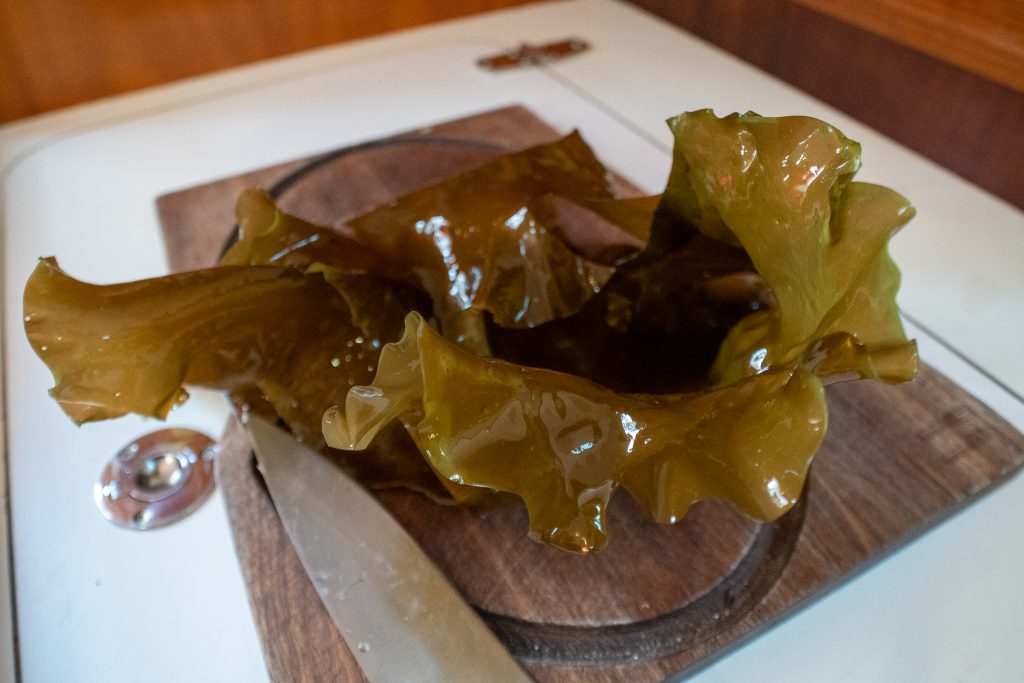 When you get a bunch of sugar kelp on your anchor…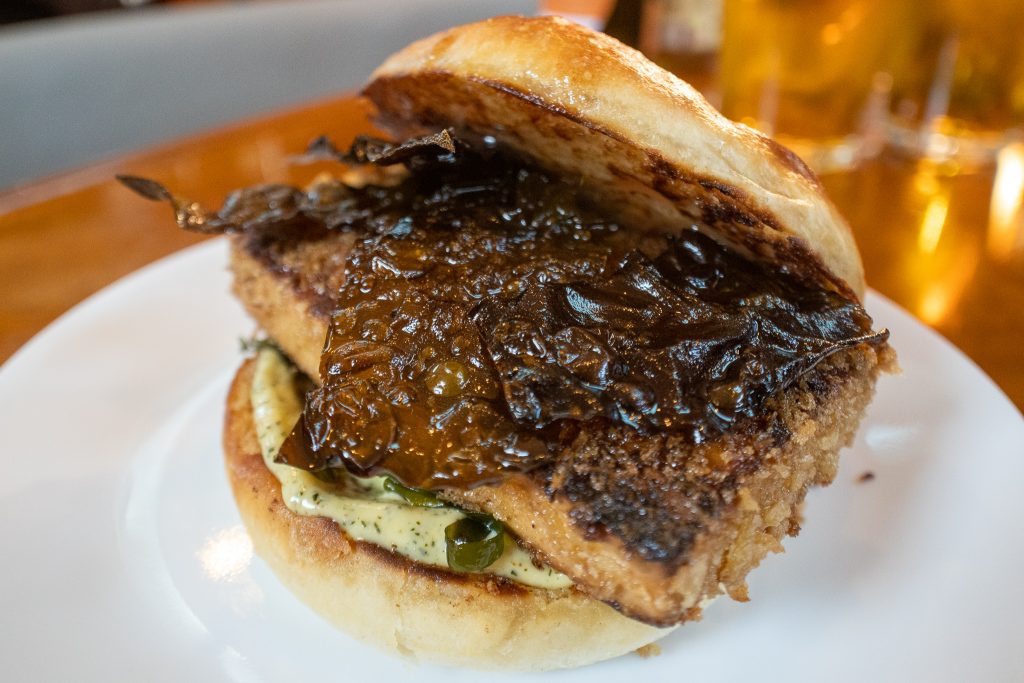 It means time to make a sea weed burger; wakame mayo, sautéed sugar kelp salad, crispy breaded tofu burger, and shallow fried, crispy sugar kelp "bacon" on top.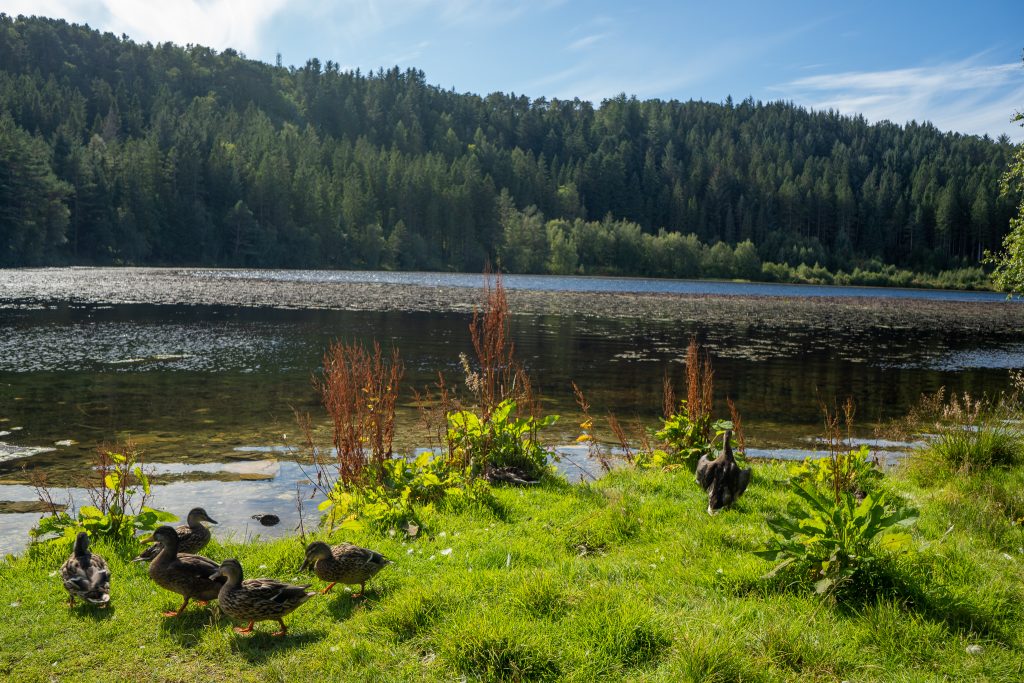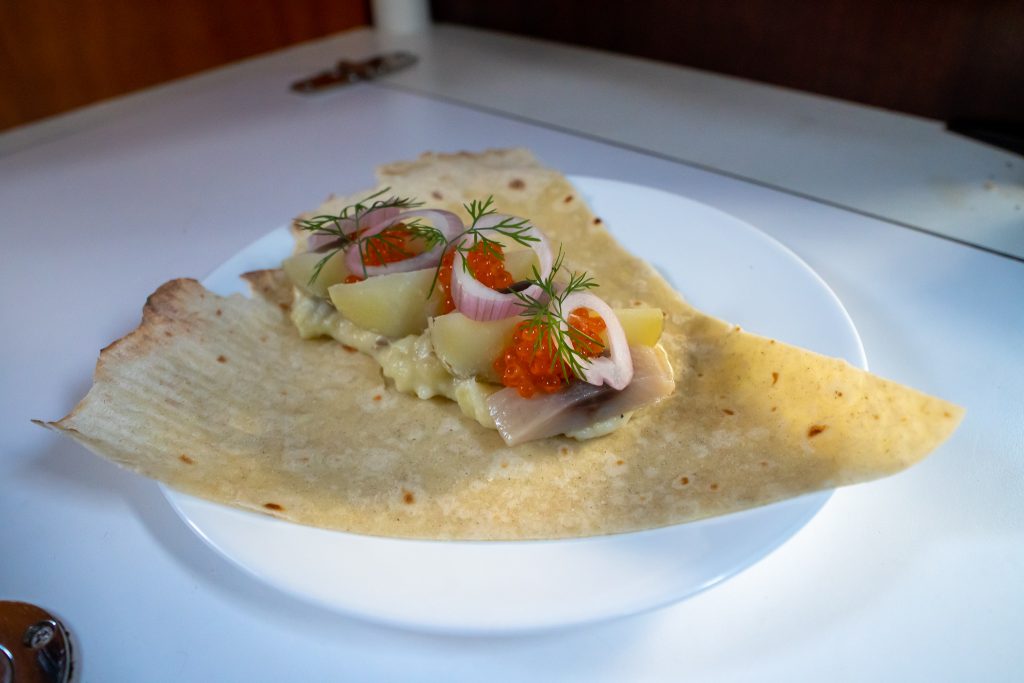 Sandane in Norfjord introduced us to Skvettebrød, which is like a big-ass flour and potato tortilla cut into wedges, and then traditionally stuffed with meat or fish. Bonafide Norwegian burritos is what it is!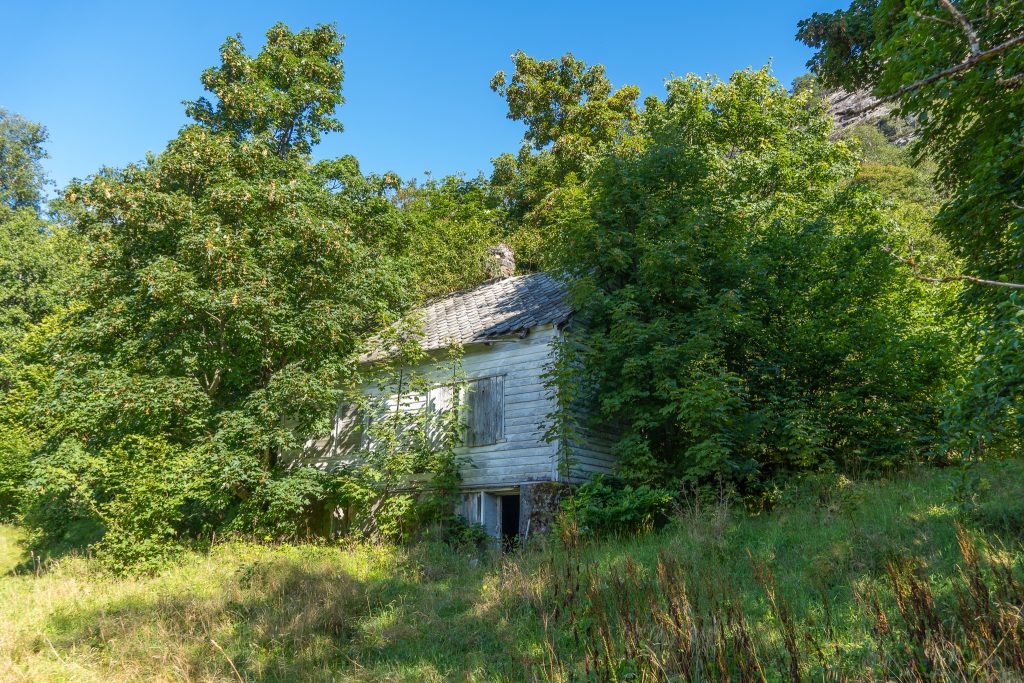 An old farm that was left, likely some time in the 50ies or 60ies.
The old boat house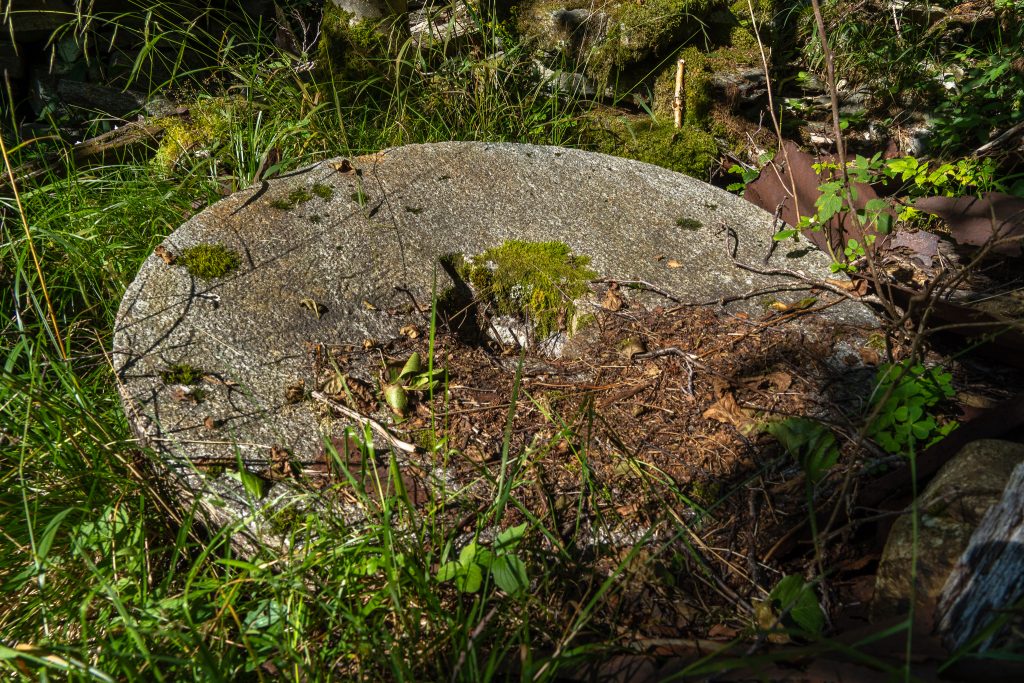 And the old mill stone.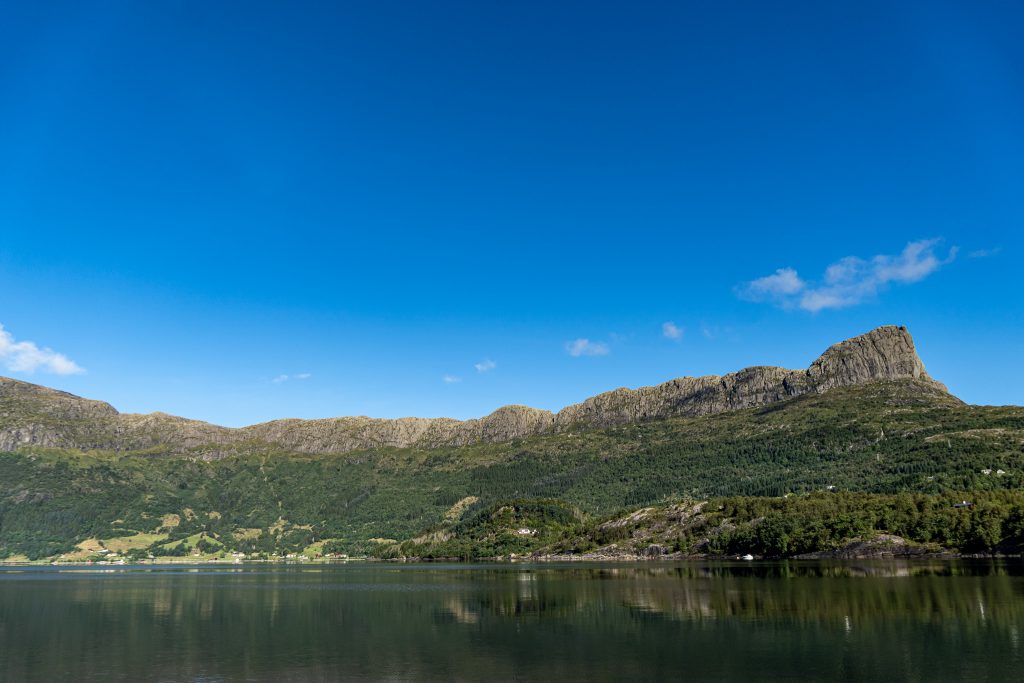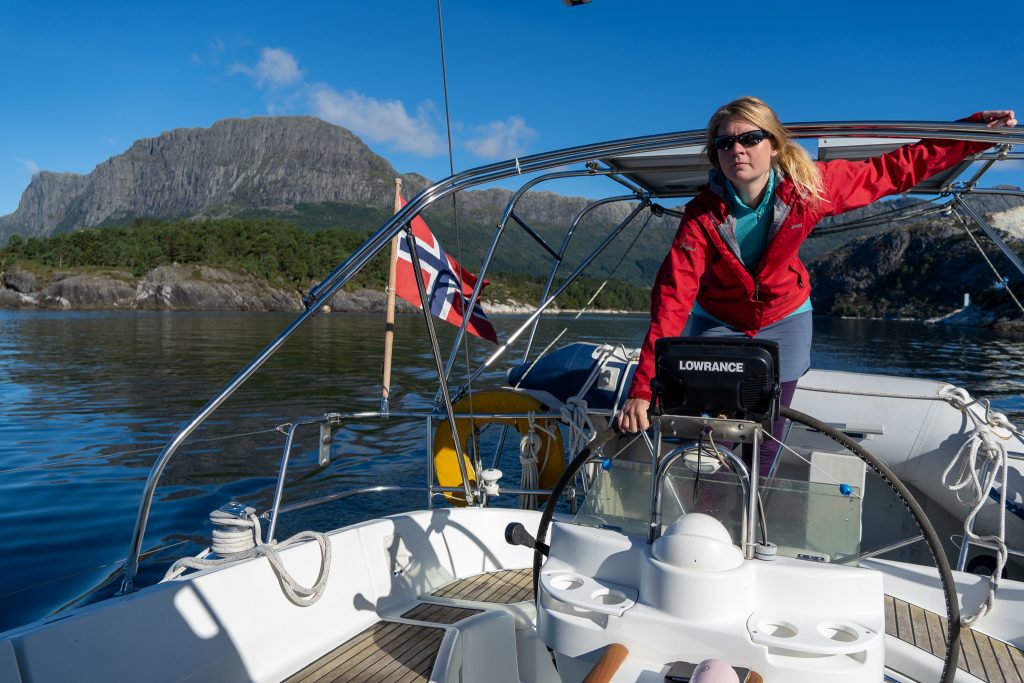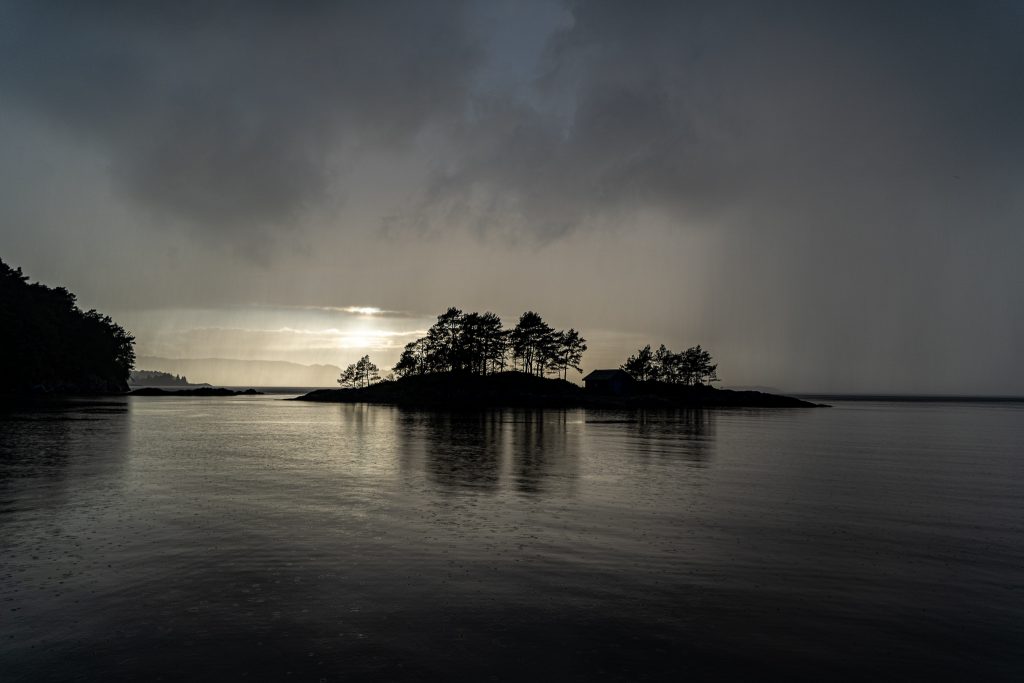 Ahh….Gunnarsvik. I'll let the picture speak for itself….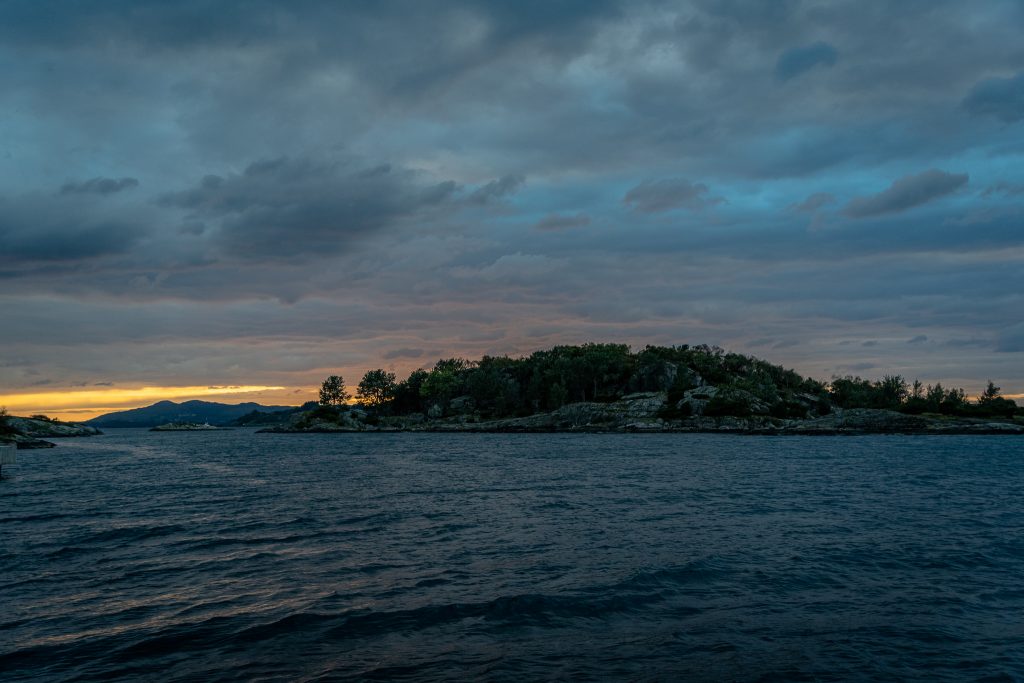 Back in Stavanger, we continued sailing well into the fall. Here moored in Rossøysund, a few hours from Stavanger.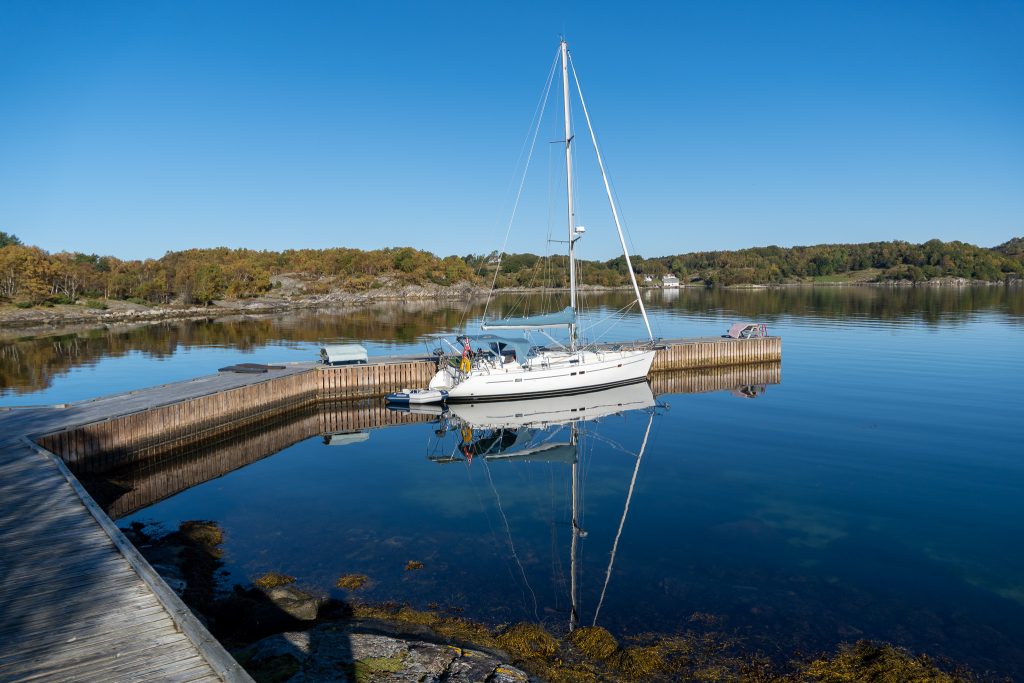 The last time in November we were out sailing before starting our insulation project, to make her ready for winter sailing, and Christmas.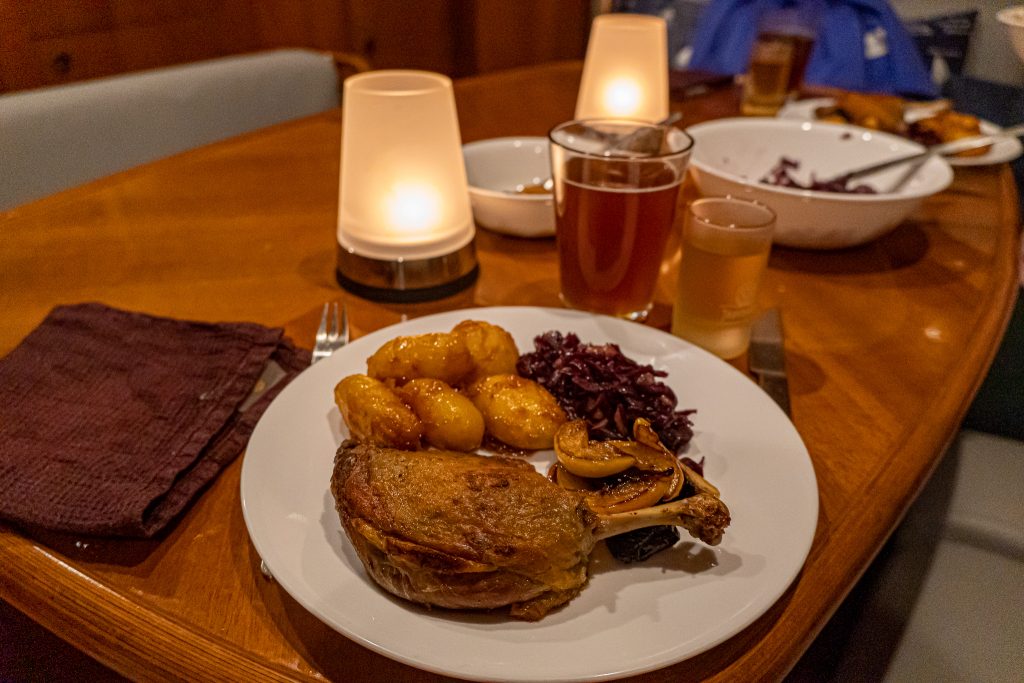 Danish Christmas dinner onboard, with home made duck confit, caramelized tiny potatoes, red cabbage, and apples & prunes. Served with home brewed strong ale and aquavit.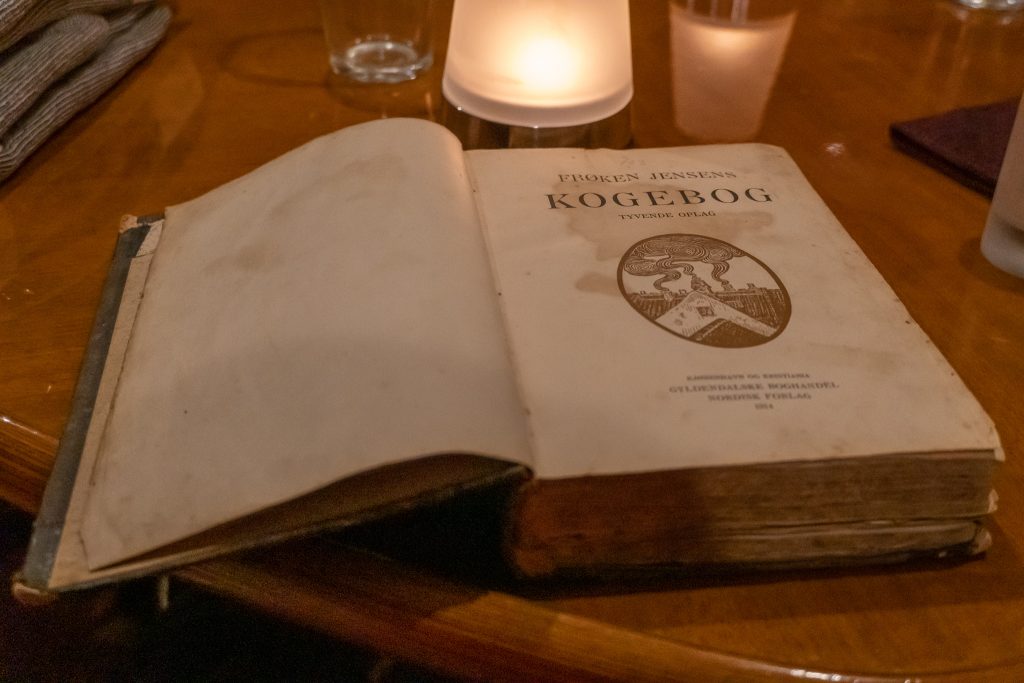 The best Christmas gift ever! A Danish cookbook from 1914!
And that wraps it up! Man what a wild ride! If everything goes well, we hope to be able sail the ENTIRE Norwegian coastline this year (2021), from the Swedish border in south-east, to Cape North, which is the northernmost point in Norway. At 71.1695° North, it is WAY past the Arctic Circle.
The trip will be at least 3000 nm, and we will stay in Norway and live on our boat in the winter too. This will be a spectacular voyage in the Norwegian wilderness.
We hope to (re)discover many more of these culinary gems. In addition, Norwegians never ate a lot of meat, but what we ate instead is of huge interest these days, with a shift towards more plant based diets. Perhaps we can even unearth a traditional vegetarian cuisine?
Stay tuned, so follow us on Facebook – the treasure hunt starts early this spring!