It is debatable whether this is Danish or Norwegian. And we should probably throw in the Swedes in the debate as well. The matter of fact is that us Scandinavians go nuts over this little fish. Here's your chance to figure out why!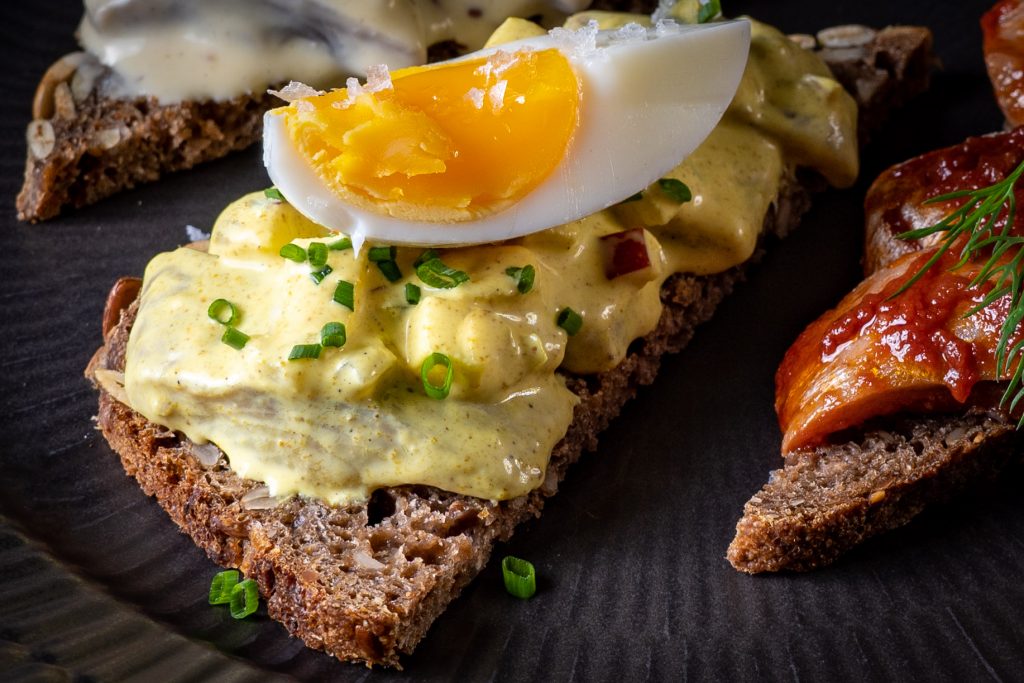 Herring, potatoes, and onions – the life saving staple for generations, now become delicacy. With its intense umami profile coming from the pickling process, there is a bit of a learning curve for some, but if the quality of the fish is good, it is truly a magnificent ingredient for many dishes.
This time, though, it's curried pickled herring. And it takes less than 5 minutes to make!
Ingredients
4 salt pickled herring fillets (300 g), each cut into 4 pieces
100 ml sour cream or crème fraiche
100 ml mayonnaise
1 small apple, finely diced into tiny cubes
4 tbsp finely chopped pickles
2 tbsp finely chopped red onion or shallot
2 tsp curry powder ("European" curry, not the real Asian stuff)
20 ml apple brandy or Calvados, if you have it
Method
Chop and dice and slice all ingredients and mix well. Transfer to a lidded container and let sit for a day to marinade and allow the flavors to mix and mellow.
The next day, make yourself a magnificent open faced sandwich. The Danes would insist on using dark rye bread, mind you, not my grandma Ranveig's sandwich bread!
Feel free to fancy it up with boiled eggs and chives, or some big, crunchy caperberries, or some fish roe and dill, or maybe some pickled red onion on top!
Also make sure to check our the recipes for Sennepsild (pickled herring in mustard and aquavit) and Portvinssild (pickled herring in port wine sauce)
Can't get pickled herring? It's easy to salt pickle yourself if you can get the herring!
Place a thick layer of coarse salt in the bottom of a suitable container, and place the herring side by side on top of the salt. Sprinkle salt on top and add a new layer of herring. Always finish by applying a thick layer of coarse salt on top.
The salt will draw out a lot of moisture from the fish, so after a couple of days, check if a brine has started to form and that the top herring is still covered in salt. If not all the herring is covered, you can weigh down the fish with something heavy. Or add some more salt.
The herring is pickled after about 2 weeks if it is filleted. Whole herring should be around 3 weeks. It is done when the fish feels firm in the meat, and the bones are soft.
If you pickle the herring yourself, make sure to water it down overnight, because it will be extremely salty by now.