In case you were wondering, I am absolutely nuts about Pinnekjøtt. I also have a rather passionate relationship with poblanos, so whenever we have leftovers from Pinnekjøtt, I always make this pizza!
This is of course based on the leftovers from the traditional Pinnekjøtt recipe here, so hop on over to check it out if you haven't already 🙂
Ingredients
Pizza dough
Choose the right dough based on how high your oven can go
Topping
100 g mozzarella
bit of rutabaga mash
1 small raw potato, finely sliced on mandolin
1 large poblano, grilled (or 2 fresh jalapeños, finely sliced)*
Bit of leftover pulled pinnekjøtt
chives, finely sliced
*If you are in Stavanger, you can get fresh Poblanos at Coop Mega Madla. If you are in Norway, you can get canned Poblanos at Kaktus.no.
Both freeze really well after they're grilled, so making a big batch is not a problem. I use whatever fresh I need, and then freeze the nicest ones whole to use for Poblanos Rellenos, the nice enough for my Skipper's five-chile chili beans, and the scraps are pureed for the sauce for my Stupid easy leftover enchiladas poblanas.
Method
Start by making the pizza dough. If your oven can't go higher than 250C, go for the Sicilian pizza dough.
If using fresh jalapeños, take off the stem, and with a pairing knife, take out the seeds. Finely slice at an angle and set aside and add for serving.
Otherwise, grill the poblanos on your gas hob, in your wood fired oven, your grill, or broiler. You want them all black and blistered, then put them in a small lidded pot and let them sit there for 20 minutes. Rub the skin off, de-seed and slice into strips.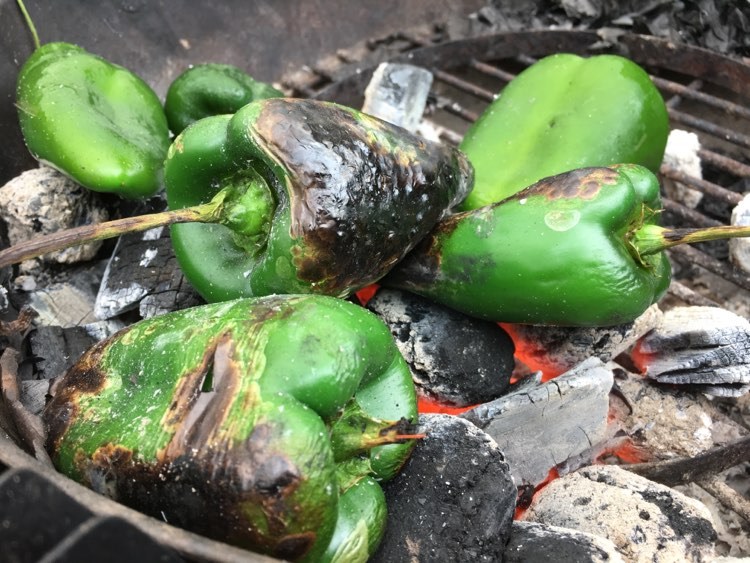 Pull the meat off the bones off the pinnekjøtt, and set aside. Finely slice the potato on a mandolin, or a cheese sliced, about 1mm thickness. Toss with a little bit of rapeseed or olive oil and sea salt.
When ready to bake, shape your pizza according to style, then dot the rutabaga around. It'll be too stiff to smear around, so just use your fingers. Do the same with the fresh mozza.
Scatter the potatoes across the pizza, and continue with the poblano strips and pulled meat. Bake pizza according to style of pizza.
Before serving, give it a quick drizzle cold pressed rape seed or olive oil, and a sprinkle finely chopped chives, and the fresh jalapeños if not using poblanos.
Wash is down with a strong, caramelly ale – or perhaps a fresh Riesling white wine?
Do you love pizza? Here are even more kick-ass pizza recipes from the guy who was in the Norwegian Pizza Championship once.