This pizza is actually a spin-off of our Viking falafels, and we're using many of the same components, so if you decide to make one of them, you might as well make the other too. Not only will it save you time in the kitchen – but knock your socks off too!
I must admit, I've been a bit of a Neapolitan pizza snob for ages. The only real pizza was a pizza with thin crust like this: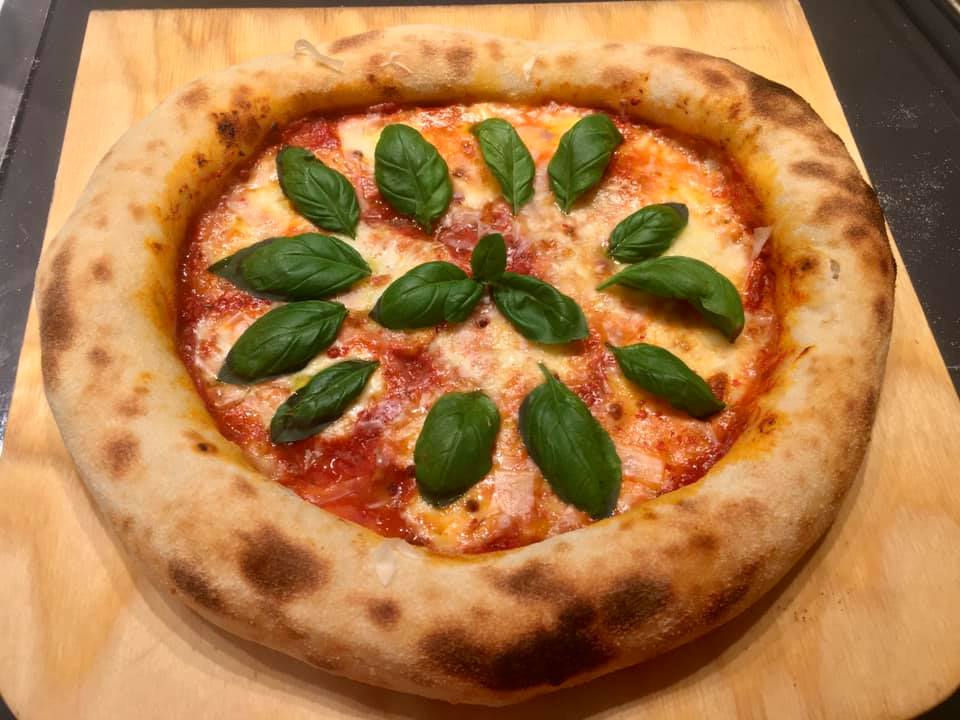 This is obviously not true, and I was forced to change my mind when I tried Sicilian pizza for the first time.
An then there's the whole thing with temperature. Few homes and even fewer boats have an oven capable of 300-450C. This is why the Sicilian pizza should be very interesting to cruisers – you might even be able to make it in a solar oven on a good day!
With this pizza, feel free to use the dough from either my Sicilian or my Neapolitan pizza, but replace 20 % of the flour with whole grain wheat or Einkorn (or a mix) for a bit more rustic feel.
Ingredients
Everything in this recipe can be made days ahead, so this is a very flexible recipe, however: The onions needs at least 2-3 days to pickle, the dough ought to be made the day before for optimal flavor, and the rest may be made the same day.
1 hour before baking, take the burnt leek dip and ramson pesto out of the fridge and bring to room temperature – it makes them easier to spread and drizzle .
Meanwhile, scrub and thinly slice your jerusalem artichoke on a mandolin and toss with a bit of oil. Set aside.
Slice your pickled onions in smaller pieces. You may want to caramellize a few larger ones for added flavor. Set aside.
When ready to bake, spread your dough with the burnt leek dip, then cover with jerusalem artichoke slices. Bake in the oven according to recipe for your chosen dough.
Move to a wire rack, spread the pickled onions, followed by dotting smoked goat's cheese, and finally a dab and drizzle of ramson pesto.
Zero waste tip
Do yourself a favor and check out our Viking falafels too! They're fantastic, and use many of the same ingrediets, so you'll save time in the kitchen and reduce food waste!
Do you love pizza? Here are even more kick-ass pizza recipes from the guy who was in the Norwegian Pizza Championship once.